Joe Glass
is creating comics
Select a membership level
Thank you!
Pledge $1 a month and you will have my unending thanks as you help me make my comics a reality!
What's on Joe's Mind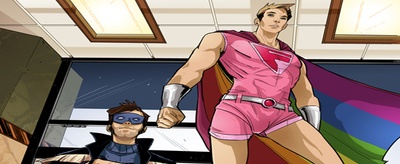 A special monthly article on something that's been on my mind in the world of comics and/or LGBTQIA representation.
Sneak Peek!
You'll get a sneak peek at behind the scenes or concept artwork for a random project I'm working on, that may be seen here first or may never be seen anywhere else.
About
Who Is Joe Glass?

 
I'm a writer who has worked with a number of magazines and websites, including Bleeding Cool, The Gay Times and WhatCulture. 
I also make comic books, and it's this that I'm pushing forward with as my main endeavour in life. I do what I can to make comics for everyone, that improve diversity and representation in the medium, such as my first comic series,
The Pride
. 
Thank you so much for checking out my Patreon and if you choose to support. 
The Pride is an LGBTQ+ comic series for everyone!
FabMan, Wolf, Muscle Mary and the rest of the team have come together to fight injustice and save the day, but also to provide better representation for the LGBT people and superheroes for the world and media.

About the Comic
The Pride has been around since 2011, following the adventures of FabMan who, sick with being treated as a joke and less of a hero because of his flamboyant, open attitude and sexuality, brings together the best LGBT superheroes of the world to fight the injustices of poor media representation and public opinion whilst also fighting injustice as the best heroes they can be. They are The Pride and they are here for everyone.

The series was so successful that I was picked up to do a second series as part of ComiXology's ComiXology Originals line. The Pride Season Two came out over the course of 2019, and will be collected in the new year. All issues are available on ComiXology now. 

So why am I on Patreon?
It's time to take my writing career to the next level and focus on writing more comics. This will include the continuation of The Pride, as well as brand new titles to show the breadth of what I am capable of, such as Acceptable Losses. 

This can be hard to do alone, so I hope through Patreon, readers can support me in my endeavours to make even more awesome comics for everyone, by pledging a little per month to help me make these comics a reality, and maybe get brand new info first, before anyone else. 

So, what we talking about here?
What you will get for becoming a patron?

Pledge $1 a month, and my unending thanks is yours.

Pledge $2 a month, and you'll get access to a monthly article I write on something in the world of comics that has piqued my attention that month. 

Pledge $5 a month, you'll get all the above and behind the scenes artwork teases that will be posted here before anywhere else, if posted anywhere else at all. 

$10 a month, I'll post a script a month, starting from my earliest comic scripts, so you can see how I write my comics. 

$15 a month, I'll include some of my non-comics writing, ranging from poetry, short stories and more. A lot of these have never been seen anywhere else, and I'm not sure if I will ever do anything with them, but you'll get access to them all.

$20 this is the level where I will share the deep secrets. I'll share more details on projects I am working on well before they are publicly announced (where I am able). 

I'll be starting the higher tier posts as patrons come on board at those tiers. 

With this amount per month, it will cover costs of websites, store upkeep and more artwork and allow me to cover more of the production costs per month, thus getting more comics out quicker.
1 of 1
By becoming a patron, you'll instantly unlock access to 39 exclusive posts
By becoming a patron, you'll instantly unlock access to 39 exclusive posts
Recent posts by Joe Glass