John Amor
is creating Art and Webcomics
About John Amor
Hello friends,
My name's John and I'm a Comic Artist and Illustrator.

Creating comics has been a full-time job for me since 2008. I've been published by Zuda, Image and IDW, and have even been lucky enough to be nominated for an Eisner for my work on ONE WEEK IN THE LIBRARY. I love making comics, but 90% of that is content being created for other people. Mostly work-for-hire gigs. And I've decided it was time to tell a few of my own stories.
OSCURO tells the story of a brave little boy navigating a creepy landscape he has mysteriously found himself in.  Armed only with his pluck and a flashlight, he will encounter strange folks, weird animals, and the occasional terrifying monster.  OSCURO is a black and white comic and updates bi-weekly
here on webtoons.

The plan is to have
Head Shots
set as my
Tier 1
rewards. I already do a number of weekly character portraits on my Instagram, but Tier 1 supporters will have access to bonus content related to that.
OSCURO Webcomic production hinges on Tier 2 support.
This is what makes the comic possible. The plan is to initially create one page of webcomic a week, with a bi-weekly publishing schedule via Webtoons. But that pace may increase depending on support.
For
Tier 3
, I'd like to do
Monthly Art Prints
that are more involved and take a bit more time to do than the comic stuff. These pieces will range from Sci-Fi, to Fantasy, to Horror material.
With Patreon and your support, I can continue the webcomic, seriously consider increasing the frequency of uploads, and create lots of new art and stories for fans. Thank you for taking the time to stop by my Patreon. Don't forget to check the reward details for the 3 Tiers. Let's make cool stuff.
Select a membership level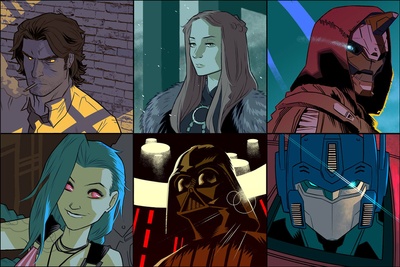 Level 1 ::: Head Shots
My love and gratitude  
Access to weekly poll for character head shots (these are the character portraits currently seen on my Instagram and Fictionaut artbook)
Process Videos for selected character head shots
HQ PSD files for selected character head shots
 Access to my free artbooks via Discord Server

Level 2 ::: OSCURO Webcomic
All previous rewards
Your name listed as supporter on the comic webpage (unless you wish to remain anonymous)
Access to process photos and videos
Access to story notes and annotations
Get a pdf/cbr/epub of the entire finished webcomic, upon completion, with all the bonus content and extra pages
Level 3 ::: Posters/Prints
All previous rewards
Access to monthly poll choosing print designs to be taken to completion and released at the end of the month
Access to process photos and videos for the prints
HQ print-ready PSD of the monthly prints
Monthly Comic Art Tips available to all patrons.
PLUS We unlock a "Questions and Critiques" channel on Discord.


1 of 5
Recent posts by John Amor