Judith-Kate Friedman
is creating Music, Poems & Multimedia
Select a membership level
Warm-Up
Pitch a log on this creative fire!  Receive....
• Emerging songs, poems, photos, art
• Musings about my creative process
• My Abiding gratitude for your support  

Get in the Groove
Keep this artist in motion! Receive all the songs, poems, art, musings and gifts listed above, plus....  
• An Inspiration of the month crafted especially for you
• My Abiding gratitude for your support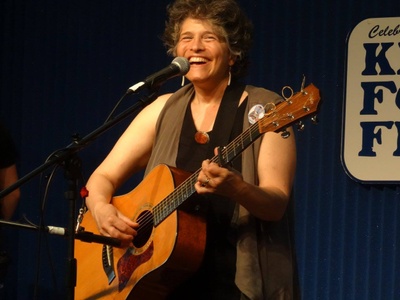 Harmonize
Join the journey! Receive....   
• Emerging songs, poems, photos, art  
• Musings about my creative process  
• An Inspiration of the month crafted especially for you
• Invitations to online chats + events
• My Abiding gratitude for your support  
About Judith-Kate Friedman
Welcome to my Patreon portal. This is your entry way to adventure into my songs, poems, photos, improvisations, musings, and my creative process en route to making finished work.

I'm excited to have you join me on this eclectic, surprising, and sincere journey.

I'll be sharing new work and what inspires me as a songwriter, community music-maker, activist, and advocate for the well-being of the world.

Follow the threads with me through the seasons into collaborations and quietude, performances and learnings.

Subscribers in any amount receive access to all my artistic postings.

Those who can subscribe at $18/mo or more will also receive invitations to special events on line, Zoom or Google hangouts, chats and song previews, occasional workshops, additional free downloads, and whatever else emerges.

For those who can support at $100/mo or more I have surprise gifts to add.
And if you are part of an organization, or have the means to become a foundational supporter ($500/month or more ), I will be honored to compose two new compositions each year for you, or to donate a concert or workshop to a community of your choosing (travel additional).

Why Patreon?

It's long been my vision to explore a more personal connection and the reciprocity of a gift economy between myself as an artist and you, the people who express their appreciation for my work.
You do this through attending concerts, requesting songs on the radio, coming to events, volunteering with me in community projects that spring from shared passions for music, studying with me, collaborating, asking after my creative and personal well-being, and simply (and not so simply) cheering me on.
Your connection means the world to me.

With the music business ever changing, and the numbers of platforms, conduits, and streams of sharing music and video ever increasing, and making it possible to share work in high definition :-) even if I'm not on tour….
This platform called Patreon helps ensure a more steady income that allows me to create new work.

I'm inspired to see what depths, and heights, we'll be able to explore together and look forward to hearing from you and to keeping in touch!

With love, gratitude, and song -- 
Judith-Kate 


My goal is to welcome 108 fans, friends, and colleagues who believe in my music (and arts) and want to see my work continue to grow strong and be widely shared.  
The goal is to reach 108 by my birthday, November 3, 2019.  
As soon as we reach 100 we'll start planning a live online event (and birthday party) to celebrate!
1 of 1
Recent posts by Judith-Kate Friedman
By becoming a patron, you'll instantly unlock access to 3 exclusive posts
By becoming a patron, you'll instantly unlock access to 3 exclusive posts