Julia Jeffrey
is creating art
Select a membership level
Fireflies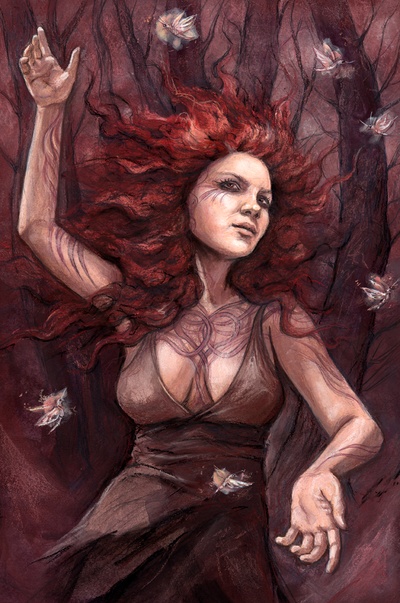 You are little lights in the darkness!  Helping me keep my feet on the path!  You will have access to my Patron-only feed, where I'll share stage by stage details of work in progress, plus behind the scenes insights into the process, and the thoughts and ideas that fuel what I'm doing. I'll also do occasional giveaways specially for Fireflies.

Fair Folk
A gathering of friends!  Those who enjoy and wish to support my work with Stonemaiden Art.  You will have access to the Patron-only feed, plus a 10% discount, on all prints in my Etsy shop. I'll also do a monthly draw with the winner receiving the A4 (or 5x 7inch) print of their choice, and  I'll send you a Stonemaiden art card, with a personal message and little doodle, a couple of times a year.
Coven
Lets make some magic together!  You will get 10% off all originals from the Stonemaiden website (contact me to arrange using your discount ~ discount still applies with payment plan options) You will also get a code for 20% off all prints in my Etsy shop, and I will have a monthly draw of Coven-level patrons for a gift of a unique original drawing or painting.  I'll also send you a Stonemaiden art card, with a mini-original inside, a couple of times a year. Coven-level patrons will also get 10% off when using the *Buy It Now* option to purchase my pieces in the monthly Bad Apple Artist Collective auctions. And of course, access to the patron-only posts and previews, and access to frequent giveaways. 

About
About Me:

Hello, I'm Julia, and I'm guessing, if you're here, you probably already know me and my work! :) I'm an artist and illustrator living in Glasgow, Scotland. I work in traditional mediums, mostly pencil and charcoal drawings, and paintings in watercolours and oils.
Since my childhood days, I've been excited and inspired by the sense of magic in the natural world; by fleeting mind's-eye glimpses of elemental creatures, by the mysterious monuments left behind by our ancestors, by history, folklore and myth. I've always lived in Scotland, and resonated with the beauty of the landscape and richness of it's history, and pre-history!
I studied painting at The Glasgow School Of Art. Faces and figures, of all kinds, fascinate me endlessly ... I get into trouble, staring at people on buses, because I want to paint them!
For the last decade, I've worked under the name Stonemaiden, bringing together everything I've learnt as a figurative painter (training first in oils, and then watercolours) with the quest for magic, that has always inspired me most deeply.
I've done covers for books and records, and my work has been widely featured in magazines. I'm probably best known for The Tarot Of The Hidden Realm, my own tarot deck, published by Llewellyn in 2013, and I'm currently collaborating with American musician Gillian Chadwick of Ex Reverie on a project inspired by the testimony of 17th century Scottish witch, Isobel Gowdie. I'm also one of the founder members of artists collective, Seasons Of The Witch.
Why become a patron?
If my work speaks to you, your patronage can help enable me to keep making it!  I'm completely new to this, I've never attempted any sort of fund-raising for my work before, so this is very much a work in progress!  And I hope I will be able to refine and improve it as I learn more, but to begin with I've created four reward levels, have a look, to the right, and if you feel like signing up for any of them, that'd be amazing! 
And don't worry, it's really easy to edit or delete your pledge, anytime! 
here
By becoming a patron, you'll instantly unlock access to 60 exclusive posts
By becoming a patron, you'll instantly unlock access to 60 exclusive posts
Recent posts by Julia Jeffrey