Kas Miller
is creating Stardust & Spook
Select a membership level
Starry Supernovas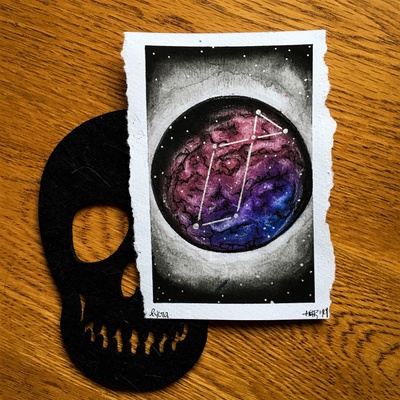 ✧First look at finished artwork + exclusive behind the scenes content
✧Monthly artwork released specifically for Patreon 
✧10% off Big Cartel store
Ultraviolet Spooks
✧Physical note + doodle sent straight from me to you
✧Process videos + walk throughs
✧15% off Big Cartel store
✧Rewards from the previous tier
Celestial Galaxies
✧First dibs on finished artwork
✧Giveaways? Giveaways.
✧20% off Big Cartel store
✧All rewards from previous tiers.
About
Who am I?

Welcome! I'm Kas and I create all kinds of things. I work with watercolor and ink, occasionally acrylics. My muses change from month to month, mood to mood, but my subjects never stray from the divine celestial skies, the ethereal beauty of nature and the horror genre that has inspired me since a young age. I've been an artist as far back as my memories go, and creating is the only concrete thing I see in my future.
Creating is me. I live to create, and create to live. I also create to inspire. Art has given me an insight into the world, into life, into what makes people tick. I'm intrigued with seeing the reactions and relations people have with artwork that speaks to them. Artwork that pushes them to question certain aspects of life and make them
feel
. So that's the type of artwork I try to create.
What your support means to me
After freelancing for the better part of four years, I have a good chunk of projects and personal pieces in collections all over the world, and occasionally tattooed into skin. I've already come so far from where I started out, but its been extremely difficult managing an unpredictable income. Sometimes it's not easy figuring out how I can keep creating consistent, quality content while keeping my lights on and my cats fed.
Then Patreon swoops in to save the day! It's a refreshing environment designed to help content creators all across the board gain a consistent, monthly paycheck to help erase the term "Starving Artist" from our vocabulary.
As I begin to plan bigger and more intense projects for the rest of this year, with your contributions I'll be able to bring them all to life at the highest quality they can possibly achieve. Upgrading and restocking my supplies, as well as starting and finishing ONE project each MONTH, are just the tip of the iceberg of what your support will help me create!
That's what makes me excited to go on this gloriously messy journey with you all.
Patron Rewards – What's in it for you?
As my patrons, you'll have special access to my Patreon only feed! It'll be filled with anything from behind the scenes studio photos, in-process videos to painting giveaways and everything in-between. Check out each reward tier to see what each one offers, and choose the one you love!
In addition to the rewards content, I'll be posting all announcements, project plans and eventually I hope to do live streams of painting sessions when I reach a decent amount of patrons! Polls will also be made so you can help me choose what project to work on next.
Extra Loose Ends
All pledges are processed on the first of every month which is when I'll post certain tier-related content. You can cancel your pledge at any time.
I post a few times a week, for every reward tier.
If you've gotten this far and decided Patreon just isn't for you, that's okay! Thank you for taking an interest in my work. If you would rather support me through my
Ko-Fi
or
Big Cartel
that's quite lovely of you, and fine by me!
Be sure to give my
Youtube Channel
a look through as well, to see my previous art journals and what happens to all of my scraps. I'll probably post those videos on here too.
And Finally!!
Thank you! It really tickles my paint stained heart that you've stuck around to the end. Now let's get creating, shall we?
Art Prints.
I've already reached my goal of finally having prints made of my work, but here's the thing: keeping them in stock is...a financial challenge.

I get my prints made from Shutterfly, and they really are reasonably priced. It's just the demand of keeping them stocked up that's a small set back. Sometimes life gets in the way and art money has to get shifted to medical bills, etc. Tis the Season, amirite??

With this chunk donated, I'll be able to count on this to restock my supply at the first of every month instead of just hoping for the best when things get tight.

1 of 1
By becoming a patron, you'll instantly unlock access to 108 exclusive posts
By becoming a patron, you'll instantly unlock access to 108 exclusive posts
Recent posts by Kas Miller