Kate Trish
is creating Surreal Art and Illustrations
Select a membership level
$1+ Newsletter Club!
You're officially a patron and the recipient of a big, virtual hug! 
Biweekly newsletter
Every 2 weeks, you'll receive a newsletter with updates on my current projects, my life in LA, what I'm reading/watching/listening to, etc. It's a BTS bonanza!
Lens access (Like Instagram stories, via web or Patreon app)
Frequent peeks at what's happening behind the scenes, with progress photos and more.
Poll access
Vote on art subjects, project ideas, etc.
$5+ BTS Art Club
All lower tier rewards and:
Exclusive sketches
I'll be sharing sketches you can't find anywhere else!
Process videos
Exclusive videos, longer videos-- you'll get at least 1 each month.
Website shoutout
You'll be listed on KateTrish.com as a thank you and extra recognition of your support of artists and the work I create. Why? Because you're great!
Discounted original art BEFORE it hits my store!
That's right, friends! You'll have a chance to snag some originals before I add them to my store, with a patron-exclusive discount.
$10+ Pen Pals
All lower tier rewards and:
Business blog posts
Monthly business insights, including things I've learned about running a small business, challenges I'm working through, and resources I'm using. 
Personalized Postcards
1 postcard per month featuring a print or original.
Print/Original Discounts
Occasional, exclusive promo code discounts for INPRNT (open edition prints) and KateTrish.com!
About
For those who don't know me yet: My name is Kate. . .
I'm a Los Angeles-based artist, storyteller, and designer. By day, I make motion graphics for movie trailers, TV spots, and digital ads. By night, I enjoy developing my small business in art with commissions, prints, home goods, and more! My guiding thought is:
You can be more than one thing
, and I enjoy reflecting a feeling of discovery, transformation, and power in my art. I hope it empowers you or brings you joy.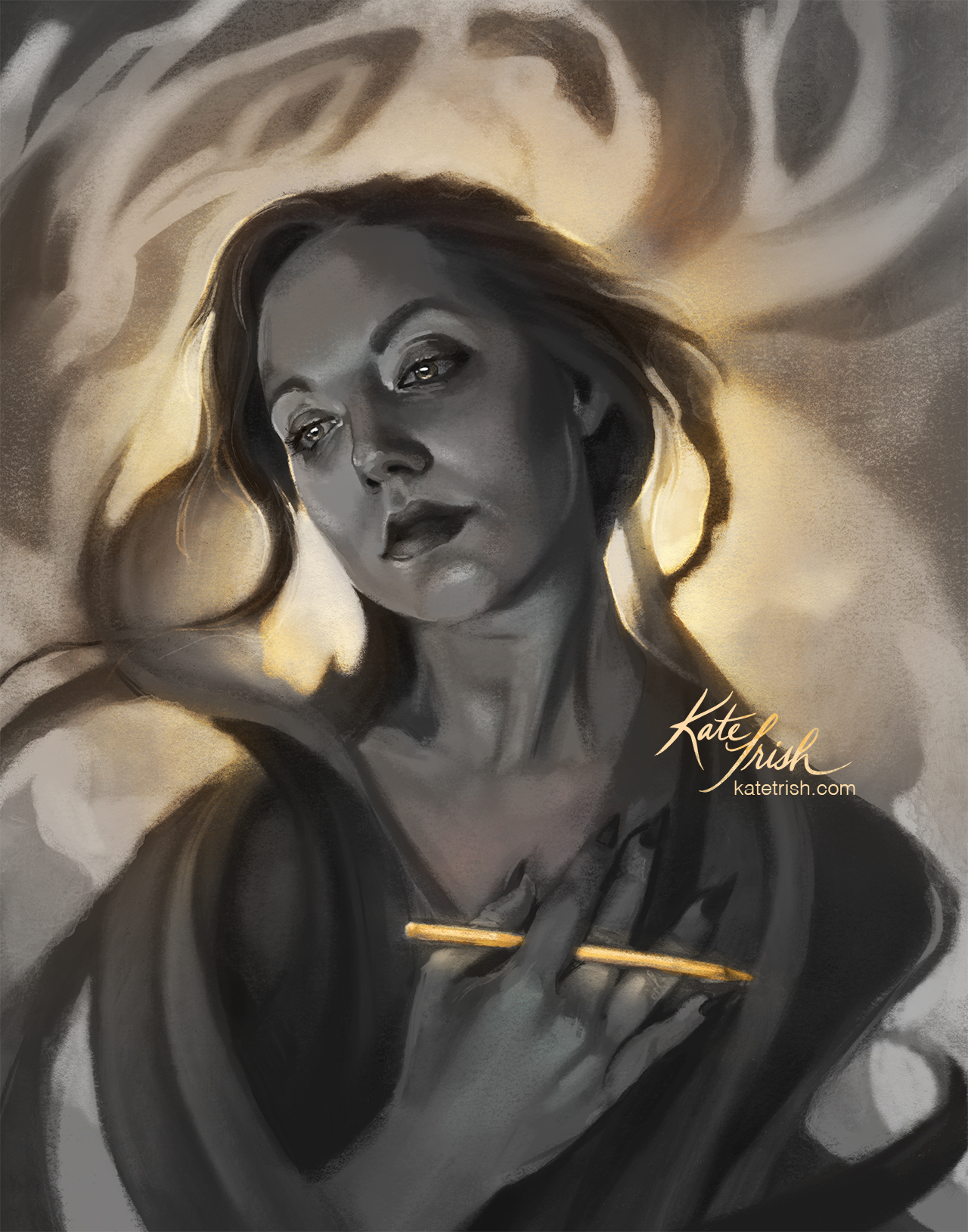 Why Patreon?
I joined Patreon about 2 years ago because it's a great platform for sharing my art with others in a more personal way. I want to be able to
share unique content
,
interact with you more
, and
fund more art projects
. Patreon has proven to be an awesome place to do just that, with business blogs, newsletters, peeks behind-the-scenes, and more. 
How does it work?
If you want to support my work and gain access to my Patreon content, select the tier that matches the patron experience that appeals most to you! This will allow you to choose how much you'd like to pledge per month and select some of the exclusive content perks. You'll be charged upfront then at the beginning of each month, moving forward. You'll have access to past rewards for your tier when you join us, and you can cancel or change your pledge any time.
Whether you're able to become a patron of mine or not:
thank you
for supporting my art so I can keep making pretty things for your eyeballs. <3 I'll look forward to connecting with you here or elsewhere across the interwebs!
If you'd like to see more from me, you can find me here:
This next goal marks the point at which monthly pledges would cover a PO box rental. I'd really love to have a PO box so I can start a mailing list (Fun fact: Your address has to be included in each email if you have a mailing list!) and have a safe spot for business mail. This could be a big step forward in my art business!
1 of 1
By becoming a patron, you'll instantly unlock access to 272 exclusive posts
By becoming a patron, you'll instantly unlock access to 272 exclusive posts
Recent posts by Kate Trish