Kat Lavender
is creating Fantasy Art and Illustrations, Dark Art, Pop Surrealist Art
Select a membership level
Death Head Moth
Thank You! As an iconic Deaths Head Moth, you'll get to see behind the scenes with access to my Patron Only feed, settling on whatever text, pictures, or videos interest you the most.
Including: Exclusive Sketches, Work In Progress Pictures, Behind the Scenes Pictures of my Work Space and Process!
Anglerfish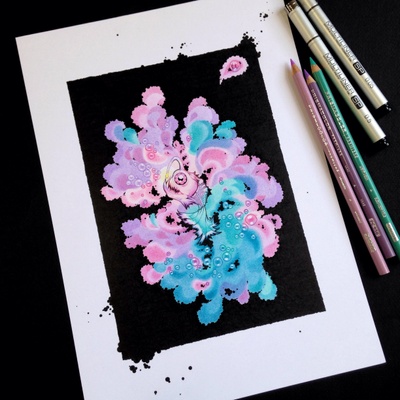 Thank You! As a beautiful Anglerfish you'll light your way to receiving a unique gift from me!
After a year of being my Patron you will receive a Patron Only, Exclusive Design Greeting Card as a Thank You for being my Awesome Patron! Keep it, frame it or send it to a loved one!
Plus all previous rewards
Squid
Thank You! As a squid, you can use your many, dexterous limbs to reach whatever you want in my Etsy shop with a 15% discount!
15% Discount has no limits, exclusions or expiry date and can be used as many times as you want!
Plus all previous rewards
About
Hi, I'm Kat! I'm a freelance Artist/Illustrator, living and working in the UK. My work is fantasy/horror themed. I produce colourful, detailed Illustrations, some of which you can see in my Page Header! I've always had an over active imagination, to the point where *I think* I probably spend more time in my head than I do in the real world! The time I do spend in the real world, I prefer to spend drawing what I can see with my internal eye. I've been creating this way since I can remember. This year, after a great many words of encouragement and support from family, friends and the good people of the Internet, I decided to finally make the jump and work towards making a career out of what I love to do!  
I currently sell Originals and Prints of my work (as well as greeting cards, badges and stickers) on Etsy and at local Art Markets and Pop-Up Galleries. I also do commissions. Everything I make from any of this goes back into my business. Buying new materials, e.g. pencils, paper (I use the best possible materials for my Artwork, which unfortunately means the highest price tag!!), getting new merch made, paying for stalls at Art Markets, etc. Even things like heating the room where my studio is in my house, so I don't freeze (the U.K is cold)! I have been fortunate enough to start making some revenue from my Art, for which I am incredibly Thankful, but unfortunately; not enough to fund it just yet. Nor is it enough for me to be able to quit my day job and focus solely on producing high quality Illustrations and content for my followers: This is my dream, my ultimate goal.
As my Patron, you will gain exclusive access to content I don't (and won't) post anywhere else on the Internet:
I'll post sketches that don't make the cut to be made into finished Illustrations (even the ones I'm really embarrassed about and wouldn't normally show anyone)!
I'll share exclusive Work in Progress pictures of illustrations I am working on, and behind the scenes pictures of my work space that won't be available to view anywhere else online! 
One of the things I really want to do, but don't have the funds or the time to do at the moment, is to start producing Videos (including Live Feeds) of me working on my illustrations and talking about my work. I am particularly nervous about this, but I'm willing and ready to learn as I go, and I'd love to have you along for the ride! Once I reach my first Goal, I'm going to start doing this, as an exclusive perk for all of my Patrons: Inclusive of ALL Tiers!!!
Once I get here, I'll start to create Patron Only, Exclusive Videos of me working and talking about my Artwork!
1 of 1
By becoming a patron, you'll instantly unlock access to 1 exclusive post
By becoming a patron, you'll instantly unlock access to 1 exclusive post
Recent posts by Kat Lavender