Kittynaut
is creating Monthly Enamel Pins
Select a membership level
Sticker Club
❤ Water-resistant sticker
❤ Access to secret shop 
❤ Access to posts only for Patrons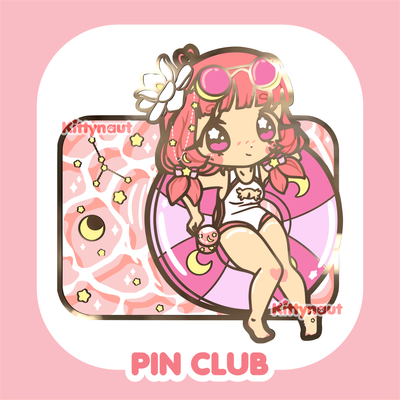 Pin Club Member (USA)
Limited (34 remaining)
This tier is for folks who live in the USA
Every month you will receive:
❤ The pin of the month
❤ Free water resistant sticker
❤ Access to secret shop 
❤ Access to posts only for Patrons
❤ Other goodies we manage to unlock!
Pin Club Member (Canada)
Limited (17 remaining)
This tier is for folks who live in Canada
Every month you will receive:
 
❤ The pin of the month
❤ Free water resistant sticker 
❤ Access to secret shop 
❤ Access to posts only for Patrons 
❤ Other goodies we manage to unlock!
About Kittynaut
Pin Club Member Benefits:

❤ Exclusive Monthly Pin + Stickers + Other Cool Stuff
❤
❤ Shipping Included in Pledge
❤
❤ Exclusive Kittynaut.com Coupons
❤
❤ January 2019 Pin - Join before Jan 1! ❤

❤ Past Pins ❤
Dec 2019 Pin:

❤ November 2019 Pin ❤
❤ October Pin ❤
❤ More ❤

Available now on the secret shop (for members only)

1.  ❤ You sign up this month. ❤ You immediately get access to the exclusive online content, polls, etc.
2. ❤ On the 1st of next month, ❤ you are charged your club membership fee (Patreon gives a 5-day window to actually charge cards) -- upon successful payment, after a couple of days, your club packet (includes an exclusive enamel pin, free sticker, and maybe some other stuff) for that month ships to you!  Yay!

Example: If you sign up on Oct 6th, you will not be charged until November 1st, and you will then receive the November pin design.


❤  FAQ: Will the pins ever be available to non-members outside of the club? ❤
A: The Pin Club pins WILL NOT be available to non-members online at kittynaut.com. The pin club pins will only be available to the following in this order:
1) Currently subscribed pin club members (they get the highest grade of pins)
2) New members who join later will get access to the secret shop (this is where leftovers and seconds are sold)
3) To the general public at conventions in person AFTER pin club members get a chance to purchase them from the secret shop.  (warning: at this point, designs are often sold out).



❤ Theme ❤  Everything will be kawaii.  Subject matter may be either super cute chibis or chibi animals.  They may follow a seasonal theme. They will be original designs by the designer (no fanart).  Warning: They may include puns.

❤ Material ❤ Hard enamel or soft enamel depending on the particulars of the design.  Some might have glitter, cutout areas, danglers, be a collar pin (2 pins joined by a chain), or have other neat features.

❤ Size ❤ Pins will range between 1.5 - 2" -- bigger than the average pin, but not ridiculous.

❤  Backings ❤ Each pin will have: rubber clutches, the official Kittynaut logo on the back, and a club-only backing card!

❤ Check out our previous pin designs: ❤




❤ Shop and follow ❤
When we get to 100 patrons, a mini print will be given to all pin club patrons!

1 of 3
Recent posts by Kittynaut
By becoming a patron, you'll instantly unlock access to 74 exclusive posts
By becoming a patron, you'll instantly unlock access to 74 exclusive posts