Kyle Kemper
is creating a universal digital wallet and more
About
UPDATE: My book, "The Unified Wallet -  Unlocking the Digital Golden Age"!!! is available on Amazon for free 👉https://amazon.com/dp/B07KBFS7L1/ . I hope you like it and would love your feedback!

Hi. I'm Kyle. 🤗
I consider myself a social innovator, a problem-solver, a creator, a father, a son, and a friend to many. I like to help people, communities, and companies. I love to read. I love to write. I love to learn. I believe that we live in a beautiful world. I believe in human potential. I feel in my heart that we are on the cusp of a golden age. The past does not dictate the future. 
Let me tell you some of my story...
In 2013, I had an awakening...an "ah-ha" moment. I was serving at a restaurant when a guest started talking about bitcoin. I had been very curious about it but had many questions. This man was a faucet of information and he answered my endless stream of questions. I was hooked, I helped the restaurant install 
the first Bitcoin ATM in Ottawa
.

After this things really picked up speed. A friend, who was the clerk for the head of the Senate of Canada's Banking, Trade and Commerce committee, called and asked if the Senators would be able to see the ATM in operation. I suggested we bring it to the Senate. They offered 2 hours and during the hearing, the clerk bought 0.189 BTC for $100 CAD. Check it out!
Following the committee hearing, I was asked by the senators for other recommended speakers. There was only one name I gave them...Andreas Antonopolous. 3 weeks later Andreas appeared and gave one of the most educational and inspiring presentations I have ever seen. It is very long but well worth watching IMO. 
Following the Senate experiences, I joined CAVIRTEX (Canada's largest bitcoin exchange at the time) and was elected to the board of the Bitcoin Alliance of Canada. I committed my life to bitcoin, to educating people everywhere about it, to helping people get started and giving away bitcoin. Over the years I have given many bitcoins to people from all walks of life all over the world. During my journey, I worked with a company called ChangeTip that made it possible to send bitcoin to people using Twitter. Want proof? Want to smile? Checkout 
#thisisgentlemen on twitter.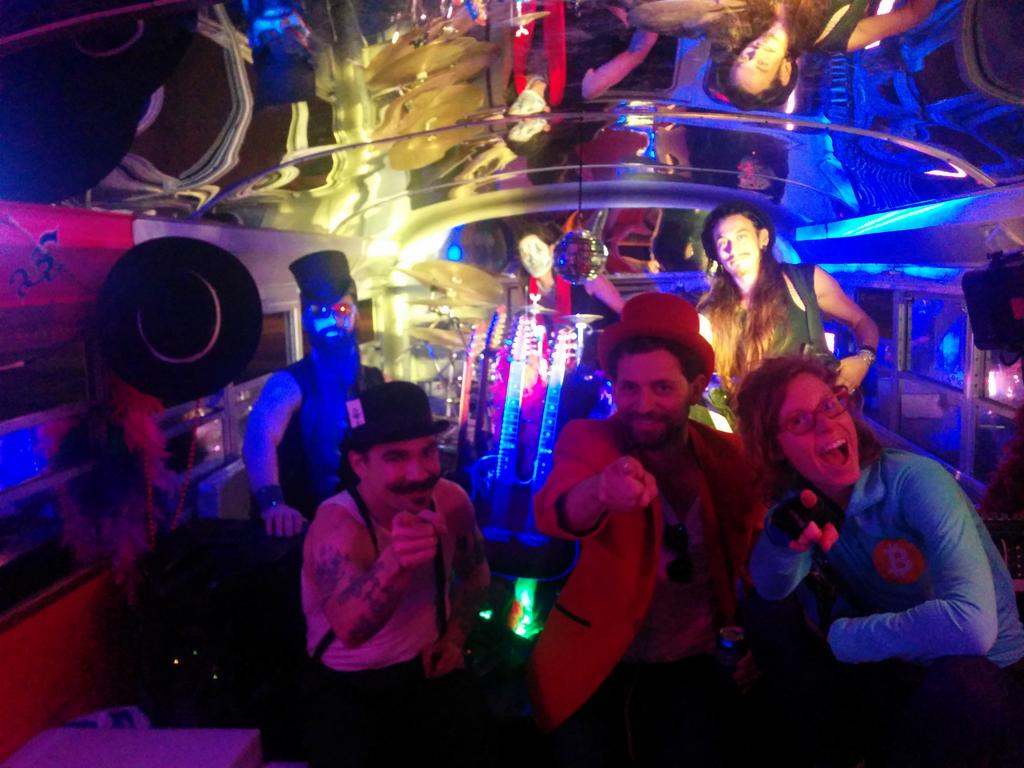 I loved ChangeTip. I loved the team. I loved the community. I loved it so much that at the first Miami Bitcoin Hackathon in 2015 I pulled together a huge number of awesome creators to build what we called...The Social Wallet.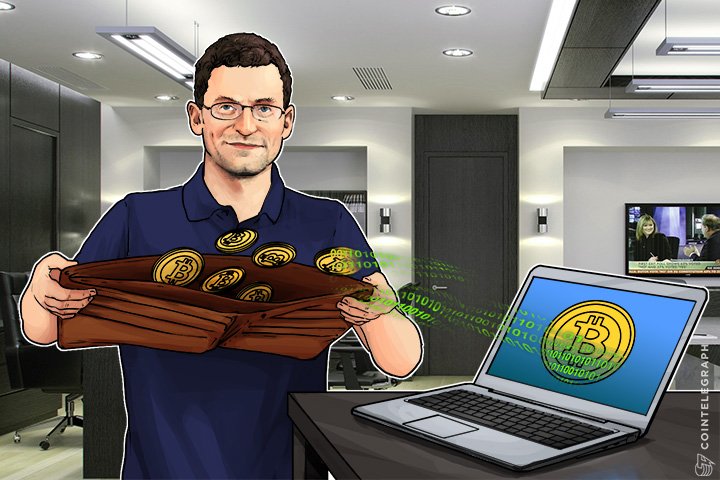 I was so enthused by what was possible that I was relentless in trying to realize it. I created an Indiegogo campaign with the help of soo many people. Check out our launch video.
I made some great mistakes. I didn't listen to critical feedback. My energy was infectious but my strategy was flawed. I failed to ask for help and didn't realize the benefits of the help that was offered. I shut down the project having spent all my bitcoin and having burned some bridges with past employers.  At this time, I was responsible for my 2-year old daughter who was (and continues to be) my responsibility and beacon of love in my life. I ended up returning to the Clocktower Brew Pub to serve and make money to support my family. Down but never out. My job serving was hard-work but it sustained me financially, allowed me to learn from guests, to observe society through a new lens with all that had taken place in the previous years. 
While serving, I was appointed as the Executive Director of the Bitcoin Alliance, which we renamed to the Blockchain Association of Canada, and voluntarily served in that role. In this role, I was fortunate to meet with and educate governments, industry associations, and learn the ecosystem in-depth.
In late 2018, as a board, we recognized that the industry needed dedicated staff and resources to serve the ecosystem and we found a partner in the Chamber of Digital Commerce, the worlds largest Blockchain and cryptocurrency trade association, whom we unified with. - 
press release here
.  
Over the years I've been going through a spiritual transformation or awakening. In 2018 I partook in some incredible events and gathering. There was Davos, where we (the crypto community) showed up in style spreading hope, making friends, and building allies.  There was Restart Week Puerto Rico, where thousands of cryptopreneurs, humanitarians, artists, social innovators & social impact leaders came together to think critically about the systemic challenges facing Puerto Rico and how it could represent, as it has before, a gateway to a new world.
I was blessed to be invited to Summit Tulum, where I met my soulmate, Brittany. It was a transformative journey was I forged friendships and continued to evangelize the crypto/blockchain ecosystem.
Following Tulum, I was invited to the Near Future Summit in California and then to a gathering in the sacred Ojai valley where something special happened. While at this gathering I had a bundle of sharpies with me and I offered my pants as a canvas for everyone to write on. By the end of the weekend, the pants were decorated by drawings and messages of love; they served as a channel to bring people together.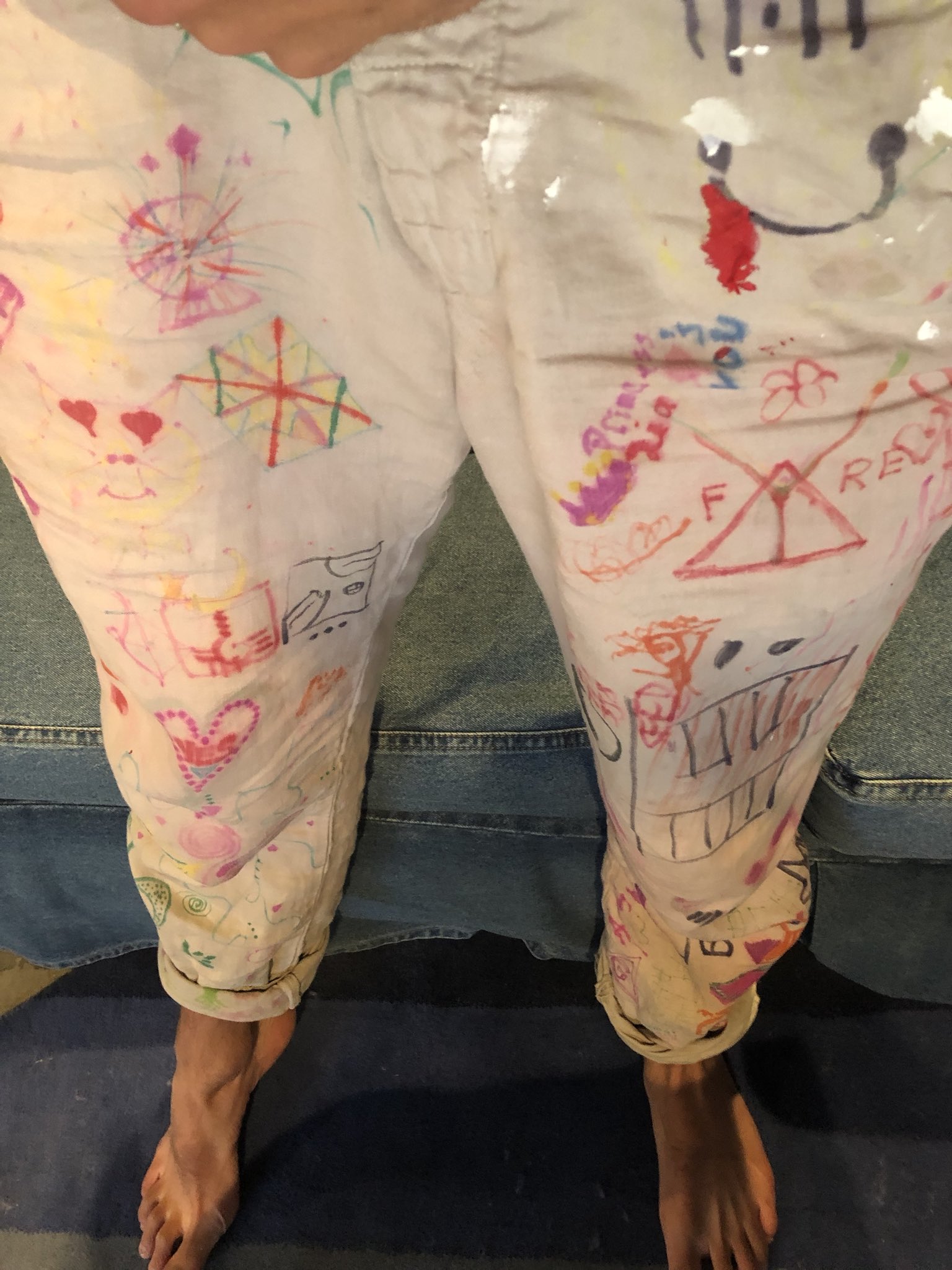 Following Ojai, I returned to Puerto Rico for the second restart week which was an incredible journey filled with connections, systems thinking, and collaborations on how to create abundance and opportunity following disasters. While there I ran into my friend Stephan Cessarini who had brought an Airstream bus, which he calls the Grattitude bus. He has three others that are wrapped in beautiful artwork but this one had nothing on it. I had my paints, tape, and other art supplies and we decided to allow everyone to use the Airstream as a canvas. Over the next 3 days, we had hundreds of people contribute to the bus and declare their dreams as part of his 
@8BillionDreams 
movement. It was quite the experience. 
Inspired from this I returned to Canada and was at a family gathering where I offered my car as a canvas to the children and adults. The joy and energy of all those who contributed to it was incredible and since then I continue to allow anyone, anywhere to contribute to the car. There were only two rules. Rule 1) Please don't paint the windows, mirrors or license plate.  Rule 2) Whatever you do, do it with love. How does it look? Check it!
Since doing this I'm noticing more and more cars with paint on them. I believe that there are canvas's everywhere just waiting to be unlocked. I was especially inspired by the neighborhood of Wynwood in Miami where every building has an incredible mural on it. Where the sidewalks are painted. Where creativity, co-creation, and expression rule supreme. 
In November of 2018, I released my first book called the Unified Wallet: Unlocking the Digital Golden Age. It was the result of 6 months of effort and years of study and discussion.  The purpose of the book is to show what's possible if the world comes together to create a universal wallet. I believe that a universal, unified, wallet is the keystone to a new age. It was suggested and help was offered to make it and so we made it. Massive thanks, grattitude, and love to 
Michael Thompson
from Peacock Books for being the catalyst & publisher!
I have a goal. It is big but it is achievable.
The goal is that by the end of 2020 a unified wallet will exist and everyone on earth will have access to it.
In the coming months, I will be working with wizards and mages to lay the foundation. I will be playing my action cards. I need help. We need help. I will be open and my goal is to use Partreon as a primary channel for storytelling and community engagement. I would love your support and patronage on this journey as we bring about a more abundant and glorious age.
Why am I using Patreon?
I'm using Patreon as a channel to allow those who support me (and us) to do so financially.  Patrons can allow me to press forward on my journey to make the world a more abundant world for all. I believe in angels and patrons are angels. Would you like to be an angel?
Whether or not you choose to support me or can afford to support me I am deeply grateful for your valuable attention. Thank you and bless you. 
Be truthful, gentle, and fearless. 
Recent posts by Kyle Kemper