Knot Bad
is creating Crochet
Select a membership level
Knot a Bad Party!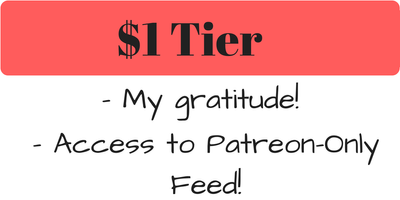 Thank you so much, it might not seem like a lot, but it makes a huge difference! This first tier is sort of like a tip jar, basically saying you enjoy what I do. You will now have access to my Patreon-Only feed, which will be our community! You will have access to behind the scene photos and other posts!
Elections!
Thank you! I'm so gracious, you're amazing! With this tier, you will now get to vote on the first creation I create each month and see it come alive in my feed and on my Instagram!
Bargain Hunters!
I am blown away by your generosity, thank you! You have my gratitude. With this pledge, you will receive all previous rewards and random Patron exclusive coupons. Also, from when you pledge, you will receive every pattern I make from that point, completely free! 
About
Hi, My name is Vincent and I crochet!
I learned how to crochet in August of 2015 and I have been hooked ever since. I create crochet dolls (Amigurumi) based off of characters from all things nerdy, animals, inanimate objects, and as of recent, slowly easing my way into crochet wear! When I tell people what I do, it's sort of hard to imagine what I'm talking about, so here are some pieces of mine to give you an idea!
What is Patreon and why in the world would you pay me?
Patreon is a neat and different way of letting me know you support my work and I! It's sort of like a virtual tip jar, but you still receive some fun stuff! Patreon is a subscription service, where you can pledge a certain amount per month to support me! You can choose any of the pledges I have set up, and receive those "PERKS". The more you pledge, the more you receive! Whichever tier you choose, you receive those perks and everything underneath it as well :) When you donate to me, you become my partner, my online family, and my support system. You allow more art into this world.
What's my goal?
The more I expand with my art, the more I dream up! My goal is to be able to do this more often  and to offer my fans fun perks at the same time. With your support, it gives me the chance to become full time and my goal to no longer be a starving artist! This also helps be directly involved with Knot Bad, and I couldn't be more gracious!!
**Important**
It's crucial for me to tell you that I love and appreciate every single fan of mine. If you do not have the money to donate, DO NOT feel pressured to do so! Just spreading my name and enjoying my work on Instagram is more than I could ever ask for :)
Frequently Asked QuestionsCan I stop donating in the future if I can't afford it?
Yes of course! You can cancel or adjust your pledge for any reason at any time. You can also set a monthly maximum to ensure you are never charged more than you can handle.
Do I have to pay in US Dollars?
Nope! Everything is shown in US dollars on the website, but you may use any currency and it will be automatically converted.
When I reach $100 per month, every single tier will be included in a monthly raffle for one of my creations every month!
1 of 1