Layers of Pink
is creating music, videos, vocal coaching & more!
Select a membership level
ya makin' me *blush*
A simple pledge of love. 
+ access to all exclusive content (ie. blogs, vlogs, podcasts, early access posts, & live stream concerts)
+ you get to turn my cheeks pink
pinkies
For the price of cigs, a good cup 'o joe, or my favorite, a bag of spinach!
+ all exclusive content
+ live stream concerts
+ your name in a Pinksgiving prize drawing once a year! 
magenta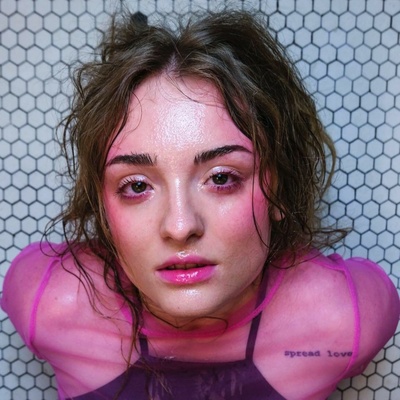 "yes, doctor? I'm bleeding pink...?"
+ all exclusive content
+ live stream concerts
+ your name in a Pinksgiving prize drawing once a year! 
+ 10% off LOP merch + one ticket to a local show/year
About
Hello. Welcome to my world of
pink.
My name is Pinky, I am the creator of Layers of Pink, & in a sense, I am Layers of Pink.
About Pinky & LOP.
I am a vocalist, songwriter, voice coach, performer, & spicy food enthusiast. I describe Layers of Pink as the musical storyboard of a modern girl exploring feminism, sexuality, love & social culture. Each song is a layer peeled back revealing more of the colors that make up a breathing, feeling creature. I guess you could say, Layers of Pink is the journal I stain with wine, blood, pop, r&b, rock, & dance hues. I get a lil messy, clearly. :)
Be My Label.
With this Patreon, I give my fellow Pinkies (cut us open & we're all pink haha!) a chance to be my record label. When you help fund LOP, you are directly involved with the process & no one else controls the work that is created. Some of the perks of supporting include; exclusive content ie. vlogs, podcasts, & early releases, having your voice heard, chatting with Pinky on live stream, special prizes & merch giveaways, vocal coaching, live stream concerts + tickets to local shows & discounts on all merch. In return, your money goes directly into the hands of a creator you love, instead of going to labels who bank off of creatives & dictate the art that enters the world. This way we can build a LOP team together & put the money into the art!
The Plan.
My main goal is to release 5 songs this year & tour another 1-2 months so meet all of you in person! To make this happen, we've purchased a tour vehicle & renovated it to sleep in while we're on the road. We've begun our touring for 2019 but now we need to keep it up & do it bigger.
-
Booking Agent.
It takes hundreds of hours to book tours alone & for now, we're doing it alone, so our first goal is to attract a booking agent. To do so, we need quality videos, music released, & data from touring, which we are currently collecting.
-
PR Agent.
Our next step is to hire a PR agent. PR is so so important if you want to expand your fanbase to new audiences. Ever see artists get interviews on radio shows, tv, & blogs? Thank a PR agent. See them get write-ups in blogs or magazines? PR agent. Discover a new song on a popular playlist? PR agent. PR agents get artists in rooms they can't on their own & we would like to have someone out there working the media frontlines for us!
-
Tour Manager.
We would also like to add a tour manager who could help us set up/tear down, communicate with venues about our needs & payment, keep us on schedule, sell merch while we're on stage (because an empty merch table sells nothing!), look out for problems & deal with them, & help keep tours running smoothly because we get very busy just eating, sleeping, staying healthy, driving to new cities, & playing music! It can be exhausting but it's the best, which is why we want to make this work! 
We know these key players will help LOP get to a healthy, sustainable flow where we can accomplish the two goals at hand; releasing music & touring! 
When Layers of Pink reaches 20 patrons I will begin doing a live stream concert once a month!
1 of 2
Recent posts by Layers of Pink
By becoming a patron, you'll instantly unlock access to 8 exclusive posts
By becoming a patron, you'll instantly unlock access to 8 exclusive posts