Little Starship Productions
is creating mobile apps and videos for preschoolers
Select a membership level
Access to the Patron-only Activity Feed
You get our gratitude, plus regular updates on what we're doing in the studio and what Little Starship Productions has in store for you next.

Provide Development Input
We encourage your feedback. At Little Starship Productions we enable participation at each stage of development. Parents and educators can have the power to influence design! We encourage parents and educators to voice questions and concerns with any of our apps. You will get the say! By providing comments and feedback through polls and surveys you will directly help influence the quality of our apps and videos. Plus, you get all of the earlier rewards except for the limited ones!
Production Credit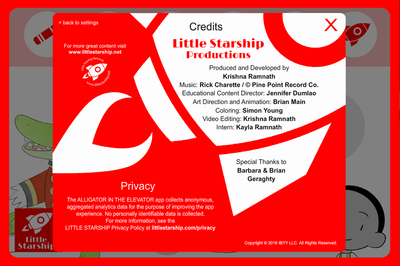 You get the cred. Seriously, your name will get in the credits of our apps and videos as a huge thank you being part of the Little Starship Productions team. Plus, you get all of the earlier rewards except for the limited ones!
About
If you are like most parents you may find it increasingly difficult to navigate through all the new media that is readily available for you and your children.
Our aim is to provide you with a single recognizable source for safe, engaging, educational multimedia content for your family.                                             
At
Little Starship Productions
we are developing and producing multi-platform interactive software apps, and video content that help pre-school age children develop fundamental cognitive skills during early childhood.
Our
"Aligator in the Elevator"
series of apps has been very well received by both the public and independent app review sites. We are a very small but ambitious and hardworking team. Your support will help us keep the lights on, help us pay the bills and help us pay our talented artists and enable us to create new content on a monthly basis.
If you become our patron you can receive rewards for a small contribution starting at $1/month.
At Patreon you can change or cancel your pledge at any time. if you are new to Patreon and want to know more about it, check out this video
HERE
.

Who we are
We are parents, artists, and educators with over 50 combined years of experience creating interactive multimedia.
Krishna Ramnath
is a creative director, designer and developer with 20 years of diverse interactive development and television production experience. He has worked for some of the top advertising agencies developing online digital advertising content including ads, games and animation. His expertise encompasses all aspects of the digital content creation spectrum from creative idea generation and development through technical production, post production and final delivery. He is also a father of three girls. He started
Little Starship Productions
to produce projects that are fun and entertaining for both kids and parents; that will encourage imagination and exploration; and that will help kids develop a love for learning.
Jennifer Dumlao
is a Yale graduate with 12 years of integrated experience in: advertising, marketing, promotions, social media, mobile & emerging platforms, music and entertainment industries. She received her bachelor's degree in Sociology with a focus on Media, Education and Psychology. For 2 years Jennifer acted as Administrator and Teacher for the Brooklyn Saplings Co-Operative Play School she founded in 2012 for our 2 and 3-year-old daughters along with 8 of their peers in our Prospect Heights neighborhood in Brooklyn, NY. She is now a member of the Board of Trustees at The Co-op School, a nonprofit cooperative elementary school in Bedford-Stuyvesant, Brooklyn NY. Additionally she has 15 years of performance and club DJ experience all over NYC and the globe, and 9 years of long-form improv comedy, acting training/performance, and occasional freelance non-fiction writing and copywriting experience.
Friends and Collaborators
Brian Main
 is an incredibly talented American-born artist & animator living in Vienna – Austria. He has worked on as a character designer, background artist, visual development artist, animator, and illustrator for several games apps & campaigns. Brian is the creator of the highly-acclaimed
lil'Red
storybook app. He also recently worked as an animator and background designer on the award-winning
Old Man's Journey
app which won an
Apple's Design Award
and
Apple's Game of the Year on iPad for 2017
.
Rick Charette
is a singer and songwriter and educator. He has become known for his catchy songs like
"I Love Mud"
,
"Alligator in the Elevator"
and
"Bubble Gum"
that have made him a favorite of parents and children alike throughout the US. He travels throughout the country performing on acoustic guitar for children and families both at schools and concert halls. He has recorded 12 CDs, 3 DVDs and has also published two books.
Covering monthly expenses including paying our talented collaborators for their contributions.
1 of 1