The Lonely Palette
is creating an Unsnooty Art History Podcast
Select a membership level
Postage Stamp
Gratitude as eternal as Mona Lisa's smile.
Your name entered into a quarterly drawing for a musuem-shop trinket!
Still Life Painting
Pay What You Can Museum Absolution. Never feel guilty about walking by that Plexiglas box again!
A TLP sticker.
Animal Painting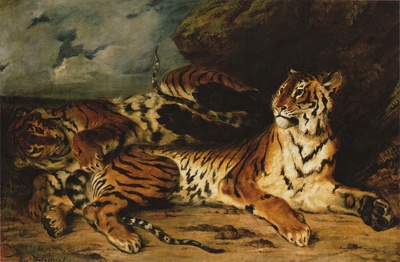 Everything from the below tier, including:
A Lonely Palette enamel pin.
About
So. Art. Whether in museums or in history, people have this thing about it. They think it's boring, or snooty, or can only be talked about with big fancy words. And that's nuts.
Not only is art history fantastically interesting, but it's everywhere.
You can't avoid it. Everyone can recognize the Mona Lisa, and everyone's heard about Van Gogh's ear. So you might as well learn something about it, right? Something to whip out at parties?
Because art history, like everything, is all about the story.
I started
The Lonely Palette
with the goal of telling these stories
, one painting, sculpture, exhibition, and urinal at a time.
Using the object as a jumping-off point, we've dived together into the significance, history, and social context of artists and movements, and they've been, I hope, as neat, accessible, and compelling to you as they are to me.
Think of the adventures we've had together! Remember when we made
abstraction a little less terrifying
? And
Degas' Aunt Fanny a little less boring
? Remember when we
compared Monet canvases to Lay's potato chips
, and explained exactly
why Nazi art was so sucky
? We've dived headfirst into
art history's woman problem
, and
cavorted with Futurist douchebags
. And all without leaving the comfort of your earbuds!
Here's the thing, though.
The lonely part is no joke
:
The Lonely Palette
is just me. I research, write, produce, host, and edit the whole shebang, and believe me when I tell you that it's the best part of my week. But even a labor of love is labor, and ask Van Gogh how only selling one painting in his lifetime worked out for him.
This is where you come in!
You can bring
The Lonely Palette
to the masses, one patron at a time. And donating even just a few dollars an episode means that I can...
Upgrade my recording gear...
Pay for vocal booths...
...and, most importantly, take the show on the road to museums across the country and around the world, sending you postcards all along the way.
I'm new to Patreon. So I just give once and get my mug, right?
Nope! You're a full-blown patron of the arts, like a modern day Lorenzo di Medici, supporting Michelangelo on a continual basis in exchange for art, except this is even better than a marble tomb, because you get swag, too! In short,
you pay this amount every time I release an episode
, which I hope you believe to be a worthy cause.
Whoa whoa whoa. How often do you release an episode?
My goal is to release 12 episodes (ideally) per year, 10 at a minimum. I don't charge patrons for re-releases or special episodes (live recordings, etc.), only when I put pen to paper and mic to face. So it's equivalent-ish to
monthly support
- for every month I release two episodes, you'll find me on my fainting couch taking a month off. Don't forget, too, that you can set a monthly limit for how much you can give.




I want to give, but I'm broke, and a $1 per episode seems lame and/or insulting. So I just won't do anything. Bye.


No no no! Come back! No amount is too little, BELIEVE ME.

Every little bit counts

, and is so very much appreciated.
I love the show, but I just can't support you anymore, or at the level I signed up at. Am I a monster if I abandon this?
No, not at all. This is 100% voluntary. Please just do me a favor before you go: leave a rating/review on iTunes, post about the show on social media, and tell one new person face-to-face.
Word of mouth
is still the best (and only) way to spread the news about podcasts, and it would help me out enormously.
***
So go ahead. Channel your inner Medici. Consider becoming a patron of
The Lonely Palette
.
And
thank you
, from the bottom of my heart, for supporting, for listening, and for giving me the opportunity to see art through your eyes so you can look with your ears.
- Tamar
I'm a full-time arts audio freelancer!  Every contribution, no matter how big or small, sustains my career and gives me the opportunity to keep bringing you episodes.  Thank you so much for your support.
4 of 4
Become a patron to
Unlock 24 exclusive posts
Connect via private message
Recent posts by The Lonely Palette