Brad Baker (Loud Unwirings)
is creating Experimental Art + Software for Experimental Art Creation
Select a membership level
0x101
For $5 you'll get access to a huge backlog of unreleased music and art, including non-experimetnal musical tracks, including unreleased catalogues from some of my past musical projects:

MyIrrlicht Music - experimental ambient
The Cop Shop - folk
Obvious Objects - dream pop
0x1010
For $10 you'll get access to the previous tier, and up to 2 hours of server runtime to run the ModalArt tool on any data you wish (pending review). Every 5$ above 10$ gets you an additional 2 hours of server runtime, up to 72 total hours.

For $10 you will also get early access to unreleased versions of new ModalArt tools as they are being developed. After version 0.1 is released unreleased versions will predate Github releases by 2 weeks.
0x10110
For $20, you get access to the previous tier, and up to 6 hours of server runtime for the ModalArt tool.

Additionally, for $20 a month, you will get a 20 sheets of custom stickers, generated either from your own custom data, or generated from Loud Unwirings projects.
About
Hello! My name is Brad, and I'm an artist and software developer creating software for experimental art and music creation, and I'm also making experimental music, art, and poetry.  I also do 
research
in Machine Learning, if you're interested. 
Loud Unwirings
My current project, Loud Unwirings focuses on the creation of Experimental Art, Music, and Poetry that is inspired and created by technological influences. The project aims to explore the relation of the self, society, and art to technology and science, as well as other various themes in the mileu. 
ELEMENTS EP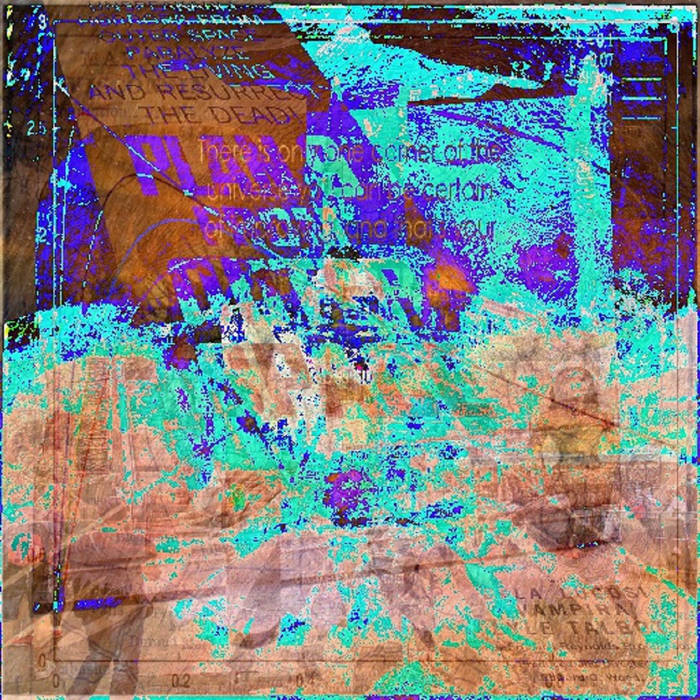 The ELEMENTS EP is a project focusing on the creation of poetry and visual/audio experimental art with themes focusing on members of periodic table of elements. Each release uses facts about the element to build thematic ideas first through the poem, and second through the conversion of the poem modality to visual and audio pieces.
I've released a few tracks from the EP already, and will be continuing to release tracks in the coming weeks. See my 
bandcamp
for more.
Poetic Fusion
The Poetic Fusion is an ongoing project using the ModalArt tool to convert public-domain and submitted poetry to works of experimental artwork through software. You can check out the project 
here on my homepage
. Here's an example of one of the images created for this project, for Carl Sandburg's poem "Buffalo Dusk":
Software for Experimental Art
I currently am releasing the tools I use to make the art and music on 
github
.
ModalArt
This package strives to foster the creation of art by conversion of data modalities, facilitating new perspectives on the art-creation process and the art-encounter via technology.
Current functionality targets conversion between RGB images, audio, and text; however, conversion between other kinds of data and art modalities will be explored in the future.
The released tool currently supports conversion of image data into an audio file via spectrogram analysis or edge-detection, as well as text to image conversion via keyword and image searching.
Below is an example of the TextKeywordImage tool, which converts text files into visual art. The poem used to generate the image is "Ten Maps of Sardonic Wit" by Christian Bok.
Past Projects
There are a few other released projects which I've participated in that have public presences on the internet.
MyIrrlicht
MyIrrlicht was a personal poetry blog created for quick drafting of poems of various themes, most active between the years of 2012 and 2015. The blog is still accessible, but is no longer being updated.
Obvious Objects
Dream-Pop created by guitar and loop pedal. Performed some small shows in the Sarasota, Florida area, especially around the New College of Florida. The recorded live tracks have been removed, and are available for patreon donors in tier 0x101
The Cop Shop
Small Folk-Punk project from circa 2014.
This goal is focused on the upcoming release of the ELEMENT EP. The EP is currently going to be capped at 18 tracks, one for each of the first 18 elements in the periodic table (ending with Argon). If I reach 100 patrons, I'll increase this to 86 elements (ending with Radon).
1 of 2
Recent posts by Brad Baker (Loud Unwirings)