Meat Cake Productions
is creating high quality idiocy!
Select a membership level
All-Access Patron!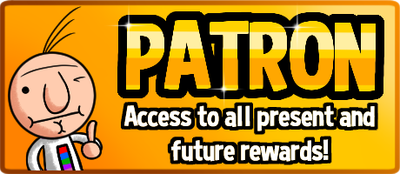 Give us however much you want! For that, you'll receive:
- Your name in the credits of any video that has credits at the end!
- Sneak peaks and behind-the-scenes for stuff we have in progress (art, video snippets, whatever we feel like sharing)!
- Early access to videos 24+ hours ahead of publishing on YouTube!
+ Whatever other patron-exclusive stuff we come up with down the line. Don't worry we'll figure it out I promise.
About
Meat Cake Productions is a group of creative and imbecilic young adults who love to share our ideas with the world on YouTube and make people laugh. Video games are great, and making videos from them is a ton of fun, but we want to do more. But maybe we should explain ourselves first.

Billy
is one of the editors, and the artist of the group. If you're lookin' at it (and it's not game footage), he probably had something to do with it. His home studio is the main headquarters.
With a great sense of comedic timing, quick wit, and sick pipes to top it all off,
Greg
is the other editor and leading harbinger of amusement.
A former radio producer and current film student, 
Chris
is frequently featured in our merry escapades and sometimes we have to heavily edit his excessive nonsense. You might know him from the
Zelda Informer Podcast
. But probably not.


If you need a brilliantly stupid yet somehow fleshed-out idea in a short amount of time, Devin has you covered. How his mind works is still a beautiful mystery to most. He also makes music on occasion.




Josh
is our resident weeb on whom we can often rely for legitimate constructive criticism, and who possesses some actual
skill
in the video gaming area.
While most of our ongoing projects are gaming-related, more varied undertakings are on the way. Here are our current shenanigans: 
Stupidity
: The first gaming series we ever started. Though we're getting more creative with the naming schemes now, the idea is still the same. A fast-paced assortment of wacky highlights and questionable behavior in online multiplayer games. Featuring subtitles over our heads because, for some reason, it just makes it funnier. 
Here's one of our favorites
.
BUTTER: B
ringing
U
nwavering
T
omfoolery
T
o
E
lectronic
R
ecreation. Yes, seriously. Two or more of us sit together to play a game, and you get to see the best bits, plus Greg's magic editing touch. Like a Let's Play, but better.  Also Billy draws special artwork for each game, featuring Cedric (our dumb mascot, a years-old doodle gone too far). 
This is a fun one
.
A Whole Lotta Nothin': Our very own podcast where we discuss whatever we want. No real rules, just chewin' the fat. Gross.


GRADE: G
iving
R
edundant
A
ssessments of
D
igital
E
ntertainment. If we have something to say about a video game (or any other media), this is the series it goes under. No actual grades are given, but our opinions sure are.
PAINT
:
P
roducing
A
rtwork
I
n a
N
arrow
T
imespan. It's timelapses of Billy's artwork, whether it be video thumbnails or original just-for-fun pieces. We like acronyms, I'm sorry.
Our future endeavors we'd like to partake in include live action/animated comedy sketches, original music, and MUCH more! But y'know. Money.
Why give us money, you mean? Because you want to! Hopefully.
We're all passionate about creating and entertaining, and we want to eventually do it full-time, but ad revenue (especially on YouTube) is one fickle beast. Quite frankly, we just don't even want to deal with it. And maybe, with your help, we can get there without dealing with it. Of course, there's no obligation to give your hard-earned money to a bunch of dimwits. Even just watching, listening, and saying hi is enough to keep us going!
Thank you for reading! We hope you'll consider supporting us, monetarily or otherwise!
By becoming a patron, you'll instantly unlock access to 1 exclusive post
By becoming a patron, you'll instantly unlock access to 1 exclusive post
Recent posts by Meat Cake Productions