Team Mono Cómics
is creating Cómics, novels, Graphic novels, children´s books
Select a membership level
Mono 1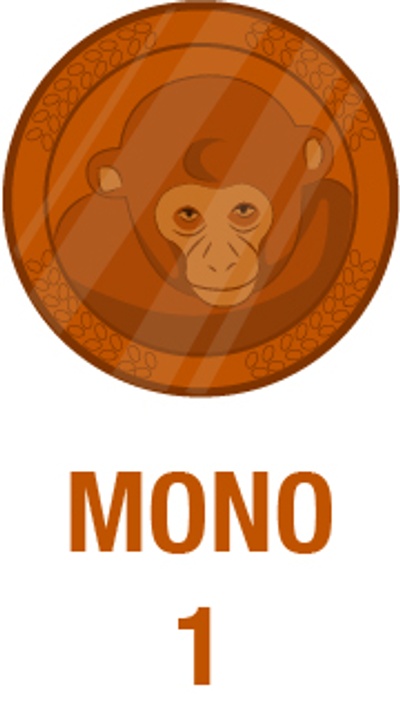 In Ecuador $1 is:
5-10 loaf of bread.
10 lemons
20 bananas.
2 bottles of water.
3 bus rides.
Or your minimal contribution to our survival.
En Ecuador $1 es:
5-10 panes
10 limones
20 bananas
2 botellas de agua.
3 pasajes en bus
O tu mínima contribución para nuestra sobrevivencia.
Mono 2
Our monkeys are smart and strong, You know why? Because in Ecuador we have the biggest plantations of the favorite food of the ape family: BANANAS. The more bananas they eat, the more skills obtain and creative they become. If you help us take care of our monkey herd with just $5, you can provide us with a big load of 100 bananas to feed our hungry monkeys. See them grow with brand new character sketches and all-new sketches of pages of new comic book projects. 
Por 100 bananas ($5) podrás ver nuestro mono crecer además de ver sketchs de personajes y bocetos de páginas de nuevos proyectos.
Mono 3
We have a lot of support from Animal protectors and Enviromentalist. They want to see FAT MONKEYS AND HAPPY MONKEYS. Now we recieve trucks from bananas farms, boxes and boxes full of shiny yellow bananas to nurture our monkey friends. Be one of them and help our monkeys feed wth 500 bananas with only $25. Besides stuffing the monkey with bananas, you will obtain all our benefits above plus a wonderful and glorious illustration or portrait of you or your OC. 
Por 500 bananas ($25) Además de engordar al mono, los sketchs y bocetos; podrás tener una maravillosa pero no milagrosa ilustración tuya o de tu OC.
About

ENGLISH
We are from Ecuador, and yes, we also make comics here. Our small country has a 135-year history of comics, but it never developed as fast as in the United States, Japan or Argentina. At the end of 1980, many artists began to publish independent comics.
Mono Comics is a venture that in the last five years has struggled to develop Ecuadorian comic books and graphic novels of young authors and artists. Despite the growth of audiovisual and technological media, we believe in the capability of hand-made work and in the use of traditional ways to teach society the everlasting habit of reading (and what better than to make quality Ecuadorian material). Mono Comics is preparing its working teams to go beyond the local market and create new ways to publish comics in Ecuador. To show much more about our country's culture and way of life. To develop new talents, writers and artists, and increase the number of comic readers in Ecuador are the challenges that we have placed for the coming years.


ESPAÑOL
Somos de Ecuador, y si, aquí también hacemos historietas. Nuestro pequeño país posee 135 años de historia del cómic ecuatoriano, pero esta nunca se desarrolló tan rápido como en Estados Unidos, Japón o Argentina. Al final de 1980 muchos artistas comenzaron a publicar historietas independientes.

Mono Cómics es un emprendimiento que en los últimos 5 años ha luchado por desarrollar historietas y novelas gráficas ecuatorianas de autores y dibujantes jóvenes. A pesar del crecimiento de los medios audiovisuales y tecnológicos, nosotros un creemos en la capacidad del trabajo hecho a mano y en el uso de formas tradicionales para enseñar a la sociedad el hábito eterno de leer (y que mejor que hacer material ecuatoriano y de calidad).Mono Cómics se encuentra preparando a sus equipo de trabajo para que vea mas allá del mercado local y crear nuevas formas de publicar historietas en Ecuador. Mostrar mucho más sobre nuestra cultura y forma de vida en el país; Ayudar a desarrollar a nuevos talentos escritores y dibujantes; y expandir el número de lectores de historietas en Ecuador son los retos que nos hemos colocado para los años que vienen.
ENGLISH
Mono Comics is on the way of expansion. If we reach $1000, we´ll use the money to rent an office, not only for speed up the process and improve the quality of the projects also to have a place to make livestreams, video tutorials, speed drawing, movie reviews podcast and more in the future.

ESPAÑOL
Mono Cómics está en camino a gran expansión. Si llegamos a nuestra meta de $1000, los fondos lo usaremos para rentar una oficina. Un lugar que nos ayudará no solo a acelerar nuestros procesos en creación de historietas o a mejorar la calidad en cada uno de nuestros proyectos, sino también a futuro realizar transmisiones en vivo, tutoriales en video, dibujo en cámara rápida, reseña de películas y más para estar en contacto con nuestros amigos.
1 of 2
By becoming a patron, you'll instantly unlock access to 9 exclusive posts
By becoming a patron, you'll instantly unlock access to 9 exclusive posts
Recent posts by Team Mono Cómics