A Muggle's Perspective
is creating A Harry Potter podcast
Select a membership level
Muggles
Muggles are the first tier of patrons.  Muggles get access to the Patrons-only bi-weekly newsletter that will exist if people sign up for this and the Patrons-only Podcast feed
Perspectives
Perspectives are the second tier of patrons.  Perspectives get access to the Patrons-only podcast feed, Patrons-only news feed, the bi-weekly newsletter, will receive irregular shout-outs live on air, and can expect occasional handmade cards at surprise intervals (min. 3 / year).
Wizards
Limited (1 of 5 remaining)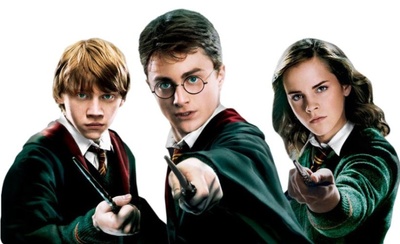 Wizards are the third tier of patrons.  Wizards get access to all of the benefits of the lower tiers, as well as the opportunity to choose one episode per HP book on which to guest host (must be chosen in advance because obvious). This tier is limited to 5 Patrons.
About
Hello dear listeners and welcome to A Muggle's PersPatreon! We want to very sincerely thank you for considering supporting A Muggle's Perspective.  Interacting with you all is the most fun part of making this podcast, and your support via Patreon opens up some awesome new avenues for us to be able to do that, while also making it much more feasible for us to convince our wives to let us spend even more time and money messing around with making a Harry Potter podcast.  Come for the Patrons-only episodes, stay for off-air conversations where we force Braden to talk like Hagrid the whole time.

Since we are asking you to support us financially, we here at AMP want to be very upfront as to what the money would be going towards.  All expenses for the hosting a production of the podcast are currently being paid out-of-pocket, and we are happy to do so because it is fun and people seem to like it.  That being said, there is a limit to how much time, money, and effort we can put into this creative venture without some financial backing.

Current expense include:
-  Hosting fee:  We currently pay $10 / month to host the podcast.  There is a 10 hour / month limit on recording for this fee, so we would need to move up to $30 / month in order to support 7+ more hours of content each month via special, Patron-only episodes.
- Equipment: A podcaster is only as good as his or her setup! We would love to be able to purchase some equipment for Braden, like a microphone, headphones, and pop filter.
- Time:  Producer Jeremy spend hours each week editing and re-editing our voices to make the pod sound as good as it does.  In order to increase our recording load at all from where it already is, Jeremy would need to be compensated for this extra time.
- Advertisement: The more people who get to experience the joy of entering the wizarding world for the first time, the better! But posting a link for our Facebook friends only goes so far.  The advertising budget is currently a solid $0, so any increase to that would go a long way toward expanding the listener base and spreading Braden's dulcet tones to as many ears as possible.

Any support that we receive will go directly to covering these costs, probably in the order above.  Again, your support here will allow us to produce more of the content that you already love, as well as explore new avenues of entertainment and engagement that you may just find to be your favorite of all!

As always, thank you so much for listening, and Freeform is codswallop.
If we get to $100 a month in support, we will increase production to one episode / week instead of every TWO weeks!
1 of 1
Become a patron to
Unlock 11 exclusive posts
Connect via private message
Recent posts by A Muggle's Perspective