Nicole Marie Polec
is creating CLAIRVOYAGE {my PTSD mystery}
Select a membership level
PRESENT
This tier gets you access to all the content from the PRESENT content regarding the research and progress I am making in regards to solving my PTSD mystery including live feed and therapy.
FUTURE
This tier gets you access to all the content from the FUTURE  regarding the releases and progress I am to create in regards to this CLAIRVOYAGE. I am not sure what that is yet but I can tell you it will breach multiple broadcast and support initiatives..
PAST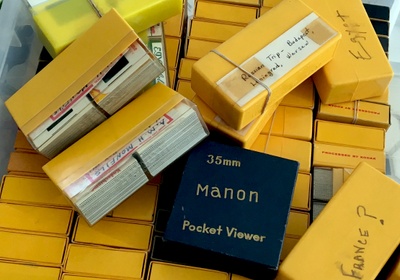 This tier gets you access to all the content from the PAST regarding the research and progress I am making in regards to solving my great Aunt Marion's mystery.
About
*** I created a video reading the text below to explain my project for those who prefer to listen to the audio explanation of my endeavor similar to the future podcast I plan to launch at the right time. Have a listen, let me know your feedback and ENJOY LIFE!
PAST:
Not long ago I decided I wanted to make a film. I began documenting my life, randomly at first with a general idea of a vision I have since coined CLAIRVOYAGE. This is a story inspired by the past, rooted in the present, to be continued in the future. Soon after I began filming, a story began to develop, one that both surprised and terrified me at the same time. These memories shed a light not only onto mysterious family history, but my own history as well. These mysteries are all concealed neatly in small yellow Kodak boxes full of Kodachrome slides carefully preserved and organized by country, containing images of places I have never even heard of. An archive left behind by my great Aunt Marion chronicles a timeline of a woman who joined the military in WWII and dedicated her whole life to education and what appears to be travel and leisure.
Aunt Marion never married and dedicated her life to teaching in exotic places around the world from Okinawa, Japan to Saudi Arabia, and later in Paris, France and Alexandria, VA. I am not sure yet if she was an ordinary woman who lived an extraordinary life or vice versa. Aunt Marion's archive also contains interesting documents that refer to her as Miss Mary Ann, what appears to be intel on rice paper, and specific images by a skilled documentarian POV as well as slides with specific captions suggesting my aunt is the "lady in the red dress" standing elegantly in the midst of a busy city center square. I can neither confirm nor deny that my Aunt Marion was simply an ordinary woman on a guided tour in a popular tourist destination, or maybe she was a spy on an extraordinary mission for the United States government. This is the mystery that I am on a mission to solve. Regardless of my speculation, I find her photography absolutely fascinating. My goal is to make her archive of Kodachrome slides come to life by merging my timeline with my great Aunt Marion's, aka Miss Mary Ann.
The archive of Kodachrome slides and her Canon QL camera are precious to me having studied photography. I inherited her fancy dresses and other possessions while studying photography in Boston just before the world converted to the digital revolution. My great Aunt Marion's archive uncovers a mysterious past of a woman who my family knows very little about. She was never married, nor did she ever have any children; she lived a solitary life, very similar to myself. I made similar choices to not marry nor did I ever really have the desire to have children either. The difficult decision not to marry and the reasons why recently came back to haunt me. While studying photography in Boston, I survived an abusive relationship while I planned a wedding...a past life where we live happily never after. 
He traumatized me, mentally and physically abusing me daily for over three years. After the relationship ended, I chose to deny that it ever happened, pretended the he was a ghost and did not exist. I never dealt with the trauma of it and the consequences of this, come to find out, are extremely complex. I believe that I would not be alive today had I not ended our engagement; he tried to kill me by conditioning me to kill myself. I survived, this is my story:

PRESENT:
Recently, while researching and studying the pictures my Aunt Marion's created in the past, I uncover this past of my own that too needs to be dealt with. I was diagnosed with PTSD. My creative lifestyle plays a huge roll in keeping me alive considering all of the darkness I endured, not just from the abuse from him, but because of the abuse I put myself through because of him. It was the negative in my positive. This was not a simple decision to document my therapy. I had to get permission from my therapist who's technique is still being revealed to me daily. It still is intimidating to go back and watch the sessions as reliving the experience is incredibly infuriating, stressful and dreadfully terrifying, but, it is my past that I have to accept, bit by bit. Regardless, flashbacks will forever be unforgiving little bastards.
Most people and therapists alike would shy away from documenting this but I decided to force myself anyway and expose the world to the intimacy of my healing process. I figure that maybe it can help other people heal or give someone more strength knowing they're not alone. My memories are not accurate. My patterns need calibrating and parts of my past come back like fractal pieces of glass that slice through my reality like a thousand Swiss army knives. From what I have been told about my Aunt Marion and her behaviors, I can only imagine that she too might have survived a form of PTSD just like me. It is very possible she lived a solitary life because fear can be isolating and stressful situations can tear intimate relationships into pretty little pieces.
Trauma has no rules and exists in a realm where there are no boundaries. We are just now beginning to understand more about the complex ways PTSD causes the effects on a massive social scale when we talk about issues such as the opiate epidemic, the war torn refugees, those who've witnessed violent acts like terrorist attacks, human trafficking victims and the innocent children who are to vulnerable to understand that it is not okay to be touched that way by the ones who say they love you. Soldiers are not alone, they are not the only souls who get "shell shock" and its past time we raise awareness about this silent killer known as PTSD. Just before I embarked on my current journey, I was invited to participate in a research study funded by the DoD. I hope to interview experts in the field who study this mental dis-order and learn more about how to combat this issue via safe and creative ways.
FUTURE:
Upon arrival back to Brooklyn, I will be documenting my journey through the PTSD study to raise awareness and help survivors like myself heal from this covert state of mind. I am just now waking up to a reality that the memories I have are not accurate, I have no control over my emotional reactions, flashbacks are physical, intimacy is my biggest fear and PTSD does not care. It is a monster. I intend to capture, develop and expose as much as I can throughout this creative healing process as I become more aware of what causes my emotional reactions so I can evolve into a better human. I believe in a common denominator that can create a positive influence on everyone and I am not afraid to expose the filthy truth about my experience with this emotional manipulator in order to raise emotional awareness in the public. PTSD is very real and flashbacks can be tormenting. The more aware I become with each "episode" I get more control over my emotions and can be a better human, not only more kind to myself but more importantly, I am more capable of sharing loving kindness to those who need it the most [including the one who hurt me the most].
Last year I filmed my EMDR sessions. My therapist helped me tremendously and I want to share those dark corners of my psyche with others like myself who have spent years suffering and living in fear. You can overcome this, no matter what the trauma was it can affect your mind in dangerous way if it is not addressed, Your mental health is the most important part of you life to nurture. You deserve to feel safe. Everyday you get better. Everyday I re-learn new behavioral patterns and create new ways to react to stressful situations. I am one of many. It's very difficult for people close to you to understand how tormenting and stressful the world can be living in the midst of PTSD. Memories work in mysterious ways. Time is not linear and the past can be haunting when you've survived repeated traumatic events.
The future does not exist yet. The tag line for Clairvoyage is "Inspired by the past > Rooted in the present > To be continued in the future" but I cannot be clear about the exact outcome of this endeavor. It is ambitious and the content is complex. The journey is bigger than me and I am ready to expose my story as a resource to help benefit humanity. Our memories are unreliable and the best way to capture moments in time is with photography. Film is about to become obsolete so I am going to use this exposure to document how to create an archive should anyone fine one similar to my Aunt Marion's. The images I digitize will be work like a multi-media and the proceeds from the prints and coffee table books I hope to sell will benefit veterans' and victims' mental heath organizations through support groups or community outreach. I hope to gain insight and share it with the world through interviews with experts and a #WEthePTSD podcast for people to listen to and gain insight on how to help loved ones who battle with the disorder and/or help those suffering come out of the trauma closet when they are ready. We can face this together. The support group I intend to create will be there to help the healing process in a creative and compassionate way.
I am nearing completion for the first phase of this initiative. The funds I am asking for are to pay an editor who can help me put together all of the footage I have captured so far as well as pay for fees to submit my work for grants to set up ways to help likeminded people. I have no idea what it takes to cover all of the costs so I am starting small. A simple share of this is sometimes more valuable than any funds, it is a kind gesture you can do to help us raise awareness about PTSD. If you would like to get involved please feel free to send me a message, I would love to hear your ideas or simply listen to your story. The more funds we are able to raise will help us get this whole project off the ground. I will be making all of the footage public and be using a live format to document the places I go and the people I meet along the way. I am so grateful that you finished reading this so far. It is so difficult to get these ideas down and I am fighting back tears as I type this right now. Thank you from the bottom of my heart and peaks of my dreams for your sharing and caring. You are beautiful and I look forward to creating my history in the future with you.
LOVE YOU TO THE MOON & STAY TUNED!!!!
Yours truly,
Nicole Marie Polec
I would like to have a good chuck of my Aunt Marion's archive edited and scanned to start production on books I hope to self publish before reaching the $2500 goal.
1 of 2