Anthony Desiato
is creating the My Comic Shop History podcast
Select a membership level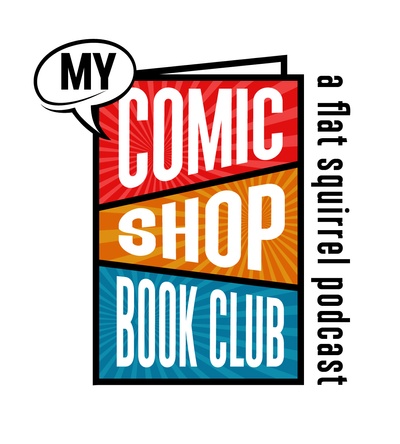 MY COMIC SHOP HISTORY SUBSERIES
Get exclusive access to a trio of My Comic Shop History subseries available ONLY to patrons: 
Join My Comic Shop Book Club and tune in for thoughtful deep dives into classic favorites and current hits.
Go further than ever before with Beyond My Comic Shop, beginning with the four-part "Never Stop Never Popping" miniseries starring Undiscovered Realm owner Chris Wilcock.
Take to the skies with My Super Fan History, a five-episode podcast event spotlighting the Man of Steel in comics, movies, animation, television, and merchandise. 
PLUS: Receive an EXCLUSIVE, full-length bonus episode for My Comic Shop History Season 4 and Season 5.
MY COMIC SHOP HISTORY AFTER SHOW
Hear what happens next on the My Comic Shop History After Show! These 15-to-20 minute bonus podcasts will ONLY be available to patrons. Also includes all lower-level rewards.
FLAT SQUIRREL VIP
Receive a shoutout on the podcast, be notified of guest bookings before anyone else, and have the opportunity to submit questions for guests pre-recording. Also includes all lower-level rewards.
About Anthony Desiato
SECRET ORIGIN
My name is Anthony Desiato. For the better part of a decade, I have been chronicling the business, culture, and fandom of comic shops through documentaries and podcasts, beginning with the late Alternate Realities in Scarsdale, NY. AR was my place of employment, my clubhouse, and my inspiration.
During law school, I shined a light on Alternate Realities' colorful cast of characters in my debut film,
My Comic Shop DocumentARy
, which played at film festivals across the country and is currently available on 
Vimeo
(along with its spinoff short, the award-winning 
By Spoon! The Jay Meisel Story
). I recently completed a new feature-length documentary, 
My Comic Shop Country
,
spotlighting stores across America (
trailer
).
THE PODCAST
When Alternate Realities closed, I launched the
My Comic Shop History
 podcast to eulogize the store from the perspectives of past and present owners, customers, and employees. Each subsequent season of the podcast has tackled a distinct part of the comics industry, including collecting (Season 2), national comics retail (Season 3), comic conventions (Season 4), and Westchester County's lost stores (Season 5).
My Comic Shop History
 is available on 
Apple Podcasts
, Google Play, Spotify, and Podomatic. It has been featured on 
Newsarama
, 
The Comics Beat
, 
13th Dimension
, and more. I have also hosted live podcast episodes at such comic conventions as C2E2, Zapp! Con, and Undiscovered Realm Comic Con. 
WHY PATREON?
From the start,
My Comic Shop History 
has been an entirely self-funded venture. This Patreon will cover my production costs, which consist of hosting fees (to store the episodes' digital files online), travel, and equipment. In success, actual podcasting revenue means that I can devote more time to the show and thus generate more content. My goal with Patreon is to take this operation to the next level.
I have spoken of the "Flat Squirrel Podcast Network" before, but through this Patreon, that network has already become a reality and is poised to grow even more. Beyond that, I truly hope to connect with my audience to an even greater extent and make everyone feel like they are a part of something.
If you enjoy listening to
My Comic Shop History
and want to help the show continue AND receive additional, exclusive
My Comic Shop History
content, I hope you will consider becoming a patron.
THANK YOU
. No flat squirrels here!
Recent posts by Anthony Desiato