Nathan Jean
is creating a Music Career (Songwriter, Recording Artist, Producer)
Select a membership level
Patron Saints
10% discount on all merchandise
15% discount on all shows 
Early Access to pipeline content 
The Creator
Above + 
Patron-only livestreamed concerts
Access into my process (Songwriting and Musing Tips) 
My undying love and appreciation
The Performer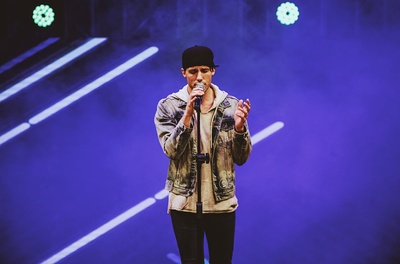 Above + 
My personal vocal 'warm-up'
One on One 20 minute lesson (vocals/guitar/piano/production) 
About
Hi I'm Nathan =)
Some of you may know me as the worship leader @CRCMusic. Others may have met me at some random festival or live show or maybe you just know me by chance or you bumped into my music somewhere along the line and would like to see more of what I am doing in the world.

So what do i do ?

I CREATE (Singer Songwriter)
I PRODUCE (Songs)
I PERFORM (I live to play LIVE - sing, play guitar, piano, etc if it makes sound i want to play it!)
I !NSPIRE (More than music i live to see people flourish and enjoy this process of life with me)

With your support I will be able to do more of it and more often! The more support I get the more time I'll be able to allocate for writing and releasing new songs. And you, as a supporter will be getting all of them, before anyone else.

For those of you who are interested in more than just music and are composers/singers/ songwriters/worship leaders/musicians yourselves, this is your opportunity to ask me any questions and I'll give you pro tips and share my tricks and workflow with you. If you are a vocalist or songwriter and need some quick tips or help with your voice this is the perfect place for you to ask me.

Thank you for your support and for making my dream a reality!

WHAT IS PATREON?
It's like a kickstarter but for consistent projects. I make a song every month and here's where you can make sure it gets sent to you, and get any of the extra stuff I offer exclusively to patreon people
I think Patreon is incredible for people who create stuff for a living, and anyone who wants the stuff that people create.
I'm using Patreon to wear my heart on my internet-sleeve and show you guys the process of making a record. I also intend to post tutorials, recipes, and music videos down the line
LEVELS:

[Video Links] You'll get any videos I put out emailed to you directly within a few minutes of them being posted. Sometimes they're secret videos that the rest of the world isn't ready for

[Downloads]
A download of the song file if that's applicable. MP3s / .wavs or any other file format you request

[Instagram / Twitter]
We'll be social media friends! Follow each other on my secret Instagram and/or Twitter. On Instagram, I'll posting pretty regularly, sharing some of the more intimate details as I make this record. Since we'll be following each other I'll be commenting on your shit and anything you message me will show up with a notification on my phone!

[Skype/Facetime]
A Skype session! We can talk about music or life or I can teach you something, the world is our oyster!


Patreon allows me focus on MUSIC. Quality over views. Because of you I can dedicate time to creating, producing, performing and inspiring.

I need some cashflow for Marketing my content 

Cash is king...

1 of 2
Recent posts by Nathan Jean