Brick
is creating Ink Inc.
Select a membership level
Concept
Thanks! This is the support tier which allows access to sketches and abandoned WIPs (both related and unrelated to Ink Inc.) and little bonus comics I make.
Sketch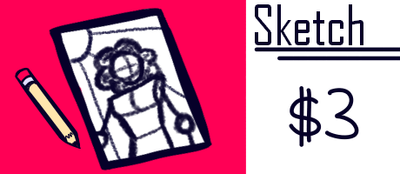 You get "Concept" tier benefits and have access to monthly Ink Inc. fan art. This tier also includes the polls that decide which character (or ship) is featured.
Lineart
You get "Concept" and "Sketch" tier benefits plus your update is a little early! You'll get the next update 1 day before everyone else.
About
Hi yall! My name is Brick! I'm a college student and graphic artist. I've been writing for years and drawing for longer solely because I wanted to spite a boy who made fun of my drawing skills in 5th grade. Turns out I've got a knack for this sort of thing, so I've finally decided to combine these skills into creating my own webcomic: Ink Inc., AKA the story I've been planning for approximately 5 years. If you like fantasy, drama, and a whole lot of heartache, you'll thoroughly enjoy my comic and the community that I hope it will create. It will be posted on Webtoons!
What is Ink Inc. about?
Many things: love, family, pain and healing, and even evil. Story-wise, it's about a girl, Violet Brown, who is completely unremarkable in every way. Perhaps she may have been content to live like this, but Violet didn't get much choice when she stumbled upon an unassuming sketchbook she decided to use. Artists have always been capable of making artwork that seems to come alive, but when this literally happens, few would continue to lead a normal life. Especially when there are other forces that seek to use this ability for their own selfish gain. This is a story about how Violet copes with being ripped from her life and forced to reevaluate everything about a world she once thought she knew.
This is just a goal to mark the beginnings of a little community behind Ink Inc. Once I reach this, all of my patreons get to join me for an art stream. I'll answer a few questions about Ink Inc., myself, or whatever yall want during it.
1 of 1