Nic Holas
is creating Words and Actions
Select a membership level
Spice Girls Reward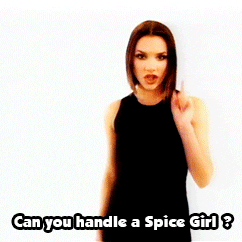 On 8th of July 1996, Spice Girls 
Wannabe
was released. This year marks 20 years since that significant moment in the Gen Y/X pop culture shift. I'll do a post each month to six weeks, celebrating and scrutinising their singles and the music videos that accompanied their release, in the style of 
my culture writing on pop music
. 
So whether you were a Scary, a Baby, a Ginger, a Posh, or a Sporty, this 90s nostalgia reward can never be too much.  
About
Hi, thanks for visiting my Patreon. I'd shake your hand, but I am holding on to my cap which is currently being thrust in your direction!
I am a writer and an activist, and your patronage will help me continue to be both. I mostly write about queer politics, HIV, and sex - but also pop culture. I am currently working on a book about queer men and the father figure and my activism is mainly focused on HIV/AIDS, including my work as co-founder of 
The Institute of Many
(TIM), an independent and completely unfunded international movement for people living with HIV.
'I'm a "show me the receipts" kinda person. What exactly are your credentials?"

Maybe you've read some of my stuff in publications like 
Archer Magazine
, 
OUT
, 
Hello Mr.
, and the 
Sydney Morning Herald
, or online at 
The Guardian
, 
Junkee
and in my ongoing column for the 
Gay News Network
.
Perhaps you've seen or heard me discussing HIV and queer politics on TV news and current affairs/documentaries/radio/podcasts/online, or at various panels/lectures/conferences around Australia: 
(I try not to come back to this one epic TV appearance as it was nearly two years ago, but it changed my life and people still come up and talk to me about it, so I'm pretty grateful for it)
(Very happy with my eyebrows in this video)
'Is this Patreon to fund your activism?'
Partly, yes. TIM is completely unfunded, despite being identified as a major player in the HIV landscape. Aside from managing our online communities and local events teams, all run by volunteers, we've also created landmark harm reduction resources, resilience campaigns, and grassroots activism to advocate for people living with HIV (examples of all three are below).
I've been running TIM as its co-founder for over four years now, and it's a 24/7 job that I'm honoured and proud to do. It is honestly the most important thing I've done with my life, as evidenced by these quotes from TIM members:
"I never had my shit together with my HIV before TIM, no support, no camaraderie, no mentors, and I was under-informed… being amongst you all has changed that and subsequently changed me for the better/stronger." – TIM Member, NZ
"When I was diagnosed TIM did not exist, and for 5 years I went on with life not knowing other people in the same situation. Now this sense of community has given us a cause and has, for me at least, broken down that sense of isolation."– TIM Member, Aus
That being said, doing it for free has come at enormous emotional, financial, and personal expense. Your support would help me not only keep doing this work, but build on it as we expand TIM to other regions around the world.

( Turning Tina - a harm reduction resource. from The Institute of Many on Vimeo)
(Wizards of Poz, TIM's HIV+ community empowerment campaign)
(TIM lead this 
grassroots campaign
 to correct this  stigmatising digital advertising campaign) 

'Is this Patreon to fund your writing?'

Yes, that too! Not the articles I linked to earlier though. I am working on a book about queer men and the daddy/father figure, with the working title
Father Figure
(RIP George Michael)
.
It explores topics such a queer men and their relationships with their own fathers, the Daddy-Boy subculture, and the modern media phenomenon (but by no means new experience) of queer men as fathers.
Father Figure
will be a series of essays and interviews with queer men who enjoy sex with older men, trans dads navigating co-parenting, Daddy pornstars, AIDS orphans, and more. Weaved throughout will be the not-uncomplicated history of my Dad and I. 
I am so excited to be working on this book, except for the fact that I need time and space to write it, which is where you come in, Patreon-isers.
Your support will help me to work on
Father Figure, 
and you'll be the first to read snippets and excerpts throughout the process.
'Will you really donate 10% of your pledges?'
Yes. I meant what I said about paying rent on my privilege. I live by those words, and I am keenly aware that you could be donating your money to other causes beyond my writing and activism. So, each month I'll reach out here and on my social channels and discuss which cause I plan on championing. 
'What's in it for me if I support you?'
That's a little aggressive, but I feel you. Firstly, you will be contributing to my HIV activism and advocacy work, and my writing, which means good vibes for you (yay).
I also have a lot of words that need to go somewhere. I'll still be writing articles and columns, but I have writing that is more story-based, literary, observational, or just doesn't need to get ground through the sometimes shitty, churned-out world of digital content.   
I'd love to use my Patreon as the place to put those words. Sometimes it might be personal and/or political (
like this story
), or other times I might have thoughts on House of Cards, RuPaul's Drag Race, or the 20th anniversary of Wannabe. 
Thanks again for stopping by, your support is greatly appreciated. 
x Nic Holas
Recent posts by Nic Holas