No Gods No Masters
is creating Comedy (Video and Sketch)
Select a membership level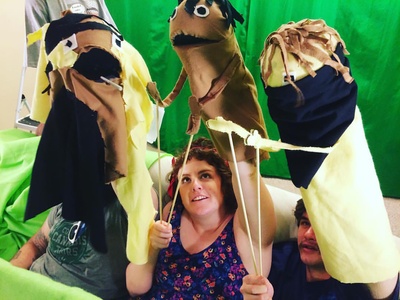 Keep Fighting the fight!
We think about you and the dollar you gave to the cause. With this dollar the revolution begins!
Thank you on video
We put your name, in the font of your choice, at the end of a video in the "Thank You Credits"
Thank you Noties
You get the previous tier rewards plus a Monthly "Thank You" note written in the heat of the moment, errors included. It is like a god-damn James Joyce Novel sent to your email or social media. 
About No Gods No Masters
Hello,

We here at No Gods No Masters have a dream. That dream is to produce content for a puppet show which teaches the values of anarchy. 

Using Sesame Street as inspiration Roger Norquist, Sara Hake, Joe Gray, Katie Bowman, and William Elder created a parody of the children's puppet shows they grew up with, filling all the lessons with ideas of anti-authoritarianism.

Let's get down to brass tax. The only way to accomplish this is to get funding from people who believe in what we are doing. We do not expect much but every little bit helps with: a prop; a puppet; a meal to feed the crew of a video shoot; gas for our cars. 

A donation, no matter how small, is a large act to those working day and night to create entertainment for others to enjoy.

Thank you.
Community is the most powerful force on the planet; with it societies change. 

We are currently attempting to pay for new puppets and an actual set to shot on. The only way to do that is to pay people what they deserve for the work they do! 

We are currently producing a live monthly show and video at least once a month. With a strong community behind us, No Gods No Masters will be moving closer to our dream of producing content on a weekly basis.

Thank you.
1 of 1
Recent posts by No Gods No Masters