Norwood
is creating music to help homeless LGBTQ youth!
Select a membership level
• Exclusive content ONLY for Patrons including behind-the-scenes access, travel vlogs, and more!

• Stream Norwood's entire discography!

• Get downloads of all new songs for FREE before they are released anywhere else!

• 10% off all new albums, tickets, merchandise, and more!

• Monthly Patreon-only online concerts and video hangouts!
LIMITED EDITION USB BRACELET!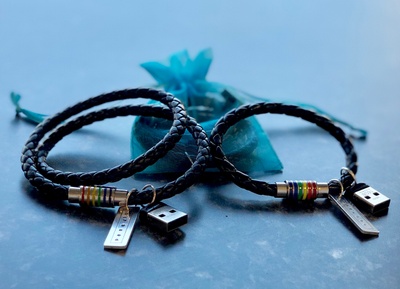 Now through August 15th, join our Patreon Family at this level and receive a Limited Edition USB Bracelet containing:

Norwood's entire discography, videos, photos, behind-the-scenes footage, and more! 
Over 7.5GB of digital content on a stylish bracelet!
About

- - - THE POWER OF MUSIC - - -

I believe that music is one of the most powerful agents of change in the world. Music introduces us to new ideas, and it reminds us of important truths we may have forgotten. Music heals and uplifts; it inspires and motivates. It has the power to span divides and unite people from different cultures, religions, and economic backgrounds like nothing else. Music is the universal language, and it makes the world a better place.

My mission (and my reason for being an artist) is to to share messages of love, equality, self-empowerment, and joy to the world through my music. As a gay person, music got me through the hard times; the years in the closet, the rejection from loved ones, and facing a world that didn't always treat me as equal. My mission is to make music to help other people going through difficult circumstances.

Music is also an incredible platform to create change in the world. My mission is to help the thousands of LGBTQ+ youth around the world who have been kicked out of their homes because of their sexual orientation or gender identity. So far we've partnered with organizations like The Trevor Project and Lost-n-Found Youth to bring awareness and funding to their plight. My goal is to have a bigger voice to establish homeless shelters around the world, and with your help this can become a reality!

And YOU have been a part of that mission!

The last 10 years as a musician has been an incredible journey, with lots of ups and downs. Through it all I have been blessed by the support and patronage of people like YOU who have bought albums and concert tickets, donated to crowdfunding campaigns, shared my songs and videos on social media, and more! YOU have supported and sustained me, all because you believe in the music and the message.

But all of that can be hard to keep up with.

Keeping up with what's going on with this mission can be difficult, especially in the over-saturated world of social media and confusing algorithms. We wanted to offer a convenient way for people to support this mission for just a few dollars a month, and in exchange receive behind-the-scenes access and exclusive content that won't be seen anywhere else!  We want to build a community where people can be included in the creative process and not kept at arms length on social media.

That's where Patreon comes in!

Starting at just $5 a month (less than the cost of a fancy latte!) you can be a part of our Patreon community. You'll gain access to exclusive songs, videos, photos, blog posts, travel footage from Europe, and MORE every month. (Scroll down to see previews of the most recent updates!) All of this content is separate (and more in-depth) than what I post on social media, and we will be inviting you into the creative process with us on new projects! PLUS your patronage will help support our outreach to homeless LGBTQ+ youth as well!

I hope you'll join me on this next stage of my journey, and I'm excited to discover new ways to include YOU in the creative process. Thank you from the bottom of my heart <3
-Norwood

- - -   FREQUENTLY ASKED QUESTIONS   - - -

Does $5 a month really make a difference?
YES, it absolutely does! Your membership helps fund new recordings, videos, performances, and more - all the things that you get to see exclusively as a patron ;)

Can I pay in Euros/Pounds, etc?
You sure can! Patreon is based in the US (so amounts are shown in US dollars), but you can use your local currency and it will be converted automatically.

What kind of creations will you be making each month?
I believe that variety is the "spice of life", so every month will be different. The most frequent uploads will be songs (either new originals or cover songs), music videos (originals or covers), video blogs, Patron-Only online concerts, and LIVE performance videos. PLUS you'll also get videos and photos from our 2019 European tour, so you can be our travel buddy!

What if I want to give more than $5 a month? Can I do that?
You certainly can, and it is very much appreciated ;) Just enter the amount you'd like to pledge each month when you sign up!

I can't afford to be a Patron right now - can I stop?
Absolutely, and there's no hard feelings - promise! You can login to your account to change or cancel your membership whenever you want.

Become a patron to
Unlock 20 exclusive posts
Connect via private message