Notsam Wrestling
is creating online content
Select a membership level
Money Mark
The Audio Tier.
Look, you may not be IN the business, but if you're a fan, and you've got cash, you can make an impact!  Here's what you'll get with our introductory level tier:
Ad-Free Episodes, Early!
Get every episode of the show ad-free each week, up to 12 hours before anyone else!  No more sleepless nights as you wait for the morning Notsam Wrestling upload- get it the night before!
MULTIPLE Bonus Episodes a month!
As a Notsam Shill you'll get to listen to pre/post shows for some of the biggest events in wrestling, and State of Wrestling bonus shows reacting to moments that need an IMMEDIATE response.  These shows will ONLY be available for the Notsam Shills.

Captive Audience
Every month I'll sit down with a non fan in my life to watch some of the biggest shows in wrestling.  Watch a long on the WWE Network, and listen here, as I explain to my wife, dad, buddy, or coworker why we like events including classic PPVs and Wrestling TV episodes, in REAL time.  This show is available exclusively for Notsam Shills.
Live Video Streams
Watch live as I record bonus shows or address the Shills.
DISCORD!
Join all the Shills in the Discord room 24/7 as our community talks wrestling and everything else.
Includes Discord benefits
Indy Darling
The Video Tier.
You're building a solid buzz, the internet loves you, and we all know it's a matter of time before New York comes calling.  
This tier is all about the video content being pumped out of the Notsam Studio!  If you sign up to be an Indy Darling, you will get all of the benefits of being a Money Mark, as well as...
State of Wrestling on Video
Every single week, I record the State of Wrestling in the Notsam Studio!  If you like using your eyes, watch the full segment (typically anywhere from 40-60 minutes) exclusively here!
Podcast Interview Videos...IMMEDIATELY! 
Many of you have talked about wishing it didn't take weeks for the video versions of our podcast interviews to show up on YouTube.  Well, that's not changing...unless you're a Notsam Shill!  I will post the videos of the interviews the SAME day the podcast is released, only on Patreon!
ALL Bonus Shows, and Live Streams on Video
Miss a bonus show or a live stream?  The only place to WATCH pre/post shows, bonus State of Wrestling shows, or live streams that you miss will be if you're an Indy Darling level or higher Notsam Shill.

EXCLUSIVE Live Streams
Not all of our bonus shows will stream live on video for the Money Marks, some will be just for Indy Darling level and above Notsam Shills.  To gain access to these exclusive live streams, including Q&As, and to have them available to watch whenever you want, become a Indy Darling!
Includes Discord benefits
Superstar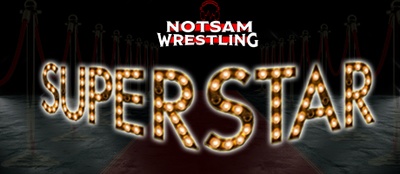 The Interactive Tier.

You're ready, you've made it to the big time.  I will be in love with everyone that signs up at this tier.  I show my love with exclusive content.  Notsam Shills who sign up to be Superstars will not only get everything that Money Marks and Indy Darlings get, they will also receive...

State of Wrestling... LIVE
Every Wednesday when I record the State of Wrestling, you'll get to watch it LIVE before anyone else!  Being a Superstar level or above Notsam Shill is the ONLY way to tap in to the live feed of the State of Wrestling.
Choose a State of Wrestling Topic!
As a Superstar level Notsam Shill, you'll be able to request a topic to be covered on the State of Wrestling portion of Notsam Wrestling... every month!  If you want to make sure we're covering what you want covered, this is your spot.
A Notsam Shout Out!
Get immortalized as the ultimate fan, as every Superstar will get an on air shout out on an episode of Notsam Wrestling.
Bonus Behind the Scenes Video Content
Reap the reward for me having Wrestlers in my Studio.  You'll get bonus videos of various Notsam Wrestling guests before and after the show, as well as exclusive looks at the Notsam Studio, and my collection of wrestling stuff!
About
Welcome to Notsam Wrestling!  Since 2014 we've been putting out the top fan-hosted wrestling podcast in the world!  That fan happens to be me, The Last Professional Broadcaster, Sam Roberts.  We're jumping on to Patreon, because we finally have the ability to create and distribute all the additional content that you guys have been asking for, and to do it while remaining independent!  No network- just you!

So become a Notsam Shill!  We're going to be creating exclusive bonus audio episodes featuring podcasts guests, comedians, wrestling reporters, and my wife!  We'll have exclusive bonus videos from all of the Superstars stepping in to the Notsam Studio!  Chances for free, exclusive merch, interactive Q&As, and a lot more.

So let's go to the next level together.  Content created by wrestling fans, for wrestling fans.  Looking forward to doing this with you!


Become a patron to
Unlock 422 exclusive posts
Connect via private message
Recent posts by Notsam Wrestling