Suzanne (@oceanpreneur)
is creating Ocean Impact & Sailing Adventure Videos
Select a membership level
Dolphin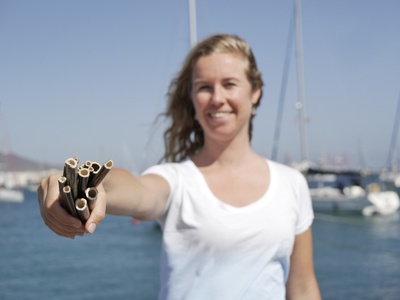 Dolphins are curious! So are you, eh!? You'll see the latest videos before anyone else!
Includes
Early access to videos
A self created bamboo straw (when we meet - No postage footprint)
Explorer
Thank you! I'll help you get into the ocean nomads life answering your questions to the best I can.

About

Welcome to the Oceanpreneur Patreon page!
Receive and give sailing adventure and ocean impact support.
My name is Suzanne. From having never sailed a couple of years ago, I'm boat hitchhiking my way to learn skills and discover the world. Now on a mission to
become a captain,
get captain experience, building an ecopirate ocean nomads empire, and building a traditional Carribean Circular Sailing sloop, to keep traditional skills, passion and the ocean alive!
During my 10 years of slowly exploring the world, there has been one constant: the calling of the ocean. In, at or near the sea I'm the best version of myself. I freedive into the deep, sail across oceans, and play around kitesurfing. The ocean gives us our play, our life. I feel more responsible and motivated than ever to bring life back into the ocean. The time to do something is NOW!

What is Ocean Nomad TV?
Ocean Impact & Sailing Adventure videos!
Ocean Nomad TV will bring you the best of  Ocean Nomad Life, my sail adventures, ocean explorations and discoveries and SOLUTIONS! From a total newbie in sailing to building an ocean impact boat. With 5-20 minute videos, I aim to encourage, inspire for ocean adventure travel and solutions we can all implement to save our seas. I capture the good, the bad and the ugly. Support the creations and impact (online videos and offline boatbuilding progress) by becoming a Patron!
What is Patreon?
A way to encourage impact videos and receive exclusive support and goodies
Patreon is a way to support creations you love. By being a Patron you support the Ocean Impact videos and contribute to protecting our playground. As, 'a VIPirate Patron' you only support when a new creation has been made. It's like a tipjar per video, with
special bonuses (read on!) for tipping that can't be bought.
You set the maximum per month
. There's the option to
cancel or change the encouragement amount anytime.
You will only be charged AFTER I publish a new video. For now, I'll only be able to
maximum two videos month.

For just 1 $ YOU CAN MAKE A HUGE DIFFERENCE AND SUPPORT! Why being a Patreon: VIP (Very Important Pirate)
Receive answers to your Ocean Nomad questions + be part of the ocean solution movement
You'll help to spread the message for a healthier ocean. I may not have a boat or a budget (yet), what I do have is a creative mind, an urge to explore, stories to tell and a determination to make a difference in the world for our ocean. And a smile! This brings me far. Not far enough. My dream is to sail around the world making a maximum impact to save the seas and get as many people involved as possible! This is not about me. This is about my nieces and nephews, and yours. My wish is for them to experience the beauty of the ocean too.
How exactly the boat building will unfold is a mystery and marathon and lots to figure out. What is for sure, is that the journey itself is pretty exciting too! I love to bring the stories out, document the journey, and connect others to the ocean. Patrons, aka Very Important Pirates, enable me to do that! I publish maximum 1 video every two weeks until I have the resources to produce more. For now it's max 1 video / month. Even if you support 1$, you buy me 1 (coconut) breakfast. That's huge superpower to me! And it comes with bonuses for you:
What are the bonuses of being a Patreon?
You play a vital part in supporting the ocean impact project and to save the seas.
Early access to the videos.
Access to Patreon only area where I answer your questions on amateur crewing, adventure travel, island and coastal destinations ocean conservation, Caribbean boatbuilding and the ocean nomad lifestyle.
Eventually more and better Ocean Nomad TV that will connect more people to the ocean, get more people excited about the ocean, and make people aware of the good, the bad, and the ugly. 
The Ocean Nomad E-book for free if you support for 25$ or more!
A SIGNED copy of book Ocean Nomad
Priority booking access and Discounts on Ocean Nomads trips and expeditions!
My gratefulness. You help me evolve, inspire, and make a difference for a healthy sea! The adventurous way! 
Eventually, a healthier ocean for our children to enjoy, which I'm doing it all for. LIFE.
What will I use your support for?

Your support enables me to make videos of the adventures, share more about the ocean nomad lifestyle (the good - the bad - the ugly), create more resources to help you go on ocean adventures, increase awareness for a healthier ocean, communicate ocean solutions, and support to the journey to building the boat!
First goal: Raise 500$ so I can commission the local boatbuilder to create the model for the Carriacou sloop.
Coconuts! This is what keeps me going (I sometimes chop them myself but not always. It's a great way to support the local coconut entrepreneur)
It'll allow me to create more content. So I don't have to take other less impactful jobs that don't really help me with the mission to save the ocean. Time is the most valuable asset we have!
Creation of a Team. This is a 1-girl show (with mum always on standby, thanks mum!!). I need more hands on deck for website maintenance, technical stuff, editing, jobs that require descent wifi). So I can simply put more efforts in creating and connecting people with people and projects, which is what I love most, I can do best, and above all will bring the biggest impact to save our seas!
Keeping traditional boatbuilding skills and ocean alive! 

A Movement
This mission is much more than 'just' building a boat. It's the "beginning and the continuation" as Alwyn Enoe beautiful says in Vanishing Sail. We need all hands on deck to make the ocean healthy again. Be part of a global movement of reviving old skills, the old way of doing things: the circular way. With education, experience, dedication and community we can turn the tide, without plastic and with more traditional sailing sloops, circular skills, and passion. Combined with today's technology we can accelerate the positive impact! 
I hope you're as excited as me to get some videos out! If so, I heartily welcome you to the Ocean Nomad VIP - Very Important Pirate - club on Patreon! It means the world to me!!! And it'll allow me to focus on what really matters and maximize my full potential: to help others realize their full potential!
With love from the ocean,
Suzanne
Ocean Nomad, Adventurer & Change-Maker
My website: Oceanpreneur. Co
With this amount I can commission master boat builder Alwyn Enoe to create the model for the circular Carriacou sloop - Oceanpreneur HQ.
1 of 3
By becoming a patron, you'll instantly unlock access to 4 exclusive posts
By becoming a patron, you'll instantly unlock access to 4 exclusive posts
Recent posts by Suzanne (@oceanpreneur)