Albert Bates
is creating a revolution, and it ends well
Select a membership level
Spare Change
Check your pockets. Can you spare a dollar? You'll get exclusive content before non-patrons do.
Respect
You help me get my blog posted every week. You make that possible. You encourage me to do more and then tell you about it. I am thinking of you.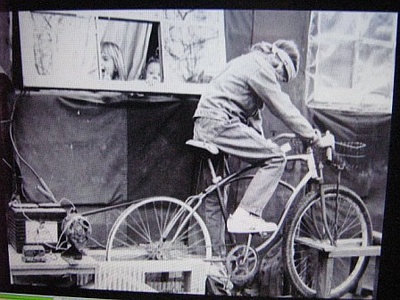 Gratitude
I'll give you my number and friend you on WhatsApp and Facebook. I'd offer you a T-shirt and a mug but I haven't come up with one yet. Instead, I pledge to earn the respect you have given me. We are going to do this together. We are out to save the world.
About Albert Bates
Hi, I'm Albert Bates and I'm writing this from my octagonal 2-room house at The Farm. This house used to be a yurt, but after many years in the forest the canvas became moldy and began to shred, and I could no longer stand to cover the "eye of god" skylight with another layer of tarp, so I tore that down and replaced it with this two-story octagon, still on the original 24-foot diameter platform. I built the second floor from wood scrounged from the throwaway pile at the nearby Amish sawmill and bamboo that I grew right here as part of the waste-treatment wetlands at my training center. I sleep upstairs and work at my computer downstairs. The eye of god is once more open.
A Walk in The Woods

When I first came to these woods I was 25 years old. On January 1, 2017, I turned 70. If you live in the Hamptons and work at Goldman Sachs, you might at first glance think my life has been a complete waste. I was born from a deep line of New England blue bloods. I trace my ancestry to four different families aboard the ships bearing the "Winthrop 700" to Massachusetts in 1634. Three of my line served with General Washington at Valley Forge. One of those, my great great great great grandfather, Issachar Bates, was a Shaker poet and hymnist, crossing the Appalachians, meeting with Tecumseh and The Prophet, and founding the western Shaker colonies in Ohio and Kentucky, where his 1804 house still stands. He should have ended my line right there, because the Shakers were celibate (although The Prophet named his daughter Marsha Bates, presumably after Issachar).
Fortunately, Issachar had a son. Artemis, before he forswore pleasures of the flesh, and Artemis then had a son, my Great Grandfather Artemis, who marched South to the War Between The States. My own grandfather was a Marine Captain when the entire Corps numbered 98 officers and 3481 enlisted men. Cut to the chase and I was raised in Connecticut, schooled in fine schools, competed in Olympic-level dressage, jumping, and cross-country eventing, played rugby and lacrosse, traveled the world, took a law degree and then… dropped out.
Like Issachar, I walked the Appalachian Trail and wound up in Tennessee, where I joined the big hippy commune called
The Farm.
I live here still.
Back to The Future

There are good things about these life choices we make and some not so good. For me the good thing was a life well spent. I became a farmer, horse logger, vegan cook, baker, flour miller, builder, mason, scrap metal hauler, typesetter, graphic artist, schoolteacher and videographer. As an inventor in those heady years of the 70s, I developed concentrating solar arrays and a solar powered automobile we showed off at the 1982 Knoxville World's Fair. I patented a cylindrical tofu press and rotary flour sifter, and hybridized fast growing strains of trees for land reclamation and biomass conversion (a.k.a. firewood).
Returning to my training, for 20 years I was able to practice law on my own terms, suing chemical companies, the nuclear industry, the military, the FBI and other dark actors from the eyrie of the Natural Rights Center — really just a dimly lit room in the cavernous potato barn I had built years earlier as a Farm mason.
The Farm gave me the freedom to be a battleship on the board, moving at will to attack targets of opportunity and return to the safety of our lair. The
Village Voice
dubbed me "a hero of the revolution." With the rest of my team at The Farm I shared the first Right Livelihood Award in 1980 for our work assisting native peoples to stand against empire. That was also the year I restored the voting rights of all the convicted felons in Tennessee, forcing the state to set up balloting in the prisons, and won a big case for the atomic veterans which changed federal laws and begin compensating radiation claims. Earlier, we'd won a similar victory for Agent Orange, again the first of its kind. I went after the FBI's secret program targeting war protesters and preserved for historians The Farm's massive surveillance archive through the Freedom of Information Act. With the power of a community egging me on, I was fearless.
My Climate Porn Addiction

A case I took involving chemical waste ended up involving climate change and in the process of bringing in experts and discovering evidence, I scared myself. My confidence was deeply shaken. I had what might be called a dark night of the soul, as I learned, in the early '80s, about the potential — maybe inevitability — of  near term human extinction. That led to my retiring from law and becoming a mushroom farmer for a while, before being roped in to help found the global ecovillage movement.
But my brush with climate change continued to color my reading and travels, and for 25 years I was obsessed with the issue, looking for some way out, any possible way that humans might escape an otherwise certain fate. With the help of Peruvian shamans and Native American road chiefs, I communed with ayahuasca and peyote and asked the spirit world for guidance. I attended climate summits and spoke with scientists and policy wonks. I studied permaculture, carbon farming, ecological restoration and agroforestry.
Eventually I discovered, deep in the Amazon, upstream from the Wedding of the Waters, a way out.
Now I have the solution, and I am writing books, attending conferences, and jawboning with big wigs to get it out there as quickly as I can. I only hope it is not too late. You can read about this is in some of my books like
The Biochar Solution
,
Pour Evian on Your Radishes,
and
The Paris Agreement
. I blog weekly at
The Great Change —
every Sunday morning. I write for magazines and journals. I do interviews and teach. I post the occasional video to YouTube. I have a book due out in 2019,
Burn: Using Fire to Cool the Earth,
that promises to be a game changer.
I have more books and articles in the pipeline. I am delivering papers at scientific conferences. I am giving workshops and doing webinars. I am Typhoid Mary, infecting my disease into an unsuspecting population. This thing I know needs to go viral.
It can't just die inside my head.
Feel the Force, Luke

But there is a dark side to the commune choice too. When I joined, at 25, I gave up everything I owned and anything I would inherit. To become a voluntary peasant I severed the artery that carried my blue blood. For nearly half a century now I have labored only as a volunteer, my basic subsistence met while the communal society existed, but no salary, no wages, no W-9s, no earned income credits, and no paycheck deductions to Social Security. When the commune dissolved and became a cooperative, I was left with no safety net. Social Security pays me the minimum required by law — $300 per month. From that, they deduct $200 for Medicare, leaving me a $100, which just happens to be the monthly dues at The Farm so I can keep living in my 2-story yurt. In my 70s now, I get a bare minimum health insurance with very high co-pays for prescriptions, doctor visits, and treatment, which mostly I cannot afford.
I have woven my life-long discoveries into a prescriptive model I call Civilization 2.0. It integrates the UN's Sustainable Development Goals; soil sequestration of carbon; preserving the cultures of indigenous peoples; ecovillage modalities for governance, education and self-provision; anti-fragile biomass to biochar renewable energy; climate moderating semi-aquatic ecosystems; and microenterprise innovation, incubation, acceleration, B-corporation hubs that function as bioregional circular economies. I sketched all this in the 90-second video we did in 2016 for the MacArthur 100 and Change Challenge that led to my new videos and essays you will find on
GVI(x).org
. I will describe it in greater detail in my book from Chelsea Green due out in 2019
.
An autographed copy (and every subsequent book) awaits you at the Power Up! level.
Now I am going on Patreon to get a little help for the home stretch. Give me a shot in the arm. I'm not done. Let me run my heart out. I'll give you my best. If you would like to see what I was able to do with the Patreon donations I received in 2018, I have a full report
available here
. Believe me, there is even more in store in 2019, with your help.
When I hit $1000 per month I can exhale.

2 of 5
Recent posts by Albert Bates
By becoming a patron, you'll instantly unlock access to
By becoming a patron, you'll instantly unlock access to