Ellie Beck
is creating textile art & creative community
Select a membership level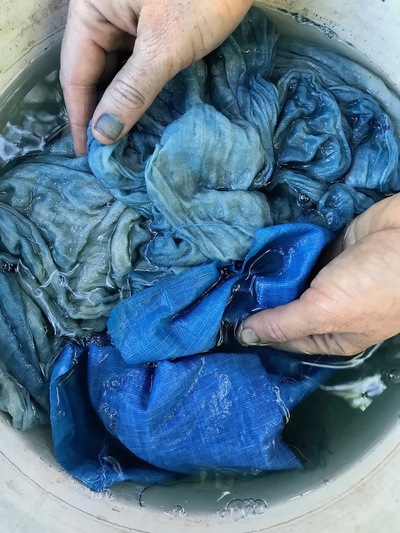 Tier 1: Sweet Creative Lover
Thank you so much for supporting me. Every single bit helps. 
You'll receive my regular updates here on my page, which include process photos and thoughts on my creative making. 
Conversations with Slow Creativity
Thank You! In this tier you'll receive access to all my posts, which include my creative work, process photos, stories & writings & poetry, and more. 
You'll have access to my private blog, with regular updates including:
+ posts on creative living
+ artist talk and behind-the-scenes
+ recipes
+ slow living tips & ideas
+ creative projects (natural dye, craft projects and things to make)
+ discount off my website
+ a handwritten postcard from me each once per year, in your mailbox - from my hand to your hand.
Exhibition
Support my upcoming exhibition "Practicing just being" and receive a copy of my exhibition booklet / catalogue posted to you (after 2 months of payment minimum), as well as a hand written card. And most importantly my absolute thank you and immense gratitude. You'll get a feel-good warm fuzzy feeling about being an arts patron too!
Your support will directly help with:
+ printing my exhibition booklet / catalogue
+ hire fees for the gallery
+ purchasing materials to create my work
About Ellie Beck
Hello and Welcome!
I'm Ellie Beck, a textile artist & creative maker. I work primarily with natural fibres, botanical dyes & an experimental process towards my practice. I'm self taught in my arts & crafting practice - and am keen to continue developing this process. I'm also a writer, with words & thoughts slipping from my mind. 
Why Patreon?
 Being an artist is in my blood, I couldn't not do it, but sometimes the process and the creating takes more time that the results of the outcome. My hope is that you see deep value in my work, and are in the situation to financially contribute to my practice.
In exchange I've got lots of gifts as a way of expressing my immense gratitude
. 
By having your support, I don't have to stress about the financial aspects of online marketing, or worrying about the bills being paid, and or my kids needing things. Being a self-employed artist (my husband is too!), means we put everything into what we make, yet sometimes don't get the financial stability needed as parents.
Who am I?
 I'm a creative maker and mama to 3. We live in the rainforest in Northern NSW, Australia. I teach online and in real life workshops, primarily in textiles and sustainable practices; Natural & Botanical Dye, Loom Weaving, Basket Weaving, Slow Stitch, etc...
I post daily beautiful, inspiring images to my Instagram account 
@petalplum
, as well as words, tutorials, recipes and interviews to my blog. 
I'm also a big advocate of Slow, Intentional & Creative Living and share my viewpoint on this topic through my Instagram, blog, and newsletter. 
By supporting me and my family - you'll allow us to continue along this path of sharing our slow living life, our experiences being creatives, as well as living a sustainable life in the forest. I create workshops and events to bring a connectedness, I share thoughts and ideas on living a more full and natural life.
THANK YOU SO MUCH FOR YOUR SUPPORT!
UPDATE 2019 :: I have just moved into a studio, in my home town, and need support in paying the rent. What does a studio do for me? LOTS!! Giving me space, access to opportunity, connections in my community and the sign above the door that will say artist.
Your Patreon support will assist me in paying the rent, buying materials (fabric and such), but mostly in being able to spend my time practicing my art, stitching, dyeing, and writing without having to think about the income aspect of it all. I will have more (financial) freedom, with your assistance. 
With deep deep thanks, Ellie
Reaching this goal will mean that I can pay my rent on my studio each month, without having to worry about the financial aspect of my creative work. Being able to work and build my arts practice without having to monetise it is a big thing for me. Having your support will free me up so much in my creative work. Thank you!

1 of 2
Recent posts by Ellie Beck