Polyflavour
is creating polymer clay treasures
Select a membership level
Dreams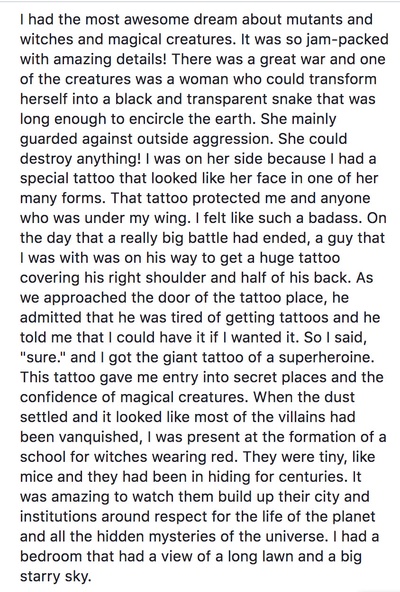 Dreams From the Other Side
Private access to least ten dreams a month. Definitely NSFW, because if you're at work, you should be working, not reading my weird dreams.  Get back to work!

HD Photos
the best of Polyflavour monthly:
At least 10 new high resolution photos every month, (me, my strolls through bois de vincennes, along la marne, my new favorite lipstick, sunsets, goats, parakeets, cows, horses, crows, rainbows, lily pads, dragonflies, bats, sunsets, sunrises, afternoon light after a dramatic rainstorm, etc.).

Half Hour video chat
Limited (10 of 10 remaining)
We can hang out in my studio and I can show you what I'm working on!  We can talk about anything you want!

About
I'm Tracey Polyflavour.  I moved from New York City to France in 2006 because I love everything about French culture.  The country is full of rich, ancient history and the traditions and the environment of France gives me a lot of insight about American Culture.
I am drawn to artwork reminiscent of 1920s and 1930s American cartoons and I notice  the conventions in all the American animated films from this time and it makes me wonder about the intent of the artists behind the movies.  My fascination is with certain stylistic conventions from this time, (along with a lot of the other stuff that I draw inspiration from; old timey cartoons, Art Deco, Art Nouveau, ancient North American art and design, beatnik art, nearly all design and culture from the mid 1960s, Weimar era culture, modern graffiti, underground comics,  Jean Dubuffet, Auguste Herbin,  Sonia Delaunay). I appreciate good design. I really love great design and wonderful, thoughtful construction. I expect the work that I make to last forever. I want my own wonder to come through my objects and delight the viewer.

Every day I run around Montreuil and, once in a while I jog or stroll to Paris, which is just the next town over, westward.  I love going out at dusk or dawn.  I take pictures the entire journey and I'll post them here in HD for my patrons.  I also have very prolific and detailed dreams that I write about almost every day.  Patrons will have access to more details and other nuggets of information.  I'll live stream while I'm making a polymer clay treasure and you can ask me questions while I work.  That is sure to blow some minds.

All of Polyflavour polymer clay treasures are made from 100% polymer clay, unless it's a clock or a piece of jewelry.  I also use chains, magnets, hinges and other metal hardware. I take different shapes and colors of clay and create a 'cane' or pipe that's pressed together and sliced to make patterns or to decorate the expanse of a surface  I sculpt the objects that I cover with my designs out of scraps of polymer clay that I knead and press into bowl shapes, cylinders for boxes and bracelets and other sculpted shapes like feet or handles on boxes.

Here's a video that I made in 2011.  As you can see, the original 'cane' is much larger than the pressed and stretched version.  This can be stretched and reduced to create very tiny designs that retain all of the detail of the larger slices.



$2.49 of $1,200
per month
I want to buy several sphere-type bowl dremel attachments.  I have a series of fibonacci inspired bowls that I am making.  Sanding the interiors is a laborious and time-consuming process.  Power tools mercifully mitigate some of the time that goes into sanding my pieces smooth.
For the bulk of the cane to make each bowl, I am using gradients from one color to another, end to end, and other gradients of different colors from end to end throughout the design.  Once the cane is complete and sliced and arranged in a spiral, the colors of the slices will gradually change from the smaller slices to the larger ones.  The effect is realy fun to look at.  Right now I'm experimenting with abstract designs, but I also want to do this technique with faces.

1 of 1
By becoming a patron, you'll instantly unlock access to 6 exclusive posts
By becoming a patron, you'll instantly unlock access to 6 exclusive posts
Recent posts by Polyflavour