John Jairo Velásquez
is creating Videos
Select a membership level
Fundemental/Fundamental
A pledge of
$2 per month
will give you:
Access to a variety of videos covering a wide range of topics.
Access to a 5-minute weekly interview between the They Will Kill You YouTube channel & myself. I will publish the weekly interview on my Patreon page every other week. The alternating week will have it published on Angelo's Patreon page: https://www.patreon.com/theywillkillyou
Access to a long bonus video titled "An Assassin's Secrets" that will be created exclusively for Patreon! In this video I will cover a hitman's "tricks of the trade" and discuss the line of work that I was in.
Access to a bi-monthly episode of "Legends Debunked." In these episodes I will debunk stories about myself, Pablo Escobar, the Escobar family, and other myths surrounding the Medellin Cartel!
Una donación de $2 al mes te dará:
Acceso a una variedad de videos cubriendo un amplio rango de temas.
Acceso a una entrevista semanal de 5 minutos entre el canal de YouTube They Will Kill You y yo. Publicaré la entrevista semanal en mi página de Patreon cada dos semanas. La semana alterna se publicará en la página de Patreon de They Will Kill You: https://www.patreon.com/theywillkillyou
Acceso a un video largo extra titulado "Los Secretos de un Asesino" que se creará exclusivamente para Patreon. En este video, cubriré "los trucos del oficio" y hablaré sobre el tipo de trabajo en el que me encontraba.
Acceso a un episodio bimensual de "Leyendas Desmentidas". ¡En estos episodios voy a desmentir historias sobre mí, Pablo Escobar, la familia Escobar y otros mitos sobre el Cartel de Medellín!
Advanced Access/Acceso Avanzado
A pledge of
$5 per month
will give you:
All of the above.
Access to a bi-monthly episode of "The Escobar Tales": short stories and anecdotes regarding my time spent with Pablo Escobar. These will give you the chance to familiarize yourself with another side of Pablo Escobar!
Access to a monthly video in which I visit and discuss sites that were of importance to the Medellin Cartel's history.
Access to bi-monthly episodes in which I break down individual members of the Cartel.
Una donación de $5 al mes te dará:
Todo lo mencionado.
Acceso a "Los Cuentos de Escobar": historias y anécdotas cortas sobre mi tiempo con Pablo Escobar. ¡Estos te darán la oportunidad de familiarizarte con otro lado de Pablo Escobar!
Acceso a un video mensual en el que visito y hablo sobre sitios que fueron importantes para la historia del Cartel de Medellín.
Acceso a episodios bimensuales en los que hablo en detalle sobre miembros del Cartel.
Exlusive/Exclusivo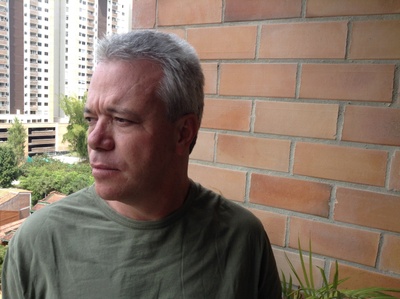 A pledge of
$20 per month
will give you:
All of the above + a one-time personal shout out that I will record and send directly to you!
Una donación de $20 al mes te dará:
¡Todo lo anterior + un saludo personal único que grabaré y te enviaré directamente!
About
Who Am I?
¿Quién soy? 
Hello everyone, my name is
Jhon Jairo Velásquez Vasquez.
As some of you might know, I served
Pablo Escobar
during his reign as the leader of the
Medellín Cartel.
For my crimes committed as one of
Pablo Escobar's' key hitmen,
I spent
23 years and 3 months in jail,
but today I am blessed to be walking around a free man.
Saludos familia, mi nombre es Jhon Jairo Velásquez Vásquez. Como muchos de ustedes probablemente saben, serví a Pablo Escobar durante su reinado como el líder del Cártel de Medellín. Por mis crímenes cometidos como uno de los principales sicarios de Pablo Escobar, pasé 23 años y 3 meses en la cárcel, pero hoy tengo la bendición de poder caminar como un hombre libre.
Why am I here?   

¿Por qué estoy aquí?
Shortly after I got out of jail, I started my own
YouTube channel
(
https://www.youtube.com/PopeyeArrepentido
). It revolves around stories about my time in the Medellín Cartel, as well as my take on several important (political) current events in the world. Because I refuse to silence myself,
YouTube is slowly trying to silence me
, so I'm looking at Patreon as a new way of educating you.
Poco después de salir de la cárcel comencé mi propio canal de YouTube (https://www.youtube.com/PopeyeArrepentido). El cual trata de historias sobre mi tiempo en el cártel de Medellín, así como mi opinión sobre varios eventos importantes (políticos) actuales en el mundo. Debido a que me niego a ser ambiguo con mis palabras, YouTube lentamente está tratando de silenciarme, así que estoy considerando a Patreon como una nueva forma de informarles.
Why pledge?   

¿Por qué prometer?
I will be talking about
my time in the Cartel, my precious time spent with Pablo, my days in jail, and much more;
everything to give you a glimpse into the history of the Medellín Cartel. I will also be
talking about modern-day politics, debunking myths, and I will even be offering YOU a chance to interview me!
Hablaré sobre mi tiempo en el cártel, mi precioso tiempo pasado con Pablo, mis días en la cárcel y mucho más; todo para darles un vistazo de la historia del cártel de Medellín. ¡También hablaré sobre política moderna, desmentiré las leyendas e incluso TE OFRECERÉ la oportunidad de entrevistarme!
Recent posts by John Jairo Velásquez