Liy
is creating Puppet & Brain
Select a membership level
Ice cream support 🍨
I don't drink coffee. But I eat ice cream a lot. Thank you for the ice cream supply!
About Liy
😀Hi, I'm 
Liy
. I'm creating 
Puppet & Brain
! A creative platform with node based visual scripting for children to learn simple game programming and programming concepts.
I used to work in a special needs company. I developed games and applications for children with learning and emotional difficulties, physical disability or sensory impairment.
For the past few months, I've been working on Puppet & Brain. I do design, programming, illustration and animations. It is really hard work but I'm enjoying it. I know somewhere, there will be a group of people who will be benefited by my work. 

My cousins 10 year and 13 year old boys and their friends at school love this project. They enjoy learning through tutorials and also come up with their own ideas of how they can use this tools for their school projects. Currently we are piloting this tool with a leading private school in London.

I'm trying to work full-time on this project. I do feel this project has its own value in education and game sector. And I would like to invite you to join me on this project.

What is Patreon?
Patreon is a website enable you to help creators through monthly payment. You will be able to directly support creator's passion and help them to avoid distractions such as side work. Plus, creators usually have plenty of rewards for you!
What is Puppet & Brain?
In short, 
Puppet & Brain
is a web application allows children to make simple games and activities by connecting visual nodes.
You are probably not a game developer and never heard of node based visual scripting. But instead of mimic lines of code(i.e., Google Blockly) from a program, node based visual scripting focus on the execution and data flow of a program, and it is so intuitive that non-programmers like artists can also use it to program simple logic.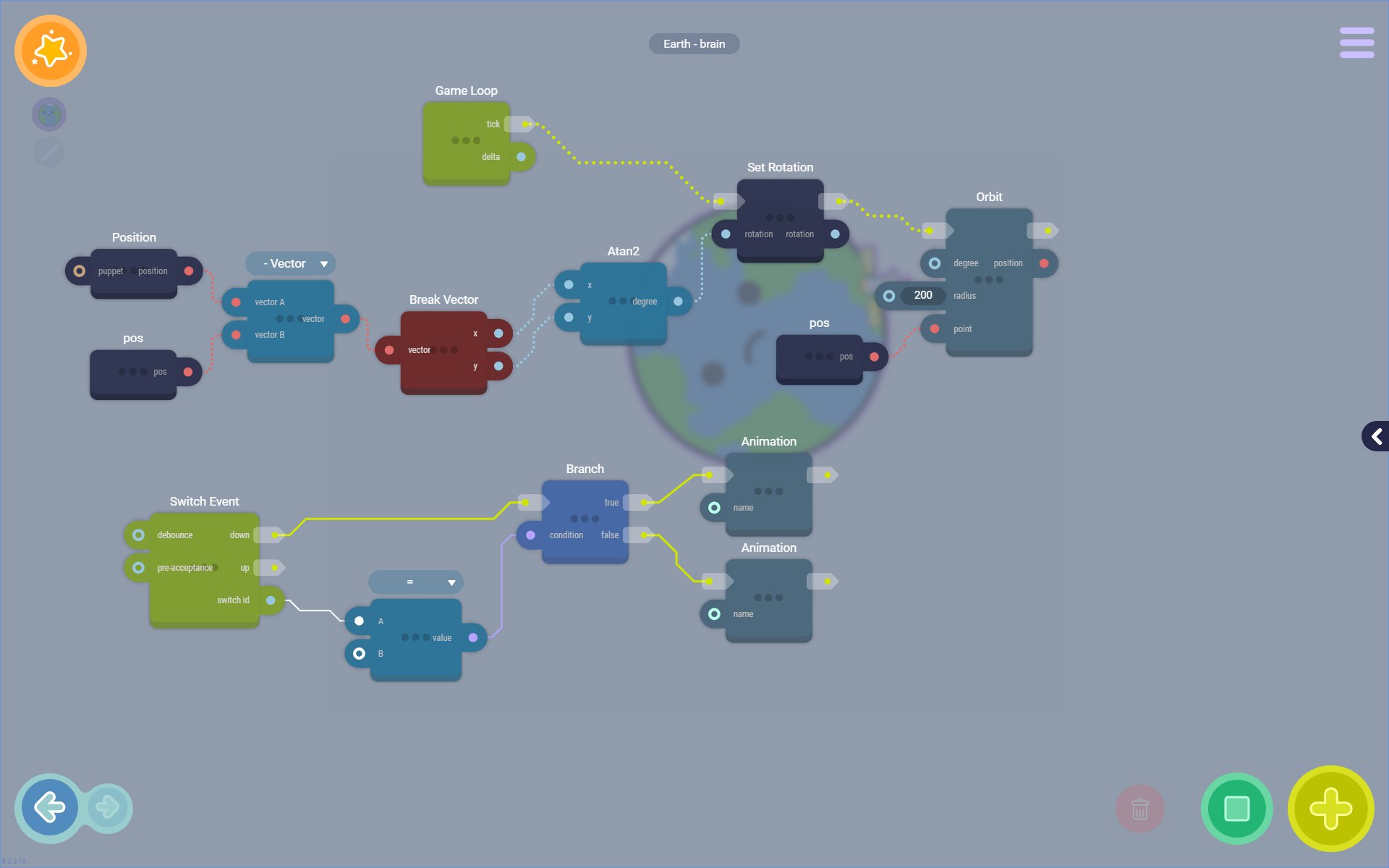 I wrote a node based visual scripting system for Puppet & Brain. I believe this project can fill some of the gaps in teaching children programming. After all, programming is not about typing text line by line. The logic, pattern, data and execution flows are the fundamental concepts of the programming.
Plus, children can get the first experience on the node based visual scripting, which are used in all the major AAA game engines, such as Unreal Engine, Unity, CryEngine. Not mention that most graphics applications like Maya, Blender and Substance Designer, they also have node based graph system.
Why join me on this project?
If you are a parent or teacher, or you simply curious about the project. Give 
Puppet & Brain
a try (although lacks of animations and arts).
No username password, and no credit card needed! It's free!! 
I've got the core part of the application ready. But it still needs a resource library: arts, animations and regular games and activities creation in order to inspire children. Of course, I'm planning to add more features!
Your contributions will enable me to work on this project full-time! You will be part of the community who helps children learn game programming!
I also prepared several rewards for my amazing patrons, like you!!! 
Listed on the right side ======>
One last thing
Because I worked in special needs education area for so many years, that I cannot simply ignore the group of children with special educational requirements. I'm glad that I've managed to add switch access capabilities for Puppet & Brain.
Your contributions will allow me to add switch accessible quiz and activities in Puppet & Brain for those children with special needs.
Thank you!

Music in the video made by Benjamin Tissot from www.bensound.com is licensed by Creative Commons 3.0

I'll be able to work on the project in my spare time
1 of 2
Recent posts by Liy
By becoming a patron, you'll instantly unlock access to 8 exclusive posts
By becoming a patron, you'll instantly unlock access to 8 exclusive posts