RapOet Self Suffice
is creating full time
Select a membership level
Front Row Patrons
Voting rights, new unplugged videos/audios weekly
+Payments add up! Occasionally get $5 tier awards too

Back Stage Patrons
Previous rewards
+
New songs weekly
(way before public release),
acapella vocals,
permission to remix
(your remix may be featured) 
+Payments add up! 
You'll Eventually get:
Instrumentals,
 50% off VIP Membership ,
Page/Project Ad in rotation
(promote your business/cause),
This is my highest Patreon Reward Level... for higher levels of rewards including an archive of all previous releases, join my Annual VIPs at https://rapoet.bandcamp.com/
About RapOet Self Suffice


WELCOME
to my Patreon page! Thanks to my Patrons and 
VIPs
, you can buy parts of my album each month. So instead of waiting for the mainstream to make one of my songs a hit, YOU get to see me release verses every week, and decide for YOURSELF if my Rap verses should be considered as valuable as the verses in your book store's Poetry section...
Get Exclusive rewards for 
helping me continue
 releasing Rap Poetry

THANKS
to my current patron, DJ Undakova, you can get new exclusive verses, beats, and vocals to remix, even if you can't afford to be an Annual VIP Member yet.
As long as I have at least 1 Patron

, you'll get bonuses that usually only go to my VIP Members 
The rewards include
Depending on whether you're viewing this page for free, subscribing for $5/month, or giving as little as $1/month
* Credits in Videos
* Shout outs and links on Social Media
* Mentions of your company/cause/name in Freestyles that go out to all my fans (over 5,000 certified by Reverb Nation) 
* Professionally mixed & mastered, exclusively produced pre-release MP3 downloads, acapellas, and instrumentals from my new album (up to 2 months before the songs are publicly available)
Most importantly, you HELP keep my weekly HipHop workshops, music previews, and playlists free for people who are less fortunate. And... 
I use Patreon's record of all your past payments to reward long time subscribers, so you can be a $1 subscriber who gets $5 subscriber rewards, or a $5 subscriber who accumulates a VIP Membership!
Get Exclusive rewards for
helping me continue
releasing Rap Poetry
About my lyrics:
You can play these Poetic Rap Verses, even at your job, cause they never have curses. I make the kind of music I wanted to hear when I was living in poverty, lacking a positive role model. I know hearing a good song is like talking to a mentor who loves you. I make the music I wanted to hear when I was still in college, separated from intelligent images of my people and culture. I make the music I wanted to hear when I was in an office where coworkers were clueless about the positive value of HipHop. I make the music I wanted to hear when I was driving my children to school, hoping to start their day with confidence and compassion, as a loving parent does!

Get Exclusive rewards for
helping me continue
releasing Rap Poetry
To prepay for a full year of music, join the Tier 1 
VIP Members
 on Bandcamp. If you're interested in member exclusive T-shirts and personalized lyrics, make sure to look for the Tier 2 and Tier 3 VIP Memberships too
WHY
I write and record so you can wake up
to positive messages, energize your space, and start the day with empowering lyrics your coworkers, family, and friends ask you to turn up, instead of turn off.
The music that fills your car, workplace, and home catches people's attention, just like art framed on your walls, except...
we can't look away from music
. My songs help you set the tone, so those around you are surrounded by the soulful sounds of positive music and conscious lyrics.
If you're tired of arguing
with those who don't know Hip-Hop's true potential, it's time to expose them to bars that put the spotlight on WHO YOU ARE, instead of on what you bought! All of the verses are clean, so you don't have to turn them off around curious kids or critical clients. 
Please become a patron today
. Your support helps me reach people in need of hearing positive rap lyrics, now.
Get Exclusive rewards for
helping me continue
releasing Rap Poetry
WHO I AM
I've been featured in the NY Times and NPR, lectured at Yale, rocked the International Hip-Hop Fest, hit #2 on the Indie Hip-Hop Top 40 radio chart, and am a 2017 State Slam Poetry finalist. I'm also a freestyle rap champion, event host, inspirational keynote speaker, and socially conscious business advertiser (My latest commission raised awareness of a revolutionary way to upgrade solar power sourcing, resulting in praise from 50 Cent, XXL, Essence, and others.)... But I'm not a pop music artist - so I'm indebted to the 
patronage
and 
VIP membership
of real people like YOU to keep this Positive RapOetry movement growing!
Tell me more...
Okay, I've been recognized by President
Obama's Champions of Change
and featured in the
New York Times
for developing programs that use Hip-Hop as a positive tool of engagement to erode stereotypes, deepen dialogue, and foster the expression of difficult, emotional thoughts in a healthy, safe, and positive way.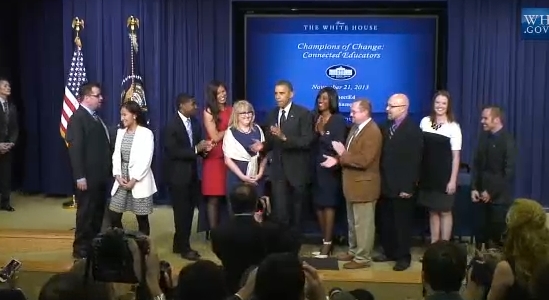 Recognized by Obama's Champions of Change

Get Exclusive rewards for helping me continue releasing Rap Poetry


Featured in NY Times for Positive use of Hip-Hop
Get Exclusive rewards for
helping me continue
releasing Rap Poetry
I'm currently a 2017 statewide poetry
Slam Finalist
, as well as a freestyle champion, MC, host, visiting college lecturer, stage diver, and crowd surfer! I've lectured\t
Yale University
, Trinity College, and several other institutions of higher learning.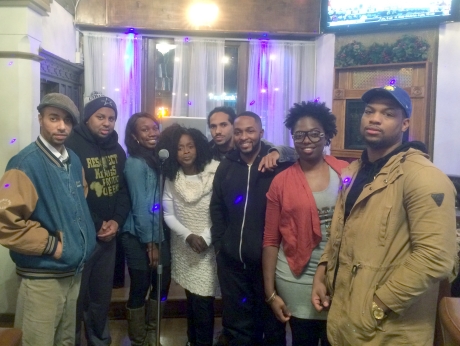 Recently became a 2017 Statewide Poetry SLAM Finalist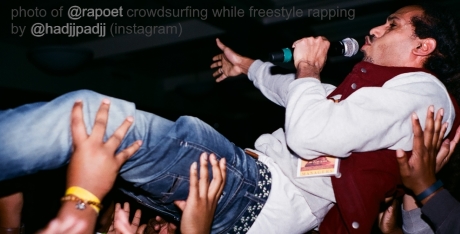 Crowd surfing at the International Hip-Hop Festival

I was discovered on the NYC Hip-Hop scene by 
Billboard Charting
MC, Talib Kweli, who booked me for repeat performances in Brooklyn. That led to being booked by award winning Poet, Jessica Care Moore, who mentored me until I was offered a production deal by
Def Jam
, which I turned down to go to college (my father passed away, and his generation struggled for equal access to education).
Ironically after Jay-Z stepped down from being Def Jam President, he signed an artist named J Cole to his new label
Roc Nation
, and I recorded an underground classic album with J Cole's engineer, Juro Mez Davis, produced by Royce Music Group's Young Cee. Our record, "Manhattan Night" rose to #2 and #3 on the
Indie Hip-Hop Top 40
radio charts, and #1 on the Reverb Nation regional chart.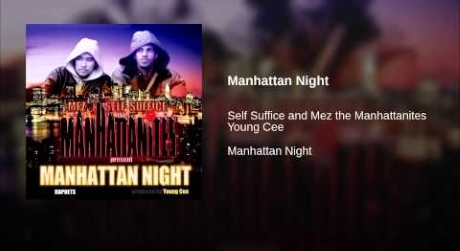 Topped the Indie Hip-Hop Top 40 charts. Check 
Spotify
 & 
Youtube
Get Exclusive rewards for
helping me continue
releasing Rap Poetry
Now
With your help, I'm releasing my first solo album, "Self Control", in 2018.
Not only is this the first solo album, it also semi-autobiographically describes the struggles many creative people go through to realize their True Purpose. From total poverty, shame, and confusion; to accountability, trustworthiness, and focus, each track sees the protagonist overcome his own defeatist mindset in a journey of increasing
Self Control
.
Even though it's a fictional Hip-Hop story,
based on challenges I've confronted in real life, the lyrics are full of
conscious insight
 for parents who want to enjoy authentic bangin' beats and liquid lyrics, without exposing their seeds to the vulgarity and stupidity of Hip Pop... Give them the soulful, powerful gift of real, conscious Hip-Hop verses.
Written & Performed by Self Suffice the RapOet
Produced & Arranged by King Solomon of Alien Religion
Recorded, Mixed, & Mastered by Ghazi G Dot O
Photography & Artwork by Corey Pane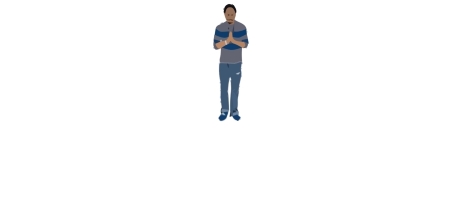 My highest goal is to be releasing Videos for each song!

Make this Real :)
Y
our support of the Pre-Release songs makes it possible to release the full album in 2018! THANK YOU!
Weekly previews of unplugged videos
1 of 4
Recent posts by RapOet Self Suffice
By becoming a patron, you'll instantly unlock access to 1 exclusive post
By becoming a patron, you'll instantly unlock access to 1 exclusive post