Mau Abata
is creating Refsheet.net!
Select a membership level
Your name on the credits page of Refsheet.net!
My undying love and gratitude
Includes Discord benefits
You get a shiny profile badge!
I'll post new things here for you to review before I ship it
EARLY ACCESS TO BETA FEATURES LIKE OMG
And all the Tip Jar rewards
Includes Discord benefits
If I make some sort of paid account feature, you get it free
You can very easily convince me to work on features you choose to be important
Plus a shiny profile badge and Tip Jar rewards
Includes Discord benefits
About
Hey there, and thanks for clicking through to our Patreon page!

TL;DR - Input coin, get better website.
Input $5+, get access to beta features!
All of this started from two simple pains:
I can't find all the reference material for my characters, and I want to commission artists and storytellers!
Artists can't find all the information they need to finish work, and are waiting on the commissioner to dig up more references.
Of course, storytellers, roleplayers and gaming nerds alike might appreciate having one place, finally, for their characters to live, grow, and be shared.
I want to build that place.
 In fact,
I did build that place.
 I just need to make it better, and recruit help, and to do that, I need an enthusiastic crowd of "You can do this, Mau!" people. And, of course, dollar dollar bills.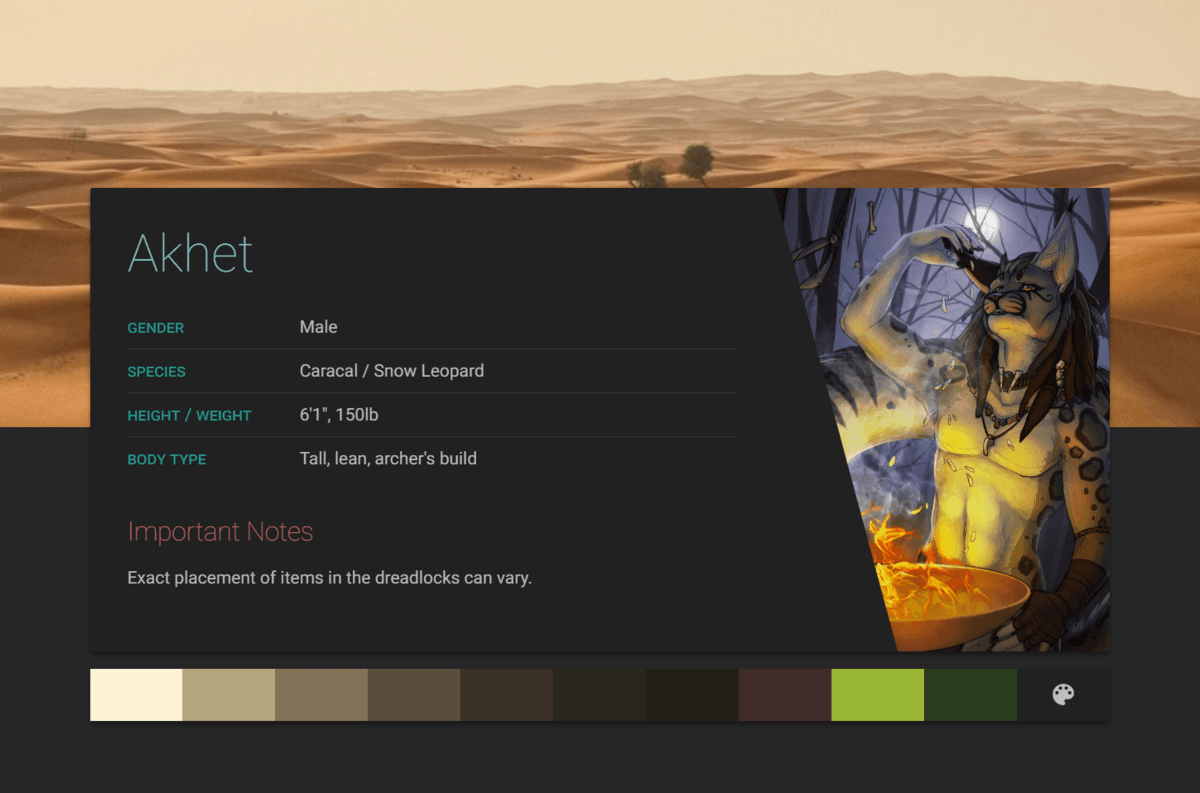 Whatcha makin, Mau?
Refsheet.net is a bunch of things, or it will be some day, and it's for character builders, storywriters, artists and commissioners. Some key things, in no particular order, that I
plan to build
 given support and excitement:
Character Profiles (Refsheet.net/MauAbata/Akhet, for example) which provide a broad-stroke overview of the thing you made!
Artist Profiles that show off all the different Characters you've drawn, and facilitate the getting-the-right-info-to-the-artist part of commissioning.
YCH / Adoptable / Character Swaps Marketplace for very, VERY easily facilitating auctions, straight up sales, and first-come-first-serve freebies!
Guilds for grouping up characters. Join your local gaming guild, your LARP group, add your character to a Snow Leopard guild and get nifty titles from each.
Forums! (Now in beta for $5+ patrons!)
[insert your feature request here]
I really, really want to build these things, and I'm working super hard to do so! If you want to set a fire under my (relatively fluffy) bottom and see Refsheet really move forward, throw a dollar in my hat and I'll add you to a Thank You page and get you a shiny badge on your profile!
Whatcha doing with my money, Mau?
So servers are about $200 per month,
which gets more expensive if I get like, a thousand people or so using this
. (Update: I've got more than a thousand people using this site, and I've increased server capacity.) I use a lot of "please write good code and don't break stuff" tools to develop this, Github, Travis CI, Caribou Coffee, etc. That's in total another ~$100 per month. Oh, yeah, and there's my development time,
which I'm totally cool with giving away for the Greater Good™
, but like, I can only do so much. I'll need to pay other people to contribute art and things.
In total, the website costs over $300/month, plus development time and hired help, to operate. I couldn't have gotten this far without the help of everyone pitching in and believing in this project so much! Thank you dearly.
Currently, I'm paying for the extra running costs out of pocket.
I believe in the project enough to do this,
 but I'd feel a lot better if other people believed in it too, and contributed to making it awesome! Read through the project goals if you want an idea for how this funding will be used.
From this dream-chasing Mau nerd to you,
I sincerely thank you for your support,Mau Abata (Will)
Software Engineer
sitehive.io | refsheet.net
$915.60 of $1,000
per month
Stress-free Livin'!
At this rate, the site can finally pay for itself without worry, and will continue to grow and thrive!
3 of 4
Become a patron to
Connect via private message
Recent posts by Mau Abata