Rhenea Ienari
is creating Watercolor Paintings & Online Tutorials
Select a membership level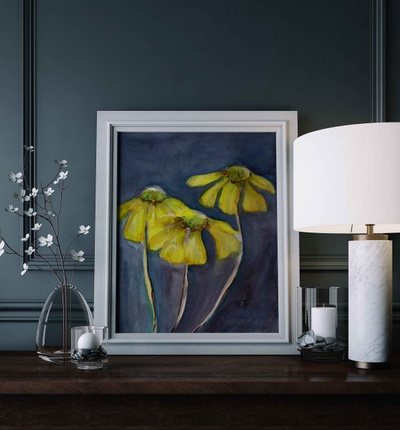 Youtube Videos
This tier are for those people who wants to support me on making art videos in youtube. Learn watercolor painting by watching my time-lapse videos. I also make art product video reviews, vlog my travel sketches and more...
You get to watch my art videos first, before I upload it in my youtube account.
Gain access to our patreon community where you can share your watercolor paintings and request what painting I will create in the future. 
Membership Account - Pyrrole Red
Are you busy but still want to enjoy playing with watercolors without creating tedious line arts? This is for you!
Pyrrole Red Account - A tier 1 membership access to www.rheneadesign.com to able to unlock hidden downloadable print-ready line art sketches with guided color swatches.
Membership Account - Sap Green
Do you want to access both our downloadable line arts, color swatches used, and hidden step-by-step tutorials in our blog post? Then this tier is for you!
Sap Green Account -  Everything above + a tier 2 membership access to unlock hidden techniques and step by step tutorials on blog posts.
About Rhenea Ienari
Rhenea Ienari is an artist and designer based in Manila, Philippines. She is the owner
www.RheneaDesign.com
---------------------------------------------------------------------------
IMPORTANT NOTICE : 
For
NEW Patrons!
When you join you get charged right away for the current month, after that you get charged like everyone else on the 1st of the next month.
(All my current Patrons always get charged on the 1st of each month)On my Patreon you will find:
Watercolor time-lapse video of my personal style and techniques in watercolor painting. 
Pyrrole Red Account - A tier 1 membership access to www.rheneadesign.com to able to unlock hidden downloadable print-ready line art sketches with guided color swatches.
Sap Green Account -  Everything above + a tier 2 membership access to unlock hidden techniques and step by step tutorials on blog posts.
BordeauxAccount -  Everything above + a tier 3 Membership access to unlock online workshops in https://www.rheneadesign.com/online-watercolor-painting-workshop/
It is both my passion, and dream to become a full time watercolor artist someday. I'm became really obsessed with watercolors, and I'm very happy when every time I'm creating a masterpiece! I feels like I found my serenity in every brush strokes I make. This hobby of mine became an outlet to release my deepest emotions and create a powerful impact to others. I really love painting.

Your support will be a great help for me to able to focus, and free up my time to create beautiful watercolor tutorials on youtube. I'm still continously learning and I really want to improve with you!

When I reach my goal I will open up my Basic Watercolor Online Course and all of my patrons will have free access to it :)

1 of 1
Recent posts by Rhenea Ienari