Rocío Angélica
is creating oil and acrylic paintings
Select a membership level
Pencil Patreon
Congratulations, now you are my "Pencil Patreon". Like my first pencil, you encourage me to continue creating. I am very excited you are part of my creative process, your support is very important to continue filling the world with my colors. 
Stay tuned to my Instagram stories because  I will thank you every month :)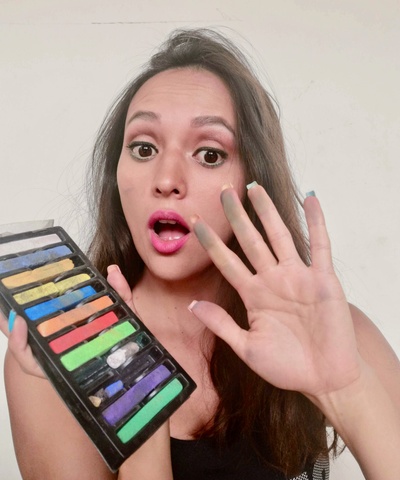 Pastel Patreon
OMG! I am very excited that you have decided to be my "Pastel Patreon". Soft pastels were the second medium I worked with. Have you ever seen my pieces with pastels?
Stay tuned to my Instagram stories because I will thank you every month for being part of my artistic life. Also, if you are an artist I will share your work twice per month, on  my  IG stories so, my followers will be able to see your art. You will also receive exclusive photos of my studio and works in progress each month. And if you are interested in articles about the brain and creativity, I will send you, every month, a list with my favorite scientific articles and books about that.
What a thrill! We will start to share ideas!
About Rocío Angélica
Hi, I am Rocío Angélica and I am a biologist. I live in Ecuador / South America and for a long time, I dedicated myself exclusively to sciences, but in 2016 I discovered my artistic skills after reading some neurosciences papers about how the brain is activated during the artistic experience. I had never drawn in my life before that, so I decided to conduct an experiment with myself, from there, I developed some techniques to stimulate my brain and make it more creative. Now, I enjoy painting as an exercise that stimulates each of these neural connections, because both science and art are the product of the creative expression of the brain and now, I am here to share my knowledge.

I always wanted to be more in touch with my followers, but the "real life"  does not allow me to dedicate myself exclusively to art, so I decided to open this Patreon account and thus make you part of my artistic life, of my creative processes and of my day to day as an artist. I'm so excited!. Your donation will help me to continue with my artworks and thus be able to participate in international fairs and galleries and give my art to the whole world; in return, I have designed some benefits that I am sure you will love them.

Become my Patreon and support my art, I know we will have a lot of fun :)
P.S you can also follow me on IG and Fb @roanpala

I will paint live, sell the painting and donate the 100% of the money to charity. All the patreons will choose the cause.
1 of 1
Recent posts by Rocío Angélica
By becoming a patron, you'll instantly unlock access to 2 exclusive posts
By becoming a patron, you'll instantly unlock access to 2 exclusive posts