Ryan & Sophie Sailing
is creating stories of a Voyage around the World.
Select a membership level
The dinghy ride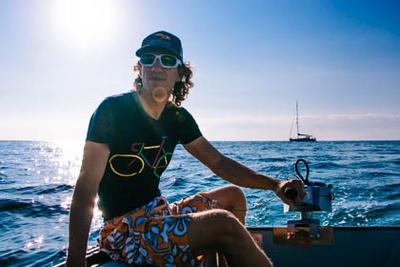 Welcome onboard!
We are picking you at the dock and giving you a virtual dinghy ride to Polar Seal, wherever the girl is anchored. 
You are now officially part of the Polar Seal Patreon crew, and as our virtual guest at anchorage, you get access to: 
Early access to our Youtube videos. 
Exclusive updates and photographs. 
Exclusive videos: longer cuts, short videos nowhere else to be seen, bloopers, Ryan singing while doing the dishes, etc... 
"Behind the scenes" content.
The Day Sail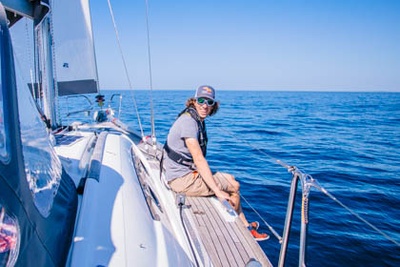 Anyone coming for a sail with us gets to helm Polar Seal and have a say in where she sails. 
At least once a month, we create a poll in which you get to choose among a list of destinations we are considering. Some days, it will be between two islands, some days it will be two countries, and some days, you'll get to choose what ocean we cross! 
On the Day Sail, you get access to: 
Participation in the destination/activity votes
All of the Dinghy Ride rewards.
The Coastal Cruise
Adventure is calling, and a coastal cruise can take us as far as exploring a new country!  
Besides, we're starting to spend some time on the boat together and have the opportunity to get to know each other's better :) 
As a crew member on a Coastal Cruise, you get: 
A postcard from where we are at the moment
Priority in answering questions in Q&As and AMAs.
Priority in answering your questions through e-mail.
All the Dinghy Ride and Day Sail rewards.
About
Bonjour!  
You may know us already, but if you aren't familiar with us, we are Ryan and Sophie
(Well, this is Sophie writing)
Welcome!
It's really awesome to see you here in our little corner of the internet, so thanks for stopping by, we greatly appreciate you considering to support our video production and become a special part of our community.
We are an American dude and a French girl who met in Sweden a few years back and decided to quit our corporate jobs to pursue a crazy idea:
 to move on a sailboat and go sail around the World.
We had absolutely no idea how to sail at first, so we took a course, we then bought a boat and cast off the lines. My friends offered me a camera for us to document our journey, and of course for them to have a good laugh. We now make videos that show our
life at sea
,
the good
,
the beautiful
and the
reality-checks
.
But hey, if you're here, you probably know that already!

We quickly fell in love with both the craft and the community that formed around our videos
(and yes, that includes Ryan too
😉).
So this season, I (Sophie) decided to invest 100% of my time and focus into documenting the stories of our adventure on YouTube. But I can't do it alone and this is why we are here!
Why Patreon?
It goes without saying, but we'll say it anyway: all of our videos, photo-blog, articles, my questionable sense of humor and access to Ryan's boat knowledge will always be free for everyone. ALWAYS.
So now: with Patreon, we can receive contributions from you, dear viewer, and continue to create videos on our own terms.
Although we do
(sometimes)
recommend products that we use or companies that we love, we can focus on creating better videos without turning Polar Seal into a floating billboard.
With Patreon, we also have the possibility to grow without caring
too
much about our amount of views or subscribers 
(we hate clickbait too)
, but rather focus on creating a community of folks who enjoy our videos and want to share the journey with us.
How does it work?
Patreon is a subscription-based platform that allows you to become a member of our community of Patrons and get access to some fun perks.
Becoming a Patron is a choice,
not an obligation! 
When you become a Patron:
You choose the amount you want to pledge per video.
You can set a max amount per month in case we go on a wild production month (we typically publish 4 videos a month)
Patreon charges you at the end of the month, and we can continue to do our thing.
You can pause your subscription or cancel it at any time.
PS: If you feel that Patreon isn't for you, there are other ways to support our videos 
which we describe here.
Why become a Patron?
When you become a Patron, you become an important part of our journey and directly impact the content of our videos. Some levels even include the possibility to choose our destinations or choose the theme of an entire video. That's right.
YOUR video :)
All proceeds of Patreon go directly towards improving the quality of the videos. Your contribution can help us purchase a gimbal to make our footage steadier, invest in better microphones for improved sound, or even hire a graphic designer to create infographics for Ryan's technical videos.
In our wildest dreams, we can even hire help to produce more videos, and even if that's quite a ways down the road, no dream is too big! 
THANK YOU!
We wouldn't be doing this without you and your contribution. So thank you, merci, tack!!!
You are the reason why making these videos is so much fun and why Ryan is starting to like the camera
(it is true).
We appreciate your support immensely!
The Patreon model has us place some rewards to entice our viewers to donate. But ultimately, we know that you are here because you understand what we are trying to achieve with our videos and you think that all the hours we put in them are worth it.
FOLLOW 
YOUR 
DREAMS!
Sophie and Ryan
The big meetup!!! 

I mean, this is almost overdue right?! While we're always looking forward to meeting you at any point during our adventure, we've GOT to organize a giant meetup with all of you! 

4 of 5
By becoming a patron, you'll instantly unlock access to 80 exclusive posts
By becoming a patron, you'll instantly unlock access to 80 exclusive posts
Recent posts by Ryan & Sophie Sailing