Sally Eddy
is creating Drum Covers, Reactions/VLOG's & Streams
Select a membership level
Tier 1: Leave a tip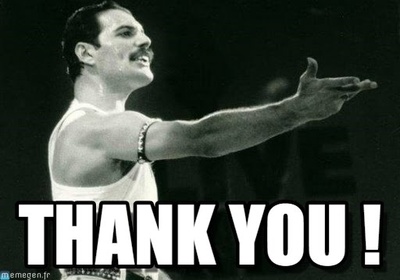 Every Dollar and Pound counts

 With this $1 tier you will recieve: 
Your name on the end screen of my next YouTube video to say thanks
A screenshot Preview of my next video and information of when it will be uploaded 
Tier 2: Request!
Limited (24 remaining)
Want me to do a specific Queen drum cover/reaction video or a VLOG topic on a YouTube Video?
This $2 Tier package gives you the chance to be in control of the content of my next video.
Once signed up you can request one of the following:
A Queen Drum Cover: Live or Album versions (If the request is too difficult make sure you have a few others on standby and I will let you know if I can do them)
Any reaction video: Does not have to be Queen - it can be anything - just nothing inappropriate !
A VLOG Topic: This can be anything from a Challenge Video/ Review of an album, book or film/ A Quiz/ A Livestream request
Once I have edited your request I will also include the $1 tier which is to add your name onto the endscreen of the video and a link to your YouTube channel in the description for supporting my page and also give you preview screenshots of my next video and when it will be uploaded.
Twitch Tier: Fund Me
Twitch Tier 1: Fund Me
A small fee that will help fund me towards a gaming pc set-up which will include a gaming pc, microphones, lights and monitor to improve the content and quality of my stream.
You will also become a member of my VIP list and can have your channel featured on my Discord whenever you go live. 
About
**Obi Wan Kenobi Voice** Hello There! Welcome to my Patreon Page!

Introduction

For those who don't know me, my name is Sally Eddy and I am a British YouTuber and Streamer. My videos on YouTube are centred mainly around the British rock band called Queen and they consist of drum covers, reaction videos as well as vlogs and I absolutely love seeing the fan base grow and hearing from people all across the world. With Twitch I stream live on a regular basis with casual playthrough's and sometimes retro games and have an absolutely great time hanging out with awesome people on my chat and in my community.

However, many people think that just because you are on YouTube or Twitch you get lots and lots of money once you get past a certain amount of subscribers - unfortunately unless you are vastly popular this is not true ! A lot of my videos on YouTube include copyrighted music from the band which I have no problem with at all but it means that I don't get any money for the time and effort that has to be put into my videos. I record both sound and video and then sync and edit my footage all together and if something breaks, gets corrupted or needs improving, a lot of it has to come out of my own pocket. It's also the same with Twitch - If any equipment suddenly stops working or I need new equipment to make better content, money from my own pocket has to be put into replacing or fixing the issues and it's money I currently do not have at the moment as Twitch and YouTube are my only source of income during this pandemic.

What's on offer? Packages and Benefits :

YouTube: For all of you who have come from my YouTube page > By joining some of these tier packages, you guys will be able to get full access to some behind the scenes videos such as a Day In My Life and Unseen Bloopers that only patreon's are able to see! Every single member (does not matter what tier) will get an exclusive preview to the thumbnail of my next video and when it will be posted so you guys are the first to know what the video is and what time it'll be uploaded. You can even receive a shoutout on one of my videos if you request a cover, reaction or VLOG (Just nothing too difficult or inappropriate please!!). Higher tier packages also gives you the benefits of the previous benefits plus more! From a personal thank you letter and autograph, to being a pen pal, having my drumless tracks sent to you and even having drum lessons with myself - the possibilities are endless! Just have a look at what's on offer with some of the tier packages and see what takes your fancy. I appreciate every single one of you who supports me, especially those who sign up to these tiers on patreon and I could not thank you enough!

Twitch: For all of you who have come from my Twitch Page > I could not thank all of you enough who have supported me so far on Twitch. I have only been on twitch for a small amount of time but the people who I have met have been absolutely amazing and I am very privileged to have you guys as part of my amazing Twitch Community. With some of these tier packages you will be helping me save up for a gaming pc, microphone and monitors which will greatly help the quality of my streams and it's content. With some of these tiers you will be able to request a game that you would like me to play or indeed a multiplayer game which can include YOU as part of the team. Even if you just want to chat or play a game- it is in your control! I will also give you guys exclusive behind the scenes Twitch videos which will include a run through of my gaming set up and I can even create some emotes for your own streams that you can use for as long as you want.

Thank you in advance if you do decide to support me and I hope to speak to you more when you sign up. Many Thanks !!! Sally xx
By becoming a patron, you'll instantly unlock access to 33 exclusive posts
By becoming a patron, you'll instantly unlock access to 33 exclusive posts
Recent posts by Sally Eddy