Sara Garber
is creating a Music Album
Select a membership level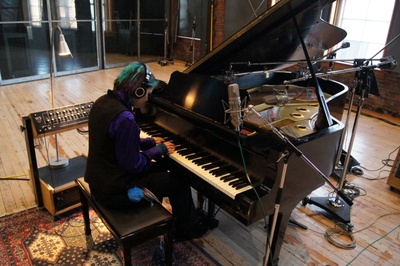 Become A Patron
Unlock exclusive content and join my community of patrons. Thank you!
Access to a feed of patron-only content
Connect with other patrons
About Sara Garber
About Sara Garber

Born and raised in Langley, British Columbia Sara Garber leads a life of musical exploration. Her first formal instruction, though brief, was on the piano at age seven. An instinctively keen ear allowed Sara to pick up music without the use of written notation, and she soon chose to pursue her own course of musical study. She was able to sing in choirs throughout high school, and as a student at Southridge Independent School in Surrey, BC, she enrolled in the Jazz Studies class, focused on developing improvisation skills and learning jazz style.

By the age of fifteen Sara became more interested in learning the guitar than the piano, identifying more with rock music. She spent her final two years of high school at the Langley School of Fine Arts where she studied both music and visual arts. At seventeen she recorded her first album at Camillion Studios with producer Cameron Grant, and began joining open jams with other local musicians around the lower mainland.

Sara's eagerness to learn and to grow as a musician is a daily passion, one that she continues to feed on numerous family trips to Thailand. She seeks out other musicians to play with, even making regular appearances at a local cabaret bar's open jam sessions. In a stroke of bad luck, Sara and her family found themselves on a beach when the 2004 tsunami hit Thailand, and narrowly escaped with their lives by staying afloat on the bed of a pick-up truck until the waters receded. Returning to Canada weeks later, Sara found herself drawn in a different musical direction. She returned her focus to the piano, this time with more serious commitment. Her music lost the rock edge and began to focus on strong melodic content, and a more inspirational message.

While Sara dabbled in recording occasionally throughout her late teens and early twenties, she waited before releasing another full length album. In 2014 she met producer Murray Yates of Echoman Studios and began fine tuning and recording her new sound. Recording has become an ongoing project for Sara, with many as of yet unrecorded songs from years of writing.

Music serves many purposes in Sara Garber's life. As a young woman living with Asperger's syndrome (a high functioning form of autism) Sara has at times felt the need to overcome the stigma often associated with her condition. While she may struggle at times to communicate her thoughts effectively, her music allows her to express her feelings and emotions in a raw and honest way that is truly her own. Her music is thoughtful and uplifting, and she hopes to inspire others by her experiences as she relates them through song. While she often struggled as a child to learn in the standard academic way, she now hopes to set an example of optimism of the possibilities that exist in all of us, if we show the dedication and perseverance to follow our dreams until they become a reality.
Hello. My goal and dream is to make music to sooth the soul in this crazy world . To do this full time and continue making and recording high quality music, I need your support to do this. I love writing music and everything about the creative process in which by signing up I will give you a behind the scenes look at what I do as well as monthly free downloads and prizes and art. You will also be helping make a dream come true. Thank you all for your support!!!
1 of 1
Recent posts by Sara Garber