Sarah Bussey
is creating Fine Art
Select a membership level
Sketch Artist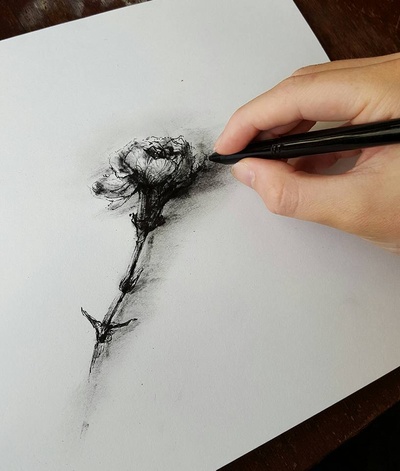 Thank you for loving what I do!
You will receive exclusive content of how I create my paintings from start to finish, with brief descriptions of how I go about my creative process.
Acrylic
You get all of the above as well as access to Voice over, How To Videos, and Drawing instructionals.  I'll also suggest homework for you to practice to develop your skills with the option for you to receive feedback and constructive critiques from me. 
You will also receive access to periodic Giveaways!
Oil painter
You get all of the above: progress photos, videos, critiques....PLUS 
1 monthly postcard featuring one of my art pieces with a handwritten note. (Please note that I will not offer these postcards for sale anywhere. The ONLY way to get one is by being a Patreon.
 Early access to paintings, you will have 2 weeks advanced access to purchase my work before I release it to the public!
FREE SHIPPING U.S GROUND SHIP ONLY 
About
Hey! Welcome to my Patreon page.
This

PATREON

page is a place that allows people to learn about my techniques and gain access to my work directly.
Why should you become a patron?
Whether you are wanting to grow in your skill as an artist or you simply enjoy my art and want to show your support, here on Patreon you have access to exclusive pictures, videos and technique breakdowns. Also, I will be hosting exclusive giveaway opportunities only available to my Patrons! Patreon is a great way to be a part of what's going on, to be the first to know, to receive special offers not available anywhere else.
It's because of people like you who make it possible for me to keep creating. Thank you! 

For an overview of how Patreon works in general, click

HERE

.

How often do patrons get charged?

Once per month.
So whether I upload two videos per month or ten you get charged the same amount. For example, if you sign up at the $5 level, no matter how much I post, you will only ever be charged $5 per month.
A little bit about me:
I've come to realize that many of the landscapes that I paint will give me the impression as though it is just myself alone in the scene, at peace, cut off from the day to day issues and stresses that life can bring.
I've always found peace and rest just disconnecting from everything and exploring the outdoors.
Strangely enough, though the great outdoors is peaceful, it is far from quiet. There are noises everywhere you go: birds chirping, crickets singing, water rushing, leaves rustling, wind blowing, etc. and I think at times I often make the mistake of confusing all of the "things" that crowd my life as "noise", so that when I can get away from it all, though there is sound, I translate it as hearing nothing. My heart and mind can finally stop for a moment instead of the constant inner dialogue of things I need to do, life's worries, frustrations, etc......I can finally take a moment to listen and just be, to enjoy life and the beauty that is all around me in the little things. I think that is why I paint, it gives me a "mute button" for all the "noise" in my life.
I am extremely thankful for everyone and everything in my life, and my hope is that these paintings can help others to be able to "mute" out the unnecessary noise within themselves so that they can see the beauty in the life that is all around them. 
My dream in life is to help other artists become successful in their pursuit of excellence and enable them to make a career from their art. I hope that you like what you see and can partner with me to make this possible!
This will go towards a new camera to take higher quality photos and videos for you to enjoy! 

Just like last time, on live video, I will put EVERY patreon's name into a box and will draw out one lucky winner, but this time they will recieve an 8x10 Original painting!

1 of 4
By becoming a patron, you'll instantly unlock access to 1 exclusive post
By becoming a patron, you'll instantly unlock access to 1 exclusive post
Recent posts by Sarah Bussey