JMGariepy
is creating audio dramas & movie nights & M:tG articles & voice overs &...
Select a membership level
Eager Cadet
I give a dollar to a few of my favorite artists on Patreon as well.  It's what I can afford.  I like to think that, at this level, it isn't about the actual money I'm giving so much as the vote of confidence I'm giving those artists.  I like their work, and I want them to know I like their work in a meaningful way that goes beyond simple lip service.

So thank you.  I really appreciate this.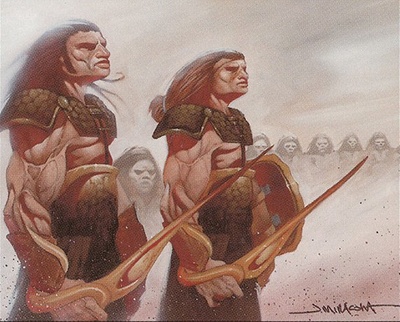 Fresh Volunteers
Things start moving at this level, and I can pay for things that improve the quality of my work.  This chips in for basic essentials, such as hosting websites, podcast hosts, file storage fees, and a meetup group for movie night.

In other words, you're helping to keep me live and on the Internet.  Thank you.
About JMGariepy
What happened? Where am I?
You're on Patreon. It's where people act humble while swiping hard earned dollars bills with their grubby little hands.
Wait! Why? I like my money...
Me too. But don't worry. I'm only taking what people want to give. If you like what I'm doing and want to contribute, you can. If you want to read, listen, and watch my stuff without paying a damn thing thank you very much, that's fine too. I'm far more interested in my audience as an audience anyway.
Okay, so let's say I give you some money. What are you going to do with it?
That's… um… uh…
Look, this is part of the problem. I do a lot of different things, and I know that not everything I do is interesting to everybody who follows me. I mean, unless you like audio dramas, conversations about movies, and casual Magic: the Gathering. Then yeah. You are my exact demographic. I'm going to call you Pete. Hi Pete!
For everyone who isn't Pete, I promise that the guilt I feel about making a better everything will magnify the more money people dedicate to me. It's just how I'm built.
But! If you like a very specific thing that I'm doing, and you're donating money, then tell me. You have my attention. It's surprising what kind of influence a single vocal viewer can have over a creator with a small audience.
Aw... thanks guys for chipping in.  I'll make sure to include you in my will.  However, none of you are getting my Japanese fighting fish shirt.  I'm wearing that to meet my maker.
1 of 4
Recent posts by JMGariepy
By becoming a patron, you'll instantly unlock access to 14 exclusive posts
By becoming a patron, you'll instantly unlock access to 14 exclusive posts