Says Who Podcast
is creating a weekly podcast
Select a membership level
CITIZEN
Thank you, Citizen of SaysWhovia, for helping YOUR COMMUNITY. It is because of YOU that Says Who can operate. This dollar or more means A LOT to us. As a CITIZEN, you will get access to our COMMUNITY BLOG here on this page to find out WHAT IS GOING ON IN YOUR TOWN. And you can hang out with your NEIGHBORS in the community.
CITIZENS' BRIGADE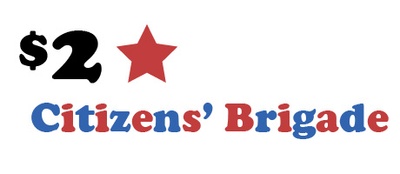 HELLO NEIGHBOR! Your TWO DOLLARS gives your town double the resources of the citizen level so that we can do more, like finally fix that haunted streetlight. As part of the CITIZENS' BRIGADE, you get a COOL STICKER that you can show off at school, work, coffee shops, parties, galas, rocket launches, ribbon cutting ceremonies, and royal weddings. 
COMMUNITY BLOG
AWESOME STICKER 
ANOTHER STICKER AFTER 4 MONTHS!!
TOWN WATCH
Thank you for joining the SaysWhovia TOWN WATCH. At this level, you are keeping SaysWhovia going in a major way. YOU KEEP IT SAFE. You will have access to BONUS EPISODES. These bonus episodes can come at ANY TIME and be of ANY LENGTH! Some may be FLASH RESPONSES to events. Others may be about Stardew Valley, good books, cooking, wrestling, or Maureen's aunt's bird. You will never know. But that is why you are on the WATCH. You must always be READY.
COMMUNITY BLOG
AWESOME STICKER 
ADDITIONAL STICKER AFTER 4 MONTHS
BONUS EPISODES
About
WELCOME TO THE SAYS WHO PATREON PAGE!
We're so glad you're here.
If you are unfamiliar with Says Who, let us explain very briefly who we are. Says Who is a podcast created by Chicago media man-about-town 
Dan Sinker
and 
Maureen Johnson
, a New York
Times
bestselling author* who lives in New York City.
In 2016, in the final eight weeks of the Presidential campaign, Dan and Maureen made a podcast in order to cope with the deluge of news. They interviewed journalists like Chris Hayes, Ana Marie Cox, Olivia Nuzzi, Molly Ball, Josh Katz, Farai Chideya, Jamelle Bouie, and Brian Stetler...all of whom were covering the campaign. They asked each one: do
YOU
know what is happening? Generally, they did not.
The podcast was supposed to end on Election Night 2016, but if you pay attention to current events, you will know that things did not go as planned. So Dan and Maureen, dazed and confused, kept going--two lost and confused souls with microphones, still asking, "WHAT THE HELL IS GOING ON." Each week, they sit down and process the news so you don't have to. So if you are deep in Trump country and need a friend...if your work doesn't encourage screaming and crying at your desk...or if you just want to see what happens to two people exposed to high levels of news for a prolonged period...
THIS IS THE PODCAST FOR YOU!
And here, you can join friendly people in the
TOWN OF SAYSWHOVIA
. Everyone has a place here. Grab a coffee and sit down. Yes, right there. That chair is free. It's for you.
Says Who...the podcast that isn't a podcast, it's a coping strategy.


SUBSCRIBE NOW!
*it's all true and this is included to make it all seem very Official and Legitimate 
Become a patron to
Unlock 64 exclusive posts
Connect via private message
Recent posts by Says Who Podcast