Sense & Spontaneity
is creating Music Videos, Live Improvised Comedy Shows, Comedy Sketch Videos
Select a membership level
Introduction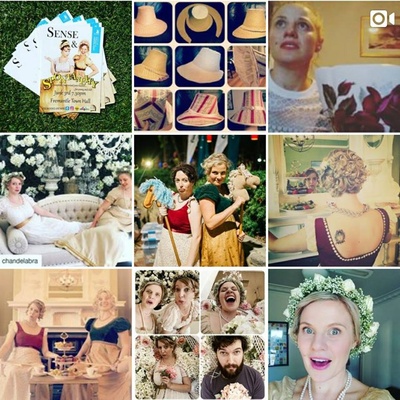 One can officially claim an acquaintance with Sense & Spontaneity. When we are mentioned, one might remark 'OMG, I totes know them ladies, they are hilaire and they love me!' One will receive  correspondence updating them on our progress through our patron only post feed.
Handkerchief
It is always chivalrous to lend a lady your kerchief. Of course when one sends their handkerchief into the world, they want to ensure it has been of use, said sender will receive correspondence updating them on our progress through our patron only post feed and a thankyou post on Facebook and Instagram. 
Library
For $5 per month you can have access to our personal library. This includes all of the above, as well as exclusive behind the scenes footage and photographs, early drafts for sketches and scripts, and videos a day in advance of the rest of the world. 
About
What Are We:
We are Jane Austen fan-girls turning a violent obsession and a frenetic friendship into comedy gold. We perform completely improvised and unscripted comedy shows inspired by the words of Jane Austen. We create Austen themed rap videos, with one success gone viral and a number in development. 'Dear Mr Darcy' our tongue in cheek musical ode to Colin Firth in a wet, white shirt, has 650k views on Facebook, 17k views on YouTube and has appeared in six international film festivals and brought us followers and fans from all over the world.

What We Want to Be:
We want to make half a dozen more rap videos, produce a live sketch/variety show, film the sketches, create a podcast re-imagining famous action films through a Jane Austen lens, print t-shirts and well, whatever Jane Austen themed bits of silliness inspire us. Patreon supporters will take part in the silliness, inspire the creative process, and be the first ones to receive a t-shirt in the mail, a sneak peak at the videos and behind the scenes footage.

How Did This Happen:
Sense & Spontaneity started by accident. Improvisers Jessica Messenger and Esther Longhurst were looking for ways to clown together, and while entertaining their many small children they began doing Jane Austen impersonations with toy dinosaurs. Four years, fourteen sold out seasons, three regional and one interstate tour and a viral video later it seems our ridiculous, affectionate and incredibly silly obsession with a long dead regency era authoress has taken on a life of its own.

Who Are We:
Esther Longhurst is an improviser, voice over artist, writer, director and occasional lion. She feeds her children by being silly on stage, screen and radio.

Jessica Messenger is a playwright, performer and director who is almost as obsessed with improvisation and the persuasive power of rap, as she is by reading all of Jane Austen's books. She only has one child but hers is the hungriest.

Amanda Ash is a drama teacher, stage manager, improviser and technology wizard. She narrates our live shows, builds and delivers our sets and makes sure every one is on time. She has the most children and her job is the most like hard work.

We will create a lovely thankyou video. It will be very pretty. Maybe we will cry.

1 of 5
Become a patron to
Unlock 10 exclusive posts
Connect via private message
Recent posts by Sense & Spontaneity