Michel B Rodriguez
is creating digital modeling 3d print files
Select a membership level
Zafiro
Limited (0 remaining)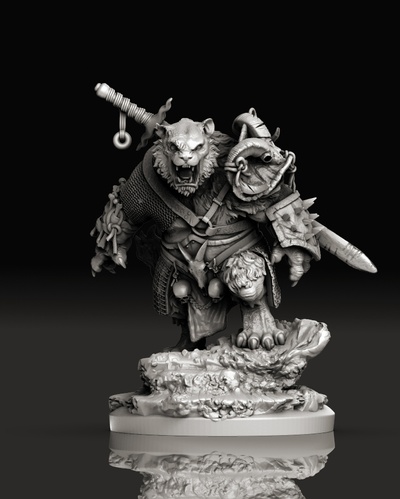 Thank you for your support, you can not imagine how much it means to me as an artist.
You are part of the select group of patrons who believed in my work and supported this project at first.
  you will have access to two miniatures a month, which you will receive by means of a link to your email in patreon
Your opinion will be very important for future projects. you can access the rewards via email, in addition to meeting more people who enjoy the same as you and support my work
You will access a welcome package where you can choose three models. of those available for immediate download as soon as your first payment went through.   
emerald
Limited (36 remaining)
  Thank you for your support, I will continue creating more interesting things.   you will receive a message in patreon, with an invitation to the discord group  
You will have access to the ZAFIRO  level rewards.
You will receive monthly, a complex model, which will be chosen by the patrons. through a pool in patreon, in which you can participate
You will have access to the discord group where you can share with the other members and receive the rewards.
You will access a welcome package,  consisting of 11 models  
About
Hello everyone, I am Michel, self-taught sculptor who since childhood felt a great fascination for art, especially sculpture, I started with plasticine making my own models only to play and then use other materials as my Knowledge were increasing. I converted my hobby into my work when to my dream was joined by my wife Liliana with whom we created a modest collectible company called Dragon Queen, where we elaborate fantastic sculpture of created characters and custom sculpture of known characters. We work with the company of Collectibles YAMATO USA, with whom we develop conceptually and artistically some models.
In recent years we have dabbled in the field of 3d modeling, which has delighted us and allowed us to create a great variety of characters that we want to share with all of you.
You guys are wondering why Patreon?
Patreon is a very interesting way to show our work and to reach places beyond our country. By the way, we're from Colombia. We want to show our talent and that our sponsors have in their hands a sample of the ideas that come out of our heads and that can materialize them in a 3d impression.
Special conditions
You must pay attention to these conditions to be able to work as a team.
- Models for 3D printing can be sold, you can not mold or copy for mass replication.
- If you publish the models and/or renders in your social networks, blogs, or web pages, you should comment on the authorship of the design and the name of the sculptor.
-Download links will be published within the first week of each month after the patron payments have been made. The links of the download models will only be active for 3 weeks. (Only the models of the welcome gift pack will be permanently available to the emerald patron in the discord group)
Where to get Old FILES that you don't have?
Old files can be bought at 
https://www.cgtrader.com/sephon66
or in my fan page of facebook 
https://www.facebook.com/Sephon66/
but for a higher price.

About BILLING
First billing will be charged the 1st of the month going forward ... amount varies on the tier you chose.
- I reserve the right of permanence of thepatrons, based on compliance with the proposed conditions
THANK YOU!!!!
First of all, we thank you very much for the contribution, because with this we will be able to advance in our work and achieve personal and professional goals. Every help counts and is immensely valued.
It is important for us to have a wide community of  patrons and  show our work throughout the world.
1 of 1
Recent posts by Michel B Rodriguez
By becoming a patron, you'll instantly unlock access to 12 exclusive posts
By becoming a patron, you'll instantly unlock access to 12 exclusive posts