James J. Tsidkenu
is creating We fight, because of life, truth, and freedom
Select a membership level
Any Donation, Patriot 1776 Membership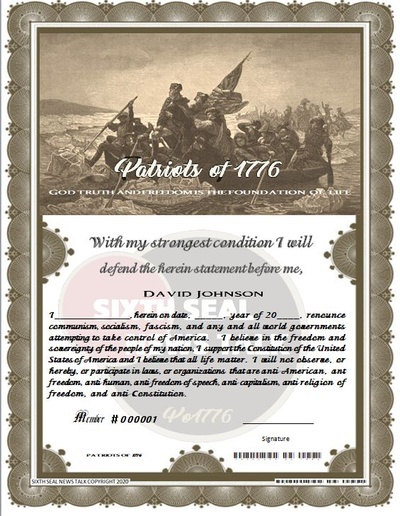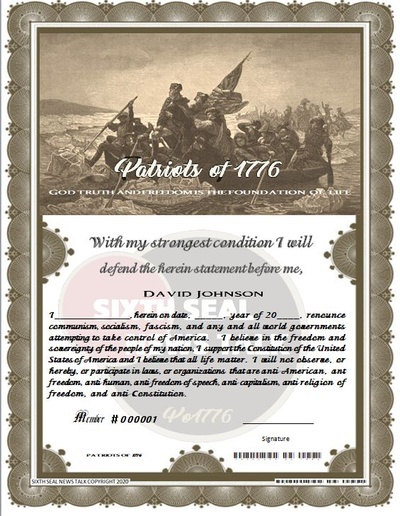 When you become a monthly Patreon supporter of Sixth Seal News Talk., you can request to receive the special beautiful Patriot 1776 membership certificate. With your name and membership number, below you'll see what it says that you're committing to on the certificate;

With my strongest condition I will
defend the herein statement before me,

YOUR NAME WILL GO HERE

I________________, herein on date, _____, month_________ year of 20____, renounce communism, socialism, fascism, and any and all world governments attempting to take control of America. I believe in the freedom and sovereignty of the people of my nation, I support the Constitution of the United States of America and I believe that all life matter. I will not observe, or hereby, or participate in laws, or organizations that are anti-American, ant freedom, anti-human, anti-freedom of speech, anti-capitalism, anti-religion of freedom, and anti-Constitution.
With membership number#

The certificate will be sent to you and all you have to do is print a certificate, put your name where is says I herein, then the month, and sign at the bottom and show the entire world you support freedom and the United States of America. You can provide me with your name or a nickname that you would like to see on top of the certificate as you see in the example.

The certificate will be sent to you as a PDF format once you start your automatic monthly donation with any amount.

Note, if you're already a member of the Sixth Seal News Talk Patreon you can request a free certificate for yourself, however you will have to send in the name that you want to see on top.

Use the Patreon messenger to contact me with your email address where you want the PDF sent to you.

God blessing please continue to support Sixth Seal News Talk.

James J.T


About James J. Tsidkenu
HELLO Patriot! I am here because, I need your help and if you are here it may be because, God has brought you. I am like others also fighting an information war against communism and socialism. I strongly believe we all need to fight for the rights promised to us under the U.S. Constitution and the Bill of Rights. I have set up a YouTube channel because, people wanted to hear about how the world is being deceived by communism and socialism. My channel has been running for a couple years and it has over 37,000 subscribers. But, I need you because, I have a dream to expose as much as I can to as many as I can those who are bringing these devious deceptions that is targeting so many lives around the world. The goal I have is to reach many and bring in the truth. I feel this is a calling from God and feel you can help me meet my calling with your support. I would like to be able reach as many as I can before this great deception enslaves humanity and silence the voices of those who want to expose the evils of this world's communist and socialists.

Please help, because we need to fight for what is right and as they say, evil only wins when good people do nothing. Please join me today, because your support is key to helping me to expose these communist and socialists for what they really are.

From me and my family, may God bless you and your family all of your days.

Sincerely.

James J. Tsidkenu




$99.99 of $3,600
per month
Only you can help me reach my goals, because you are also looking for life, truth, and freedom.
1 of 1
By becoming a patron, you'll instantly unlock access to 18 exclusive posts
By becoming a patron, you'll instantly unlock access to 18 exclusive posts
Recent posts by James J. Tsidkenu
How it works
Get started in 2 minutes