Skookum Scarp Sanctuary
is creating Sasquatch Research, Interaction and Conservation
Select a membership level
Officer, Squatch Protector Corps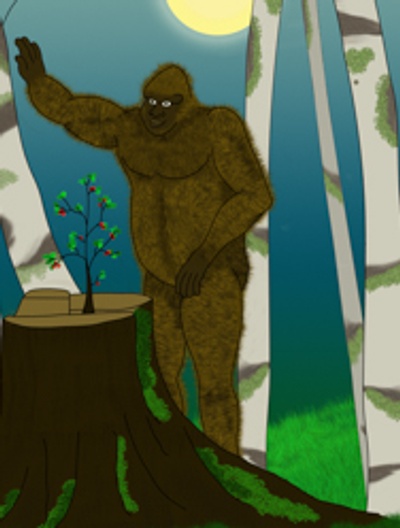 As such a small, rural operation we don't have the capacity to send out merchandise, therefore our Patreon is straightforward. 


We want to get our information out there.  Just checking us out? Pitch in a buck. Really enjoy our content and are inspired by our mission? Share more if you can. 


We'll provide a look into our work through words, photos and video, along with hearing our impressions on current research elsewhere in the field. 


Additionally, we'll be discussing how new land use strategies related to endangered species protections and fire management could be impacting sasquatch. 


We'll be available for connecting with our patrons, and would like to foster a sense of community through this page.  

About
Located in SW Washington, Skookum Scarp Sanctuary is a totally unique model for sasquatch research. We investigate sasquatch ecology, relate this to land use, and advocate for sasquatch by restoring their habitat. Through our on-going restoration activities and observations we're dedicated to the research of, and interaction with, the sasquatch.

We believe our project may be the first of its kind, combining several squatch elements in a totally new way. Lets explain.

1) Our property has likely been inhabited by Sasquatch since time immemorial. How do we know this, beyond being just a woodland in the PNW? Our area was used by local tribes for up to four thousand years. We know through Indigenous legends that Sasquatch often raided their camps for foods, in particular salmon. Additionally, Indigenous peoples maintained forests full of food near their homes, including wapato and huckleberry gardens. In recent times, our area was home to several salmon canneries and buying stations. Undoubtedly local squatches long ago associated our area with enhanced food stores.   

2) In current times we've observed a great deal of suspicious activity, ranging from classic squatch sounds, hand prints and moved objects to deer predation, berry foraging and trees topples.  A wide range of unknown phenomenon has been observed by people working at the property, locals and guests. The surrounding area is almost entirely logging lands, small farms and nature reserves, with a very low human population. We have elk herds, salmon and berries in the lowlands, plus humans from whom they can scavenge when required. The Sasquatch have large set-aside areas to themselves, and vast acreage of steep upland to inhabit. 

3) We've spent 7 years professionally restoring the woodland, creating greater food availability, cover and easy to use forest trails. Examples include huckleberry stump gardens, increasing the growth of conifers and mid-sized berry shrubs, creating edible wetlands, planting forest gardens with up to a dozen edible species, and clearing debris and overgrown deciduous trees from trails. This hasn't happened all from design, rather its been an on-going process as they've made their presence known and we've learned more about the land and its history.

4) We're opening up the property to investigation by enthusiasts, including a cabin specially designed to observe possible unknown night visitors right in the middle of these trails, as well as an isolated wikiup within the woodland. We're a passive interaction area, meaning no late night screams, banging on trees, barking dogs, etc. However, what we do offer is a totally different approach to sasquatch excursions. In this way we hope to share our experiences with you, and to expand our ability to gather information about them.

5) We've set aside areas only for Sasquatches and created low impact human trails adjacent to this zone, so IF the sasauatch wants to interact with us, it can, with minimal fear. It knows we either can't or won't enter into their set aside habitat. This includes a large scarp, where, with their famous feet, they can travel but we cannot. 

To summarize; A woodland, along major salmon waterways, with historic and current sasquatch activity, professionally restored, with visitor facilities added adjacent to areas only sasquatch can travel. 

Now what are we different from? 

The world of sasquatch research has thus far employed two main strategies for their study. The first, and primary method, is to acquire recent sighting reports, information generally well guarded by a small group of researchers, then quickly enter this area with as much gear as possible. This method is often concerned with discovery (finding tracks, recording howls, etc) as the main objective, with other observations (studying the habitat, forest type, food sources) secondary.

The next method is generally taken up by rural property owners; leaving out food, encouraging habituation. At times bigfoot groups have been involved in such endeavors, again with a focus on discovery (trail cams, audio recording, etc). Instead of leaving human food, we're rebuilding habitat they likely prefer.

We're a third way, and not focused on discovery. We believe the work of Krantz, Meldrum, Patterson, Gimlin, Bindernagel, Farenbach. and others have laid this issue to rest. To survey the information they present and still conclude hoax is a mental leap that we cannot make. Therefore, we approach the subject as though discovery has occurred, and proceed accordingly. 

Here you can follow our restoration work and squatch research, as well as hearing about our various interactions.

We practice and advocate a philosophy of restoration and a new kind of forest management, one which benefits both humans AND the creatures we share this world with. We're leading the way applying this idea to the consideration and conservation of the Sasquatch.

By becoming a patron, you'll instantly unlock access to 16 exclusive posts
By becoming a patron, you'll instantly unlock access to 16 exclusive posts
Recent posts by Skookum Scarp Sanctuary