polterink
is creating Sortastitious, a webcomic about weird stuff!
About polterink
Have you ever felt a bit uneasy when your foot isn't covered by a blanket while you are trying to fall asleep? Have you ever thought that cellars are the perfect breeding ground for all things creepy? And have you ever wondered just WHAT your cat is seeing when it's staring intently into a corner? 
But just a moment later you realize how silly those thoughts are, and that there is nothing supernatural or weird out there? You are a rational person, ghosts and goblins don't exist.... but maaybe you keep your trip to the cellar short nonetheless. Just to be safe. 
Well, congrats! You might be a bit super-eh, sortastitious. And if you are, this comic is for you! 
My name is Claudia Rinofner also known as polterink. I'm an illustrator and comic artist based in Austria, and I've got a love for all things creepy, weird and spooky. And I've finally decided to put this love into a an ongoing webcomic named "Sortastitious"! It will revolve around folklore, urban legends, weird beliefs, superstitions and all things supernatural, but in a lighthearted and bit tongue-in-cheek tone. It will update every Saturday! 
And just in case you like what I'm doing, and have a bit of money to spare, you can support the comic with just $1 a month! Or more, if you are feeling super generous! 
Join me in my weird exploration of the supernatural, and lets have some fun with it! 
If you have questions or just want to say hi, you can find me over at these neat places:
polterink.com
twitter
instagram 
Select a membership level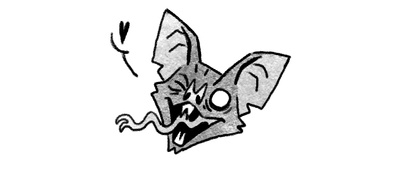 Lil' bat
Whether you pledge 1$ or more, you're the coolest! 
You get access to the patron only feed, high-rez versions of the comics, weekly sketches as well as giveaways and sketch-requests!
Also you will receive a downloadable sketchbook twice a year!

Summoned Skull
Woah, 5$ per month?! What do you get for that?
Everything from the previous tier as well as a spooky birthday postcard each year and exclusive prints 2 times a year. 
You will also receive fun stuff for a yearly Halloween-giveaway!
Recent posts by polterink