Squall Charlson
is creating tokusatsu and film videos
Select a membership level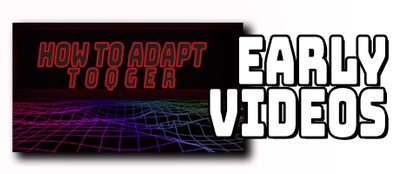 First Access
As you may know, this content wouldn't be here without you, even at this entry level you can help so much! You will have access to new episodes before they are live to the public (sometimes up to an entire week or more early!)
This tier also gives you basic Patreon Discord access over on my server!
Pin Collector
Do you like collectible pins? Do you like this channel well enough to donate not one, but TWO whole dollars? If you answered yes to one or both of those, this tier is for you! Each month I will be creating a monthly Patreon collectible pin that will be sent out to everyone who is an active patron at this level. Above is an example of the first month's pin! These pins will only be available for the month they go out, so be sure to check back to see the new designs moving forward!
This includes the previous tier rewards above.
Podcast Supporter!
Who loves our podcasts? At this level and higher, you receive access to all Patreon level episodes which include:
Uncut episodes
After Show episodes 
& more!
All those on this level help us pay for the podcast hosting fees and will be shouted out at the end of each episode!
 This includes the previous tier rewards above. 
About Squall Charlson
I'm
Squall Charlson
; I am an 
actor
, writer, and have even been awarded an
Emmy
 for directing. I make videos about tokusatsu, movies, and sometimes video games over on my
YouTube channel
for years now and am looking at creating more content frequently with your help!
With weekly uploads, there is plenty to see and enjoy on the channel! We have series such as
Clueless With, Tokusatsu Top Ten, Kamen Rider League, Toku One Offs, Open Sanjou
, and of course the return of
How To Adapt!
The
Super Hero Time
news show will also stream on the channel soon, as well as the updates when they become available!
Tokusatsu Girlfriend
 is a great entry for both newcomers and veterans to
Kamen Rider, Super Sentai, Ultraman, and more!
 I take my girlfriend on a new series each season, and Patreon gets so much more! Such as,
Bonus After Show Episodes, Uncut Podcast Episodes, Insights on the show,
and of course
Early Episodes!


For such a niche following, we sure are spread out to the farthest reaches of the internet. Join myself and many others over on our 
Discord Server
, and with
Patreon
, get access to the
Patreon pages, addition to the top tiers on the community listing, and more!
Lets come together with
tokusatsu, movies,
and
other interests!
What you see on the channel is reflective of my time, and it takes a bunch of it to make some of my videos. I will let the content speak for itself, but imagine having more of it, more often. That's where Patreon comes in. I want to recognize and reward you, the viewers and fans of the channel for supporting me and helping it grow.
But where does the money go?
I could say something obvious like into the bills I am usually paying (house, utilities, services, ect.), but most, if not all, goes back into you and the community. I want to give you more in terms of being here and a part of the growth; that's why some of the tiers to the right have physical rewards. The pins you will start to see rolling out are going to be a monthly incentive, meaning once they're gone, there's a good chance you will never see them again.
And they're only going to be found right here too...
The remainder of the proceeds will go into gear and tech. I pay monthly for Adobe CC suites, and I would like to upgrade some equipment as we go too. If we can start to raise enough I would be able to start paying for help to shoot and star in future videos (think more narrative work) or even commission an artist to make artwork for future videos. This is a platform and channel I can use to showcase many other talented artists, and I am so excited to start doing that!
I honestly believe we need more original tokusatsu content online, and I would like to help those around me grow and succeed too.
By becoming a patron, you're helping myself to create and that means the world to me. Even if you aren't a patron, from the bottom of our hearts thank you!

RARE MONTHLY PINS!

I'm talking not just one, but two monthly pins now!

Reaching this threshold will yield a rare monthly pin that will have a slight difference from the basic monthly pins. It's only with reaching this level will I be able to continuously make and send these out to those at the appropriate higher tier. All patrons active during the month this is reached will get it!
(Regardless of how much you're supporting)

From then on out, only those at the certain tier will be sent the new ones!
2 of 4
Recent posts by Squall Charlson