Steve D. Wilson
is creating Music
Select a membership level
Dreamers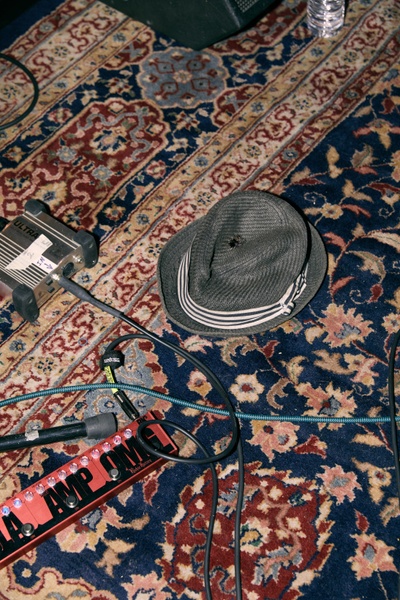 New song every month
Exclusive song stems
Patron-only livestreamed concerts
My undying love and appreciation
About
Hi there.   
I'm Steve.   
On my 13th Christmas, my father ordered a Memphis 3/4 size, bright red and white striped, electric guitar from the AAFES catalog.  At the time, my family was living in Del Rio, Texas where my Dad was stationed with the Air Force.  It was my 4th duty station as the 4th child of a Chief Master Sergeant.  It was the best present I'd ever received.

I had no doubt that this was my calling in life;  To sing and write songs.  Shortly after receiving that guitar, I locked myself away and started writing songs.  That was over 30 years ago.  
My first attempt to climb the ladder of success, was a band called Red October, founded in Cheyenne, Wyoming, my 5th duty station, and where I graduated from High School.  I will never forget recording on analog tape, and the big master reels we took home.  We made some great cassette tapes for each band member, but I don't think that album has ever been heard outside of about 8 people in Cheyenne.  That's probably a good thing.  It was the 80's.  

Following in my father's military footsteps, I enlisted in the Army after my sophomore year at the University of Wyoming.  While my military career would span 16 years, I continued to write, perform and sing original music, and in 1997, I returned to college at the University of North Texas in Denton.  It was there that I began to play solo acoustic shows, and began writing religiously.  Upon my graduation in 2000, I was faced with the decision to decline my commission in the Air Force, and dedicate my time and efforts to furthering my music career, or fulfill my obligation to the military.  It was a tough decision, but the promise of a paycheck won over the uncertainty of a life on the road playing music.  

In 2007, when the Air Force sent me to instruct in San Antonio, Texas, I founded a new band called The Black Doves.  During this time, I won a songwriting contest, and took The Black Doves to some somewhat significant places.  We had #1 songs on iheartradio, played on Warped Tour, opened for national artists, and played a LOT of live shows.  We were featured on national television during the San Antonio Rock & Roll Marathon, and it really felt like we were headed for success.  Around the same time, Napster and music-sharing changed the entire landscape of the music industry.  While it offered new opportunities to be heard, it also offered that opportunity to a lot of shit music to flood the internet, and cause a lot of struggling artists to get lost in the chaff.  While serving three masters (the military, music, and a family), staying relevant became a pretty big challenge.  I think I was also pretty lost as a human during this time.  Having deployed twice, still on active duty as an Air Force officer, and the father of 4 by 2009, life happened and the military sent me to Pensacola, Florida.  This would be the beginning of the end for The Black Doves.

In 2012, the Air Force sent me home with a pat on the head.  Life came calling in the name of a move, new job, lay-offs, and divorce.  As a new civilian, and with an impending divorce headed my way, I jumped in the truck with my dog 'Cat' and we hit the road.  I played acoustic shows all over the country, while I tried to escape what was waiting back in Texas.    Around this time, I connected with an organization called Operation Encore, a veteran music project.  I would record one song on each of their first two compilation albums, and in 2019, I was offered the chance to record a new EP with Operation Encore as the executive producers.  

In February of 2019, I was flown to San Francisco, to record with Adam Rossi at AR Audio.   It was there that I met James Depato, Kevin Thomas White, and Vicente Rodriguez; the three gentlemen that brought life into the 5 new songs that we selected to record for what would become 'Ad Astra Per Aspera'.  With Adam adding piano, and producing, I was honored to record what, in my humble opinion, is the very best music of my life.   

I suppose that this is where you come in.   

In early 2018, while I was living in an RV with my dog Rocky (#rockythewonderdog), I made a handful of trips up to Dallas to record at Fifty 50 Studios.  My very good friend Josh Franklin and I began work on what was going to be the follow-up album to The Black Doves - Moments of Clarity.  Over the course of the year, we finished one of the tracks called 'Somewhat Different' and released it as The Black Doves.  There are 3 remaining, unfinished tracks still awaiting completion.  
As The Black Doves more or less consists of myself, and my somewhat unavailable drummer, I think the best move at this point, is to simply finish the three songs (Chapter 2, Affirmations of Superiority, and Go Go Indigo) and release them either as part of a full-length album or as singles under the Steve D. Wilson artist moniker.  

In a perfect world, and with your assistance, your contributions would make completing these three songs a possibility.   Aside from the new EP, I've financed all the music that I've ever recorded myself.  Unfortunately, the access to the kind of funds required to complete this project, often is limited by life's daily expenses.  While I work full-time at an hourly job (as this gives me the freedom to continue to play road shows, etc), I am struggling to find the money to make the music that I'd like to make.

If you should feel so inclined, and you're willing to offer your monetary support, I can and will complete these songs.  Should your contributions exceed what is required to complete these songs, I will direct it towards the recording of the multitude of other songs that I've written over the course of the last couple of years.  I literally have ALBUMS of unrecorded songs that I would absolutely LOVE to record for you.

Thank you for your help.  I am grateful to have you on this journey with me. 
Sincerely, 
Steve D. Wilson






Completion of guitar/vocals for Go Go Indigo, Chapter 2, and Affirmations of Superiority; mixing/mastering, and distribution credit for all three songs. 
(Bass guitar has already been completed by Matt Novesky of Blue October)

Upon reaching this goal, I will release 1 professionally shot video, per song, per month for the following three months, and then begin work on  a full-length album of all new material.  Patron's names will be in the credit roll for all videos and on all media released in conjunction with all songs. 

1 of 1
Become a patron to
Connect via private message
Recent posts by Steve D. Wilson