Storm Bunny Studios
is creating gaming content for Bloodlines & Black Magic, Rhune, and Alessia.
About Storm Bunny Studios
For the last two years, people have been telling me to move more of my gaming content online so they could purchase it and support Storm Bunny Studios. But, because of my pride and because I was already consumed with several other projects, I did not. 
But times change.
If you've been following my work for any length of time, you know two things. 1) I live, eat, and [barely] sleep tabletop RPGs and 2) have been for a long time. As a professional, I've been doing this for well over a decade. If you're just getting to know me, or this is your first time on my page,
Hi - I'm Jaye Sonia
. I'm the guy behind
Rhune: Dawn of Twilight (
the cover of which you can see below) and the owner of 
Storm Bunny Studios
.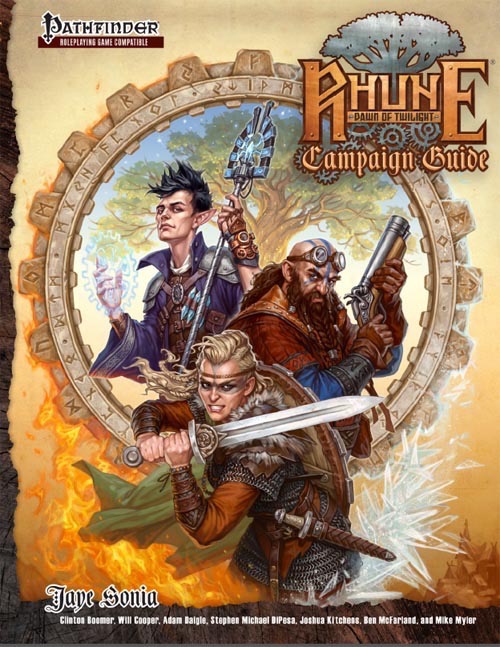 Since its inception in 2012, Storm Bunny Studios has been the place I've hosted nearly all of my ideas. Many of those ideas have found homes in the various worlds we publish, while others have ended up in other worlds, or worse, on the cutting room floor.
When you combine all of that content with what I'm actively developing (
IP
s under 
NDA
notwithstanding, of course), you'll quickly discover - there's a lot going on. 
I'm going green-ish with my ideas and I want this Patreon to become that long-term, low risk, part-time job I've been looking for. And, because I believe in doing what I love, I think making more awesome gaming content is exactly what I need to do!
My goals for this Patreon are simple – create a bunch of awesome content, and if the audience is up for it, develop that content. But get this, I'm going to develop this content in a truly unique way. I'm going to develop everything as discoveries in a very long "Choose Your Own Adventure" book. For the purpose of this Patreon, everything will be taking place in my current project location,
The City of Westwater Bay.
 The City of Westwater Bay will operate in the larger world of
Rhune: Dawn of Twilight
 (because we can, my friends, because we can)
! 
Additionally, I'm going to use this Patreon to showcase content Storm Bunny Studios is releasing for several of our other worlds, including 
Bloodlines & Black Magic
, 
Design Camp
, and 
The World of Alessia
. 
So, why Patreon now?


Storm Bunny Studios is going through some very positive changes and I'm shifting some of my responsibilities in a few places. Since I'm already working on projects like 
Design Camp
with more of the community (a few of which I think will make very cool designers), I wanted a more personal place to make some awesome content.
PLUS
- I'm running this Patreon like a
choose your own adventure
. How cool is that?
So, let's start making some awesome!
Cheers,
Jaye
Select a membership level
if we hit this goal, I'm doubling down on The City of Westwater Bay. At least twice a month, I'll develop content for the city. Once a month (but probably more often), I'll develop some custom content for Rhune.

If we reach this goal, I'll collect all of the content for inclusion in an end-of-year PDF that includes the story all the Patreons helped to create. This PDF will include detailed maps of these encounters, as well.

3 of 5
Recent posts by Storm Bunny Studios