The Final Straw Radio
is creating The Final Straw Radio Show & Podcast
Select a membership level
A Helping Hand
A Helping Hand: money is tight, especially among folks who spend a lot of their time engaging AGAINST Capitalism.  Roughly the cost of a fancy beer a month, this tier is very helpful for us covering our operating costs and equipment.
In exchange for this donation, we'd like to offer you a few small gifts: a pin and some stickers from The Final Straw. We'll even throw in a couple of stickers from comradely shows on the CZN & A-Radio Network.
Wordsmith (Round 1)
Limited (20 remaining)
Wordsmith: You get the episode (one) of your choice transcribed and formatted as a zine.
We gladly provide audio editions of every episode to the public in hopes of amplifying the stories and voices we host.  Almost NEVER do we have the time or energy (or gumption) to transcribe the interviews, but transcription will: 
1) get the ideas into the search engines trolling the web so the content will be easily found upon search; 
2) make the materials easier to access for those who have hearing impairments or for whom English is a second language; 
3) enable much easier translation of the text into another language
Include your  the title of the show you want zine-ified alongside your address, plz
(Disclaimer: may take some time for us to get this together, depending on how quickly we receive requests and our schedules)
We Got Your Back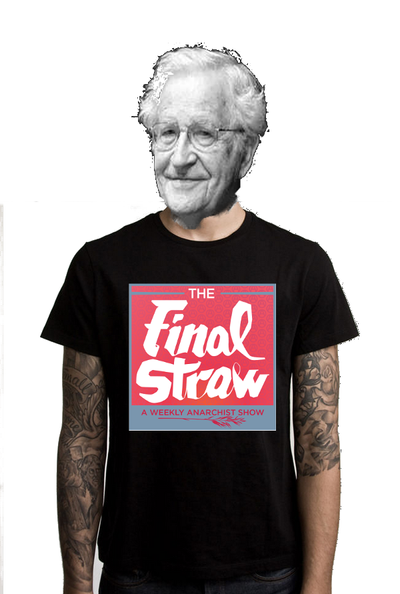 Ok, this is a mock-up that our model was willing to pose for us with.  The shirt may look a little different, but you get the idea.  We'll throw in some stickers and buttons with your package as well.  We'll post a photo once we get them printed.
Please include the size you are requesting alongside your address.
(Disclaimer: In addition to the shirt looking a little different, you won't turn into goth-Chomsky.  Awaiting some good photos of the actual shirts)
About
The Final Straw Radio is a weekly anarchist radio show and podcast dating back to 2010.  We also feature an occasional anarchist tech security show called Error451.  Donations and subscriptions to us help us cover operation costs, travel and propaganda (by our deeds).
Episodes can be found for free at 
thefinalstrawradio.noblogs.org
By becoming a patron, you'll instantly unlock access to 1 exclusive post
By becoming a patron, you'll instantly unlock access to 1 exclusive post
Recent posts by The Final Straw Radio